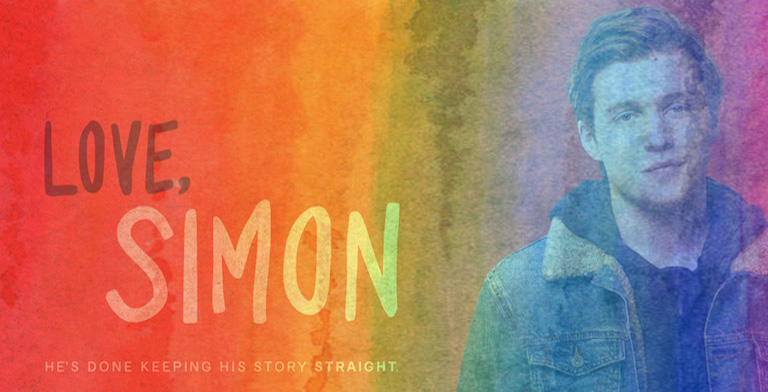 "Love, Simon:" A queer movie for straight eyes
While there is so much more "Love, Simon" could have done, it still serves a purpose. What "Love, Simon" does do is provide a gay teen love story for those kids who still struggle with finding representation.
April 11, 2018
The coming-of-age, teen romance stories that typically warm the hearts of their youthful audiences have cemented a place for themselves in the American movie marketplace.
This easily digestible genre can be viewed as the direct opposite of the provocative, queer movie genre that is still attempting to push its way into the heteronormative mainstream. Its latest effort was "Love, Simon," a movie that capitalizes on both the social justice aspects of queer cinema and the inherent marketability of coming-of-age films.
The highly praised movie, which hit theaters March 16, combines the two genres to formulate a mildly successful box office film, grossing $37.5 million in the U.S. and Canada as of April 8. It followed the success of other queer films that have garnered critical acclaim in the U.S. including the Academy Award winner "Moonlight" and 2018's multilingual indie "Call me by Your Name."
The basic premise of "Love, Simon" seems like a given for the coming-of-age genre. A film about a gay person attempting to find love while also struggling to claim their own identity almost writes itself. It's astonishing that in a genre that can seem over-saturated at times, "Love, Simon" is dubbed groundbreaking for being a major film studio release that centers around the topic of gay teenage romance.
For frequenters of Netflix's small LGBTQ genre, the "Love, Simon" narrative is nothing groundbreaking. Similar independent and foreign films, along with a growing number of TV series, have been playing around with the intricacies of queer youth for years now.
However, "Love, Simon" differs from these other representations of queer, cisgendered men with its high level of polish and its marketability for American audiences. The film's homage and inspiration to the teen coming-of-age films from the 80s don't hurt it either.
This reach that "Love, Simon" has is echoed by its release in over 2,400 theaters for its opening weekend in the U.S. and Canada. This is almost triple the 815 theatres "Call me by Your Name" was screened in during its nationwide release.
In the opening monologue, spoken by the movies semi-charming and enduringly awkward protagonist Simon Spier (Nick Robinson), "Love, Simon" establishes itself as a movie that doesn't want to break the mold.
"I'm just like you," claims Simon — and to a deeper extent, the movie itself — as the viewer is presented multiple scenes of him living the stereotypically "normal" life of a suburban teenager.
Simon himself,  a decently handsome, cisgender, white male who lacks an outwardly gay appearance, embodies the typical boy next door that is commonly seen in both the teen and queer movie genre.
He's not too gay to be the star of his own movie, but just gay enough to be considered revolutionary for the big screen. As an added bonus, he even falls in line with Hollywood's obsession with movies starring white men.
Having a queerer character, more closely resembling "Love, Simon's" very effeminate (and black) side-character Ethan, would have pushed the movie back into the niche movie market and film festival circuit that queer films are commonly sequestered to. Instead of seeing it at my local small town theatre, I would have had to wait for it to pop up in my Netflix queue. This is due to the American movie industry still catering to its dominantly white, straight audience. Narratives like "Love, Simon" almost cater to this group of people while throwing a bone to the queer people that the movie is supposedly meant for.
While Simon's whole character revolves around being gay, he is still painted as someone who assimilates with this white, assumed to be straight, male image that is only threatening to the homophobes who never planned on seeing this movie.
For the sake of making a profit, a radically queer film that can reach the number of people "Love, Simon" has would take either a gay miracle or a change to the overarching stigmas against queer people.
The movie's most radical aspect is that it paints queer love and relationships as no different than their straight counterparts. This is considerably tame compared to the intimate and nudity-filled sex scenes that are a staple in the queer movie genre, especially in French films like "Blue is the Warmest Color" and "Stranger by the Lake."
Simon is still that awkward boy that usually stars in these formulaic movies. The viewer spends 110 minutes watching him struggle with the anxiousness, heartbreak and the excitement that comes with dealing with first love.
The only differences stem from stigmas created by the society we live in, which creates obstacles for queer relationships to flourish. These obstacles, such as coming out and dealing with homophobia, are addressed in the film but many issues that occur at a disproportionate rate in the queer community go left untouched or were only briefly addressed.
In a scene where Simon attempts to readjust his wardrobe to fit his newly labeled sexuality, he searches online for clothes that gay guys would wear. A comedic montage of tight shirt fittings and clothes that don't match his signature hoodie outfits then transpires. While the scene addresses the feeling of needing to conform to a specific image of what you're "supposed to be," there is no further mention of the effect that these stereotypes and media representations of gay men have on the queer community. The only thing that came about from the scene is a laugh from the viewer and Simon still deciding to rock his plain hoodie.
Giving too much focus on the more uncomfortable parts of the queer experience may be too much for a straight audience to handle. Even if this is purely speculation, it still impacts what kinds of narrative producers are willing to explore and produce.
This streamlining of marginalized people's narratives is just a sacrifice that the queer community might have to live with for the time being. The genre is still growing and still breaking into the heteronormative mainstream.
The process will be slow for more varied and realistic portrayals of queer life to enter the mainstream movie market. In the meantime, "Love, Simon" is part of a continued effort to show that queer media can be profitable and accepted by the straight marketplace.
While there is so much more "Love, Simon" could have done, it still serves a purpose. What "Love, Simon" does do is provide a gay teen love story for those kids who still struggle with finding representation. It champions not only queer acceptance but also accepting who you are.
In Simon's case, he may fit this assimilating mold that not every queer person can completely identify with. That doesn't mean the message changes for others who face these similar, or worse, struggles.
"Love, Simon" will never be the definitive queer movie — that's a title that could never be awarded to one singular film. However, if "Love, Simon" can save a life in a community that experiences a higher suicide rate than their straight peers, then it has accomplished something for the queer community.
Email Brian at [email protected] or follow him on Twitter @brianshowket.