UMass student turns carbonated passion into club
Allie McKean is recruiting students to join her LaCroix army.
October 12, 2018
AMHERST — In the basement of the Van Meter residence hall hangs a white-lined piece of paper advertising the newly formed LaCroix Club. A simple message, scribbled in blue pen underneath the club's name, reads "Come hang out with us and drink LaCroix!" There are over 25 signatures on the sign-up sheet, a tribute to the popularity of the flavored sparkling water brand and the passion of a University of Massachusetts freshman.
Allie McKean, a Van Meter resident, has strong opinions when it comes to carbonated beverages. McKean's parents bought her a case of LaCroix when she set off for college, and she quickly became known for constantly carrying around a can.
Jack Burke, another resident of the Central Residential Area building, challenged her on LaCroix's merits. Burke noted LaCroix tastes like watery juice and pales in comparison to Polar Seltzer — a description that prompted McKean to take action in defense of her brand. 
"I thought it would be a fun idea to start a pro-LaCroix club and gather an army of people that enjoy LaCroix," she said.
Although it has yet to be officially recognized as an RSO (Registered Student Organization), the president of the club is determined to get it there.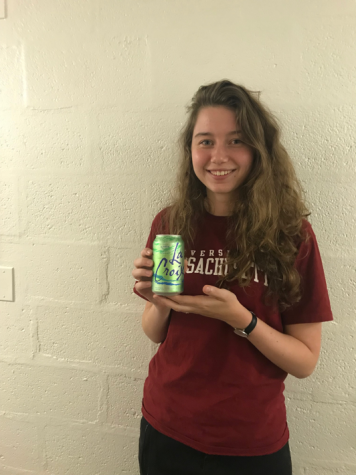 "Anyone can join," McKean said. "Anyone down to drink LaCroix and hangout is welcome. We will even accept Polar people."
In order to raise awareness of the club, McKean decided to go directly to the company itself. She emailed LaCroix, searching for a sponsorship, and the company said they will consider the request. 
"There's a lack of product on campus, and I would like to expand the popularity of the company locally and possibly get LaCroix in vending machines," McKean said. "I would love to at least represent the brand."
The club president acknowledged she's faced "a lot of opposition" to the fledgling club. Multiple people have engaged her in heated LaCroix vs. Polar arguments, but McKean said she's "not one to criticize others for their seltzer preferences."
For those looking to start an organization of their own (maybe even a Polar Club), UMass places few limitations on what the organization may represent. From ballroom dancing to cannabis reform to fly fishing, the university boasts over 500 organizations on Campus Pulse.
According to the RSO Handbook, starting a club, or — more formally — an RSO, is fairly simple. There is a six-step process, which should prove manageable for any person with a passion.
The following is a shortened version of the requirements; refer to the Handbook for the full requirements.
   

Create a unique purpose for the group that does not resemble existing clubs.

   

Acquire at least 10 members, two-thirds of which must be UMass undergraduate students.

   

The president must meet with the Secretary of Registry to fill out the necessary application.

   

A constitution must be written, which includes details about the club's structure.

   

Construct a plan to be sustainable, ensuring that it will last for years to come.

   

With an approved application by the Secretary of Registry, the president and treasurer must attend a New RSO Orientation Workshop in order to acquire the skills needed to logistically run the club.
Although it is not an official club just yet, McKean wants to grow her passion into a sustainable club that stands out from the RSO crowd and lasts for years to come.
Members gather in the Van Meter basement at 7 p.m. every Thursday to enjoy and discuss the beverage. If you're looking for a relaxing, inclusive, and carbonated environment, the LaCroix Club may be for you.
Email Matt at [email protected]