A weekend getaway in Quebec City
A guide to the beautiful city just across the border
October 18, 2018
You do not always need a plane ticket to get away. Quebec City, just hours away from the United States-Canadian border, is the perfect fall vacation for leaf peepers, lovers of French culture and crêpe connoisseurs. The only walled city north of Mexico, it boasts rich history as well as modern amenities sure to please the most finicky of travelers.
If you want to experience quaint European charm as well as unforgettable views, here is your guide to the perfect fall escape.
1. Traverse the streets of Old Quebec
Fine dining, unforgettable architecture and countless boutiques await you in Old Quebec. As soon as you enter the city's walls, which stand strong after 400 years, you go from modern metropolis to a quaint town with European flair. The scene is complete with gas-lit lamps and cobblestone streets.
Towering over the shops and bistros stands the Fairmont Le Château Frontenac, a 125-year-old hotel overlooking the Saint Lawrence River. This hotel is fit for royalty with its ornate chandeliers and lavish lodgings. Stop by to peek inside and peruse the gift shops or grab a quick cup of coffee at the hotel's Starbucks. Remember to walk the surrounding boardwalk and snap a photo or two (or a dozen). It is the world's most photographed hotel after all!
After you bask in the panoramic views, explore the city's Place Royale and Rue du Petit-Champlain. Think Disney meets Paris. The streets are so picturesque and classically French, you will feel as if you either took a step back in time or into a fantasy amusement park.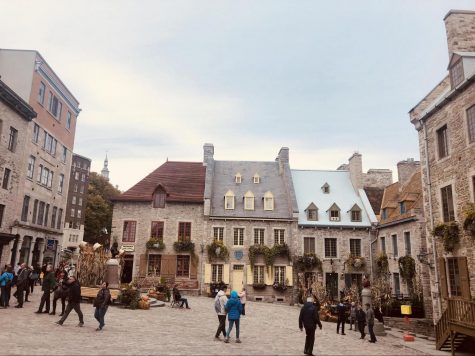 2. Eat, Eat, Eat
If you love fine dining, delectable French cuisine and the most Instagrammable coffee shops in Canada, then Quebec City is the place to indulge. Stopping for breakfast or brunch is a must and there are plenty of places to choose from. Old Quebec is home to crêperies and pastry shops galore, perfect for a morning feast.
If you are staying outside of Quebec City, I recommend brunch at "L'Oeuforie." This restaurant serves everything under the sun in terms of a delicious French breakfast. Try the caramel crêpes or the buttery warm croissants. You really cannot go wrong with whichever mouth watering dish you choose.
If you are looking for a quick pick-me-up while exploring the shops in Quebec, Mary's Popcorn Shop is your stop. The tantalizing smell of caramel and popcorn hits you from blocks away, wafting through the open doors of Mary's. Although it can be crowded, the line moves quickly as hoards of visitors grab their popcorn. Classic Caramel, Chicago Style and Maple Syrup Pecan are just some of the delicious flavors Mary's supplies.
If you still have room for dinner, I recommend having a bite at "Les Frères de la Côte," a cozy French-inspired bistro with delicious concoctions. They do not serve traditional French cuisine, but try the fish and chips or the spaghetti bolognese anyway. You will not be disappointed!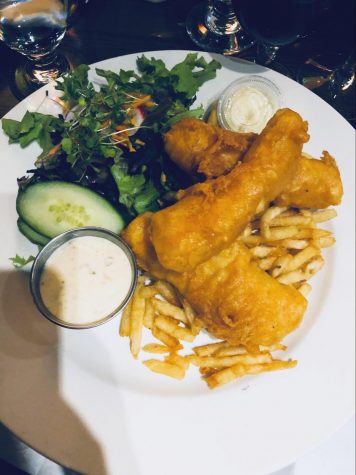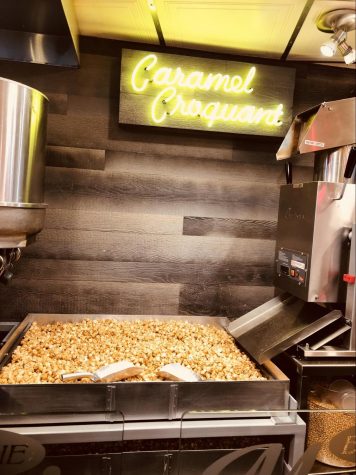 3. Explore Quebec's natural beauty
Although the city itself is great, the natural beauty that Quebec has to offer is exceptional. Especially during autumn, the rolling hills and river-carved valleys are truly spectacular. The golds, burgundies, oranges and blood red colors on the trees make for an amazing view, so snap pictures!
Set aside a few hours to explore the Parc de la Chute-Montmorency, home to the 83-meter-high waterfall, which is taller than Niagara Falls. The park offers walking trails for panoramic views of the falls, as well as gondola rides, zip-lining and a walking bridge that crosses right over the waterfall. Here, the autumn foliage and the Montmorency River make for a picture perfect outing you will not forget.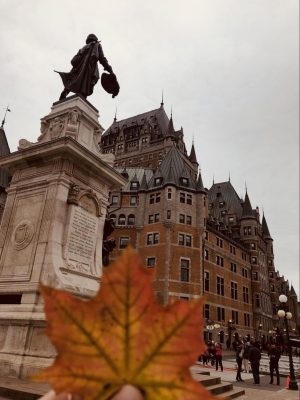 So pack your bags and grab your passport, because Quebec City is your new favorite fall destination.
Email Emma at [email protected].