In photos: Thousands gather in Southwest to celebrate Red Sox winning World Series
The celebration was peaceful, but students still found a way to have fun.
October 29, 2018
AMHERST – Last night, Southwest Residential Area was flooded with a sea of Massachusetts pride.
Close to 2,000 students gathered in front of Berkshire Dining Commons in the Southwest Residential Area to celebrate the Boston Red Sox's eighth World Series title, according to Daniel Fitzgibbons, associate director of UMass Amherst News and Media Relations.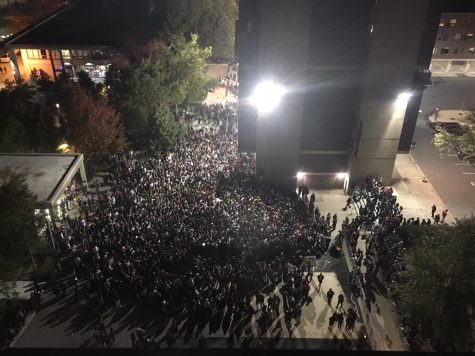 The victory came after a 5 to 1 win against the Los Angeles Dodgers on Oct. 28. Students began making their way to Southwest — the popular meeting spot for these types of celebrations — as soon as the game ended at 11:20 p.m.
Throughout the night, police stood idly by in their riot gear, ready to act if anything dangerous happened.
This was never the case though. No arrest or medical calls were made as a result of the celebration, Fitzgibbons said. This is a far cry from last February's riot, where six people were arrested and 12 were injured after the Patriots' lost the Superbowl to the Philadelphia Eagles.
According to Fitzgibbons, the university implemented the safety protocols as last year.
"It's really the behavior of the students that changed since the Superbowl," Fitzgibbons said.
"It's to the credit of the students that it was a safe celebration," he added.
Fitzgibbons was unable to comment on the amount of police present for the event or how much it cost the university. State police, as well as police from UMass and the town of Amherst, were present.
While considered safe, students still expressed a level of rowdiness. A handful of people climbed on top of a pole near John Quincy Adams Hall, some of whom jumped to the ground. Students were also seen throwing their bodies into puddles of rainwater and chucking beer cans over the crowd.

Loading ...
It was primarily a cheerful event though, with students cheering and singing along to celebratory songs like Niel Diamond's "Sweet Caroline" and Queen's "We are the Champions."
At around midnight, police asked students to disperse  and the area was peacefully emptied out by 12:10 a.m.
Email Brian at [email protected] or follow him on Twitter @BrianShowket