UMass students turn empty alleyway into festive community space
UMass students give an alleyway new life during Northampton's annual Holiday Stroll.
December 6, 2018
NORTHAMPTON – Last Saturday from 5 to 8 p.m., University of Massachusetts Amherst students turned empty Cracker Barrel Alley off of Main Street into an illuminated community hub with tables, chairs, free quesadillas and holiday festivities.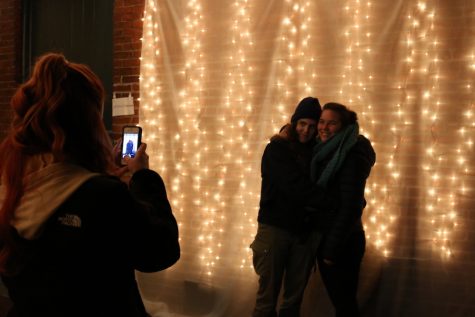 The event, during Northampton's annual Holiday Stroll, was part two of the UMass Landscape Architecture and Regional Planning department's (LARP) Alley Takeover project. It was inspired by "tactical urbanism," a term that refers to temporary, low-cost installations meant to improve the community.  The project was first executed in early November in an alley on Kirkland Avenue.
Projects similar to the Alley Takeover are typically temporary, but can yield long-term benefits for community members.
"The short-term aspect also allows local residents to engage and give feedback about the designs, inspiring more engagement," a UMass LARP flyer states.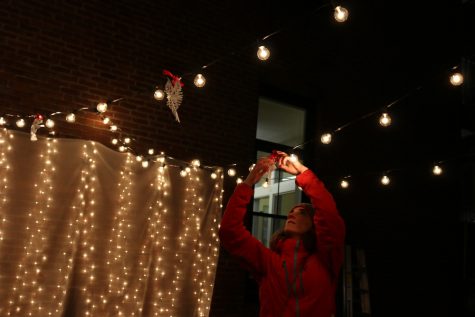 Students participate in the Alley Takeover project as part of a course called, "Research Issues in Sustainable Community Development." According to professor Michael Di Pasquale, the goal of the course is to provide students with an opportunity to implement what they learn in class in an actual community.  
In an email, Di Pasquale said he considers the course a "mini studio," because students collaborate as they would in a typical design studio. There are six groups of four to five students in the class. Together, they work on research projects. Two of the groups this semester were assigned projects focused on "tactical urbanism." One group completed the first takeover on Kirkland Avenue, and the other completed the second at Cracker Barrel Alley.
According to Brooke Hammond, a senior sustainable community development major taking the course, the Downtown Northampton Association liked the Kirkland Avenue project so much, they asked the class to occupy another space for the Holiday Stroll. The task was assigned to Hammond's group as extra credit. 
"Tactical urbanism shows the public what underused space could be," said Dylan Northrup, a junior studying sustainable community development, who participated in the first takeover. "At night, [alleyways] could be a little intimidating, but if you light it up, decorate it and put tables and chairs, you can make it friendlier for the public to use." 
In an email, Di Pasquale said there will be more takeover events next year, perhaps even next semester.
Email Justin at [email protected]