Portland, Maine: A winter wonderland
Make Portland, Maine your next weekend getaway
December 16, 2018
With a state motto like, "The way life should be," it's no secret that Maine is the perfect destination for your next trip. Portland, Maine offers a unique and unforgettable weekend getaway. Less than a three-hour drive from the UMass campus, the downtown area offers high-end shopping as well as boutiques, a beautiful waterfront area and unique dining experiences. Here is a short guide to a navigating a weekend in downtown Portland.
1. Shop 'til you drop (or until your wallet yells at you)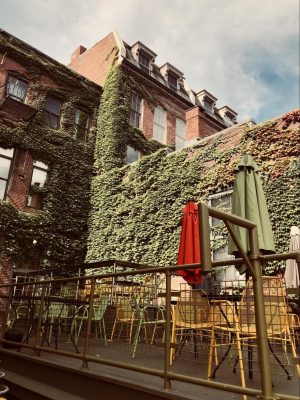 The streets in downtown Portland are perfect for perusing on a weekend afternoon. Storefronts line the streets and are filled with quirky souvenir shops as well as upscale boutiques. If you are into locally-made trinkets, look into stores such as Lisa-Marie's Made in Maine, which feature pottery, prints, photography and more from local artisans.
Looking to feel the softest material you will ever have the privilege of touching? Visit Peruvian Link, a little boutique filled with goods made from 100 percent real Alpaca wool. The store features luxurious hats, coats, accessories and unique decor such as stuffed teddy bears and elephants made from Alpaca wool.
Portland also has farmer's markets with fresh, local produce. Visit the Honey Exchange, a sweet little find with local honey products (and an opportunity to learn about honey bees). Make sure to pop into the Cabot Farmer's Annex located on Commercial Street, and do so while hungry. The store offers the famous Vermont cheese, specialty syrups and jams, and samples galore.
2. Grab a bite
Speaking of food, make sure to have a meal (or three) in one of Portland's restaurants. The city has over 200 to choose from, whether you are in the mood for fresh Maine lobster or international cuisine.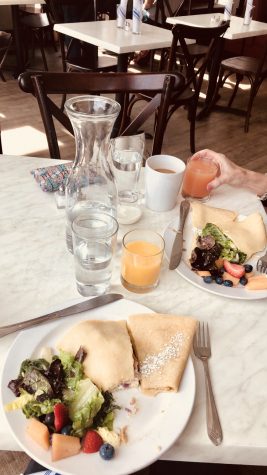 Stop by Petite Jacqueline in the Old Port district for a delicious brunch experience. You will feel as if you have been transported to a Parisian café as soon as you walk through the French bistro's doors. The quaint restaurant boasts sweet and savory crêpes, with variations such as smoked salmon or the classic buerre noisette (brown butter and cinnamon). Other decadent dishes include the croque-madame and eclairs. Even if you cannot speak a word of French, be sure to give this tasteful joint a try.
Need a pick-me-up? Try one of the numerous coffee shops and bakeries the downtown area has to offer. Give Higher Grounds a try for a unique coffee experience. The earthy tones and wood decor within the café reflect the coffee itself, which is wood-roasted for a rich flavor.
If you come to Portland with a sweet tooth, you picked the right city. Drop into the Holy Donut, which features as many as 20 different flavors at a time. Each donut at this bakery is made from Maine potatoes, with flavors such as pure vanilla glaze and maple bacon. However, this funky shop fills up quickly, so you might have to wait for your confectionery treat.
Perhaps you consider yourself more of a chocolate person. Try Dean's Sweets for a delectable truffle. Be prepared to never want to leave this cozy store, because the aroma is sure to envelop you in a rich, chocolatey heaven. Prices here can be steep, but a single truffle is worth the buy.
3. Have some holiday fun!
With the holidays almost upon us, seasonal cheer is abundant in Portland. The festivities began in November with the Monument Square Tree Lighting. With free carriage rides, live music, food and drink, and even a visit from Kris Kringle himself, visiting downtown Portland is a must to kick off the holidays.
I assume you have heard of the Polar Express. Well, during the holiday months, Portland offers children (and the child inside of all of us) a train ride straight from the pages of the beloved children's book. The ride runs between Thanksgiving and Christmas. With hot chocolate, seasonal decorations and a reading of the tale, it's a perfect way to get in the holiday spirit.
Brave the cold and walk the downtown streets to catch a glimpse of the holiday window display competition, where visitors can vote on which business's display they think is best. And if you are older than 21, Portland also offers an event called "Merry Madness," where 75 shops keep their doors open until 10 p.m. There are food, drinks and live music.
So bundle up, come hungry and grab your friends and give the largest city in Maine a visit this holiday season!
Email Emma at [email protected] or follow her on Twitter @emma_sammuli