The Divided World of the UMass Student Government Association
Resignations, disunity and political rivalries have been plaguing SGA recently.
March 31, 2019
This article has been updated to include President Timmy Sullivan's comments. 
The University of Massachusetts' Student Government Association has become the center of criticism over the past few months as the organization seemingly falls apart from within. As the student body at large pokes fun at the "dramatic" world of student politics, members within the organization are facing the real consequences of polarization.
"It's very divided," said former Senator and junior astronomy major Arpit Jain. "It's been divided since last year's election."
Jain, who resigned from his position in January of this year, cited current president Timmy Sullivan as the reason for his resignation, along with the current state of SGA as a whole.
Sullivan has been presented as the reason for at least two senator resignations this year. He has come under attack for campaigning during suspensions in the student government elections this month along with several other breaches of the SGA bylaws, according to public complaints filed by both competitors for the presidential ticket, Allie McCandless and Stephanie Margolis.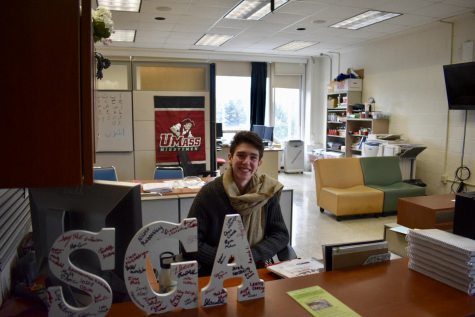 When asked about the future of SGA, Jain admitted his worry about the lack of student senators in the government (only 45 out of 60 available seats) and added that without strong leaders to guide newcomers in the future, SGA may not be able to perform at the level it needs to.
"There's going to have to be a push for unity soon," said Jain. "If it keeps on going like this, then the state of the SGA will not be as productive as it can be for years to come."
Timothy Conceison, a current senator on the Ways and Means committee and former secretary of finance, spoke at length about the goals of student government and the problems within it.
"For me, the role of student government is to make sure the 22,000 undergraduates get the most out of UMass," said Conceison, who also agreed with Jain's statement about division within the organization.
Over the course of his three year career in student government, Conceison said the greatest shifts he has witnessed are the increase in positive communication between student organizations and SGA as well as the "disappointing" decrease in voter turnout, which he claims has lead to a loss of community within the organization.
"People have stopped caring, and less people want to spend time in our offices," he said. "I find it really disheartening."
Voter turnout had a record high of about 25 percent two years ago, with a 16.16 percent turnout in 2018 and an even lower turnout this year.
Conceison, who ran against Sullivan for the presidential bid his junior year, also commented on the increasing turnover rate under President Sullivan, saying, "there's so much you can get out from [SGA], especially on a personal development level…just thinking that one person can take that experience away from dozens of undergrads is upsetting."
He added that Sullivan will benefit from the "learning curve" of a second term and that the state of SGA ultimately lies with the body, not just the president.
Conceison is currently on the campaign team for McCandless and Moksha Padmaraju.
Both Conceison and Jain remarked that Sullivan was an "incredibly hardworking" and respected individual who puts in more hours than necessary, with Jain adding that his focus on advocacy above all, unfortunately, takes away from other leadership priorities.
In the most recent election, 21 complaints were filed, 10 of them against the Sullivan-Latimer-Ireland ticket, with more complaints currently being reviewed by the elections commission. In the Senate meeting that was held on Monday, Senator Timothy Ennis stated that in total, the complaints filed against the Sullivan-Latimer-Ireland ticket resulted in suspensions lasting for about a third of the total campaign time.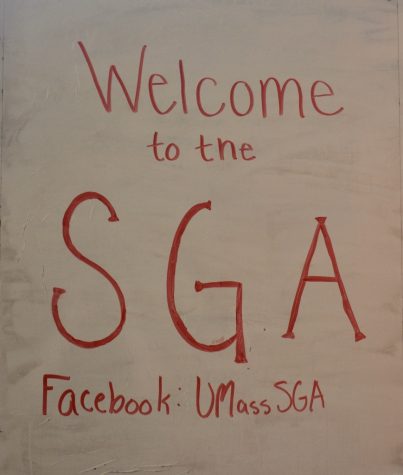 McCandless also spoke to the floor Monday about the campaign, calling out her fellow nominees for using illegal mass email lists, campaigning while suspended, unapproved social media posts, and other campaign violations.
"We hoped that this election wouldn't be messy," said McCandless. "In a democracy, it's important to have fair competition; and running against a ticket that you know is breaking the rules is beyond stressful…Moksha and I took [the rules] seriously. Seems that not everyone did the same."
Final results present the Sullivan-Latimer-Ireland ticket winning by only 12 votes, with the elections commission deciding on a plurality to win instead of the usual majority before the results were examined. SGA voted to table the ratification of the vote Monday until their committee can review all the complaints filed in full.
The Senate hopes to ratify the vote during their next meeting on Monday, March 18. If a President is not ratified by the association by April 1, Speaker Ryan Mahan will become president of SGA.
All the current and former members interviewed acknowledged the need for better communication and open discussion within the organization.
"You have to be willing to compromise," Jain said. "If you're not willing to compromise on different ideas then it's just going to be a discussion without productivity." With Conceison adding, "being inclusive and understanding…That's politics."
"No one wants a divided SGA," said Jain, remarking that many members of the association are open and willing to compromise. "Everyone wants to be united and everyone wants to be working towards the same goals."
"The reason we ran our campaign for SGA was because the previous Executive was not leveraging its power to empower marginalized communities on campus. The changes that I enacted in this position include bringing alienated students into [SGA], partnering with activists who move our campus forward; and challenging the SGA to confront and address the real issues of race, class, religious, and gender discrimination on our campus and in our broader society," Sullivan said in an e-mail.
"We've had these tremendous successes because my administration doesn't care for the petty intra-group politics of the SGA. Instead, my vision of governance demands that we actually work for our students– and I've done just that."
Email Katie at [email protected]