Diversifying hackathons: UMass students put a spin on the popular tech event
UMass' "alternative hackathon" scene has been thriving this semester.
April 10, 2019
AMHERST – Once a year, the University of Massachusetts becomes home to almost one thousand tech-enthusiast who travel as far as New York to participate in HackUMass. Dubbed the largest of its kind in western Massachusetts, UMass' hackathon follows a standard formula that can be found at similar competitions across the country.
At a hackathon, contestants have one weekend to team up and develop a piece of software or programming. For students who fall outside of the competition's usual crowd of computer science or engineering majors, they can figuratively and literally feel like outsiders looking in when they walk past the crowds of "hackers" inside the Integrated Learning Center.
Luckily, this semester has seen a string of hackathon alternatives that have put a spin on the traditionally tech-focused, male-dominated competition.
In a minimally lit classroom inside of the Isenberg School of Management sat 20-year-old UMass student, Bruce Waters, producing beats with his three newly found musical partners. The short-lived hip-hop quartet was part of WMUA's first-ever Music Makeathon, a music-based off-shoot of the popular hackathon set-up.
"I wanted to do something similar with music," said WMUA Events Coordinator Judge Russell. Instead of using programming languages, Russell had attendees apply their musical prowess to create a piece of music that would be performed the next day.
Being partially inspired by the collaborative setting and short-time frame that hackathons are known for, the computer science major wanted to bring that same environment to students interested in music creation.
"A lot of people here are feeding off peoples' energy which is nice," Ariya Sonethavy, WMUA public relations manager, added. She believes that hackathon-alternatives can provide a platform for people who want to create things that the tech competition doesn't cater to.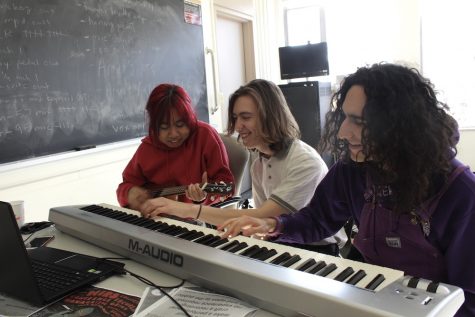 For Sustainability Projects Abroad (SPA), that "thing" involved sustainability initiatives. During the past two academic years, the group has hosted Sustainathon@UMass, a two-day competition that takes a similar creative license over the hackathon set-up as WMUA's Makeathon.
SPA's event kept the competition aspect but utilized the pressure-cooker environment to have teams formulate a pitch that could make UMass more sustainable. The winners then had a chance to receive funding to execute their idea.
"We believe having everyone together in one room, people of different backgrounds, people from different majors, people from different perspectives. This creates a lot of creative chaos that can be harnessed through the right mentorship and guidance," said Bryan Chua, co-organizer and president of Sustainability Projects Abroad, in a previous interview.
While the set-up is small, with attendance averaging between 20 to 30 people, members of the group see the event as a way to promote sustainability in a fun and creative way.
The need for diversifying the hackathon set-up extends farther than just the topics these marathon-style events cover. Gender representation at hackathons usually mirror the makeup of women in computer science classes – averaging 20% – according to Katie House, founder of HackHer413, the first all-female and non-binary hackathon in western Massachusetts.
"Because the tech industry is predominately male, I think sometimes it can be hard for a woman who might be interested in a hackathon to try it out," said House, whose inaugural event attracted over 300 participants back in February. "I know I was one of those people."
After attending her first hackathon last year – exclusively for female and non-binary people – House felt inspired to bring the concept to UMass with HackHer413. Her goal was to mitigate the intimidation that regular hackathons can have on women and bring together a community that typically isn't unified in the male-dominated field.
Computer science and math double major, Arushi Ahmed, is used to being surrounded by men in her classes, but still held off from competing in hackathons until she found an all-female alternative.
"When you go to a traditional hackathon with both guys and girls it can be intimidating with the amount of guys there," said Ahmed, who competed in HackHer413. "Most women feel intimidated or feel out of place."
According to a 2013 Colorado State University study, female undergraduates are also more likely to underestimate their abilities in their STEM fields compared to their male peers.
House didn't create the event to only cater to computer science majors, though. Having not always studied computer science – previously labeling herself as an "outsider" – she understands what it's like to be interested in coding but not confident enough to try it.
"We really wanted to focus on the true experience that you'd get at a Hackathon and that's not just feeling like 'Oh, I'm incompetent," said House, explaining how she wanted to create an encouraging environment for all skill levels.
The inclusiveness that HackHer413 fostered is what led freshman microbiology major, Hayley Green's group to winning three awards, including best beginner hack. Green only planned on attending the event's workshops but decided to compete after receiving an overwhelming amount of encouragement from other attendees.
"Everybody was so friendly," Green said. "We came up with a project by the end of the night and we just decided to do it."
Green had some experience with coding through her major, but, like House, she felt too intimidated to try out a traditional hackathon – both as a woman and an "outsider." When she arrived at HackHer413, she was surprised by the amount of other non-computer science majors at the event.
"Literally in the first hour, we just made a friend group of just nobody who was actually computer-science," said Green. Her positive experience at the event has motivated her to join other hackathons and continue working on her HackHer413 project for another competition.
With the positive response, House plans on bringing back HackHer413 in 2020. All in the hopes to inspire even more people to join in on the hackathon craze.
Email Brian at [email protected] or follow him on Twitter @BrianShowket