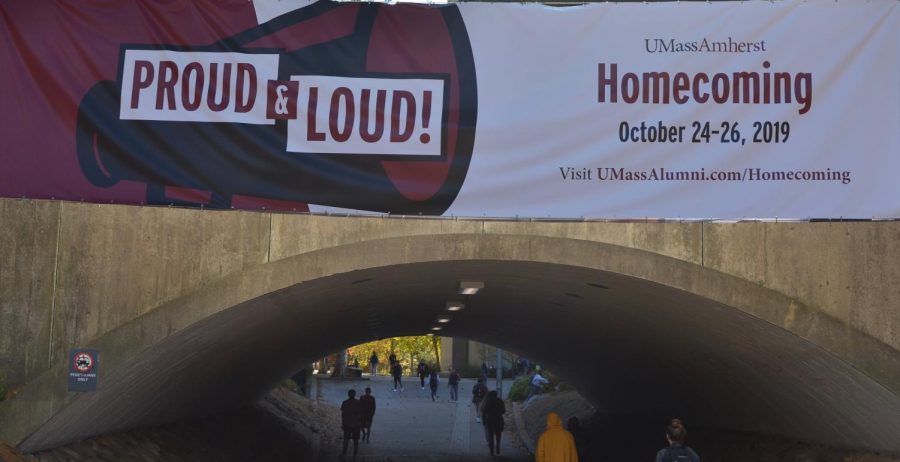 Homecoming: what exactly is it?
October 28, 2019
AMHERST —  Homecoming weekend. It's a big deal, considering UMass Amherst put up banners all over the campus with the odd slogan "Proud & Loud" (as opposed to the more normal "Loud & Proud"), created a whole weekend of activities and invited all alumni to pack the dining halls.
"I'm writing about homecoming!" I told my friends and my mom, to which each person replied with, "Cool… but, like, what is it?" 
Honestly, I didn't know what to tell them. So, I figured I'd do some research and actively participate in the slew of activities around campus from Oct. 24-26.
Before delving into my investigation, I stumbled across the UMass Alumni page, which was appropriately advertising Homecoming weekend. 
It read, "At UMass Amherst, we're PROUD—of the students, staff, faculty and alumni who have been pushing for excellence since the beginning.
To celebrate, let's get LOUD for Homecoming 2019. Cover the campus in MAROON. Tap your feet to the beat of the BAND. Let UMass be the SPARK that ignites your revolutionary spirit."
Here's how UMass got "LOUD" this weekend.
Thursday, Oct. 24: Day one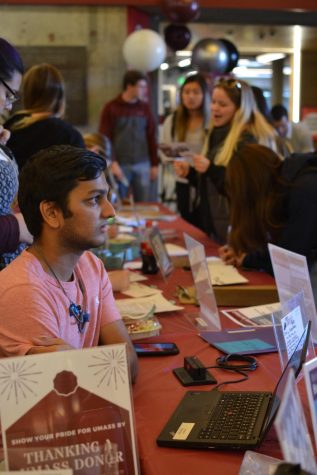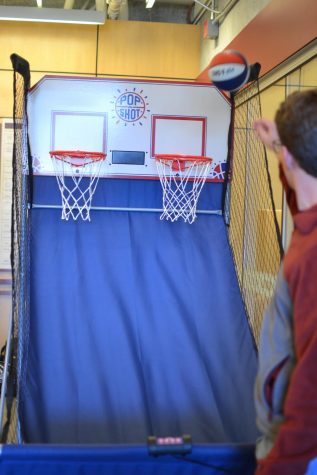 The festivities began with the Homecoming Spirit Kick-Off from 11 a.m. to 3 p.m. in the campus center with basketball nets you would find in an arcade, next to tables of students giving away shirts, socks and face stickers. To get the maroon couture, students had to participate in trivia, write a thank you letter to a donor or shoot hoops to earn one, two or three tickets, each allowing you to receive the different levels of memorabilia.
Later that day, UMass alumna Natalia Butler, Ben & Jerry's Ice Cream Flavor Guru, gave a speech in the campus center auditorium about her career and what made her interested in this path.
Friday, Oct. 25: Day two
On the second day of Homecoming, my true love said to me… a Homecoming Block Party and a hockey game!
The second annual block party on the Goodell and Student Union lawns was a festivity for the 50th anniversary for the Class of '69, featuring Sam the Minuteman, the UMass Cheerleaders and Bloodsport, the combat robot.
Attendees could observe the tables around the lawns, including CMASS, Sustainable UMass, the College of Natural Sciences, Isenberg School of Management and many more while listening to a live cover band. It also featured inflatable bounce houses, a s'mores pit, a craft table and an area to share a drink with old classmates. 
At 7 p.m., the hockey team began their endeavor against American International College in the Mullins Center, ending the game with a 4-1 win. 
Saturday, Oct. 26: Day three
The day began bright and early with the Revolution Run Homecoming 5K at 8:30 a.m. outside the Old Chapel and led the runners throughout campus. 
Prizes were awarded to the winners of each age group and all proceeds supported Campus Recreation activities. 
At 10 a.m., Sam the Minuteman, the Minuteman Marching Band and a multitude of floats and displays created by students and UMass RSOs marched their way through Downtown Amherst and onto campus, creating the annual Homecoming hurrah.
Thus began the tailgate, which every current and past student and their families packed themselves into the parking lot outside of McGuirk Stadium. Everyone bumped to the usual pop and rap songs that play at each party, darty and tailgate, while the frats waved their flags high. 
When it was time to go, Deejay Kaikai sent us all on our way to the 3:30 p.m. kickoff of the football team against the University of Connecticut. Though it was freezing, the game was very entertaining to watch, as both teams kept tying in the first two quarters until UConn started to get a little cocky.
After the first quarter, Stacey Muanya '21 and Kieto Mahaniah '21 were crowned Homecoming Royalty. And at halftime, the UConn and UMass marching bands joined forces and played a majestic song together.
So after a long weekend of attending events and pretending to know why they were happening, I finally realized that Homecoming is just a celebration of school spirit. 
Email Abbie at [email protected]