Music producers: The backbones of the industry
Three UMass Amherst seniors prove their production talents
April 23, 2020
AMHERST- Riley Walter, known as music producer Walt Arkain, leans over a large soundboard with his eyes glued down. One hand slides down the volume fader while the other is busy turning a set of knobs. He nods his head to a rhythmic hip-hop beat bumping through the enormous speakers inside Northfire Recording Studio. 
"The name Arkain means mysterious and unknown. At first, that was more of my producer vibe that I'm more in the background. But, I don't really want to be in the background, I want to be in the forefront as an artist," says Arkain. 
Music producers are often not credited on streaming services such as Spotify and Apple Music despite their contribution to creating, shaping and molding a song or album. Arkain, Nick Lanich, who goes by the name Atlantic Beats, and Jake Flynn aka Peirc3 Productions are three Amherst producers who demonstrate the dedication it takes to make a musical masterpiece. 
All three artists are seniors at UMass Amherst where they have each harnessed their love for music through production skills. 
"Music has always been a part of my life," says Arkain. 
With a music production major, Arkain works as a "DIY" artist, producing, mixing, mastering and rapping his own music. Like artists Chance the Rapper, Frank Ocean and Nipsey Hussle, Arkain hopes to make it in the music industry without signing himself over to a record label. 
Atlantic Beats, who took up a Bachelor's Degree with Individual Concentration (BDIC) major in music business and production at UMass, believes producers can contribute to 50-75 percent of the work that goes into song-making.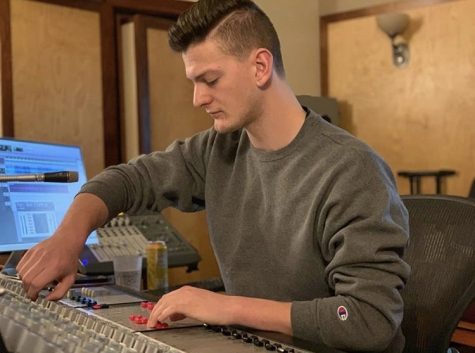 "I work with vocalists who are super talented and one of them told me, 'you basically do all the work and I just show up and sing,'" says Beats. 
Each following their own path, Arkain, Peirc3 and Beats all currently create beats through Logic Pro, a digital audio workstation, and actively release music on Spotify, SoundCloud and Apple Music. 
For Arkain, rapping came first jotting lyrics down in his notebook throughout the seventh and eighth grades. He recorded his first rap on a gamer mic and shared it with his best friend, Chris Focus, who also wanted to give rapping a go. Despite available beats on YouTube, Arkain started to create his own background music to go with his and Focus's raps. He taught himself how to navigate first GarageBand then moved onto Logic. 
"With this technology all ready for me in my house, it kind of just moved forward from there and that's where the production came from. Since I had that, I also learned how to mix and master," says Arkain. 
"I think a lot of people don't understand how talented Arkain is at mixing and mastering tracks," says Focus. "There is Chris Focus because Arkain breathes. There is no me without him. There isn't." 
Focus describes their music collaboration as organic. When the pair first started, they didn't know they would soon want to release songs to the public. Eventually, their skills progressed and Focus and Arkain decided to pursue music on a more serious level. At ages 15 and 16, they released their first song together, "Blue Hearts."
After finalizing the song, Focus thought, "we could really do this, we could make a career out of this."  
"Because I've been working with him as [his beats] progressed, I used to be able to fit my vocals to make a beat better, now his beats are so good that when I hit it with vocals, it's perfect," Focus says. 
Arkain has continuously released original music, including his own beat tape, "Apex" in 2019, striving to shed light on his production skills. The majority of his beats consist of dark sounds, minor keys and heavy-hitting beat drops, with some variations. Each of his songs starts with a beat tag, a bird crowing, representative of his ominous sound. Some of Arkain's beats are available for sale on his website waltarkain.com and on beatstars.com.
He currently offers production, recording, mixing and mastering services at Northfire Recording Studio. 
"[He] looks at the bigger picture. It's one thing to write music, another thing to record music and put on a show. There are a lot of roles to take on and he's done it in a pretty level headed way," says Jay Metcalf, one of Arkain's bosses at Northfire.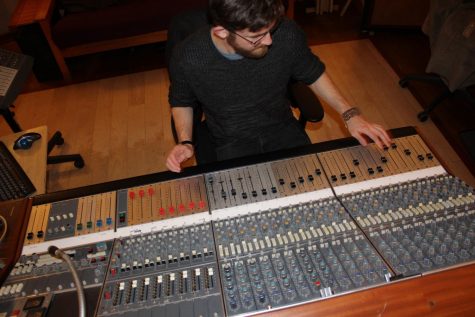 Keeping track of his progress, Metcalf believes Arkain has the right amount of self-drive and motivation to keep moving forward in the music industry. 
As for Beats and Peirc3, they exposed themselves to music production tools once they were in college. 
Beats started experimenting in his freshman dorm after his hall neighbor purchased Logic on his Mac Laptop. "We worked hours every day. I remember one day we sat there for like 8-10 hours just making beats," he says. 
Beats eventually downloaded Logic, teaching himself through endless YouTube tutorials. "I experimented a lot, I failed a lot, but I still thought it was so much fun. I was just making beats during my free time and telling people to check it out, I was really excited about it," he says. 
Once he started releasing his music to the public, Beats was bothered by the lack of credit and attention he received. "It was an ego thing. I was like, 'Woah, I did all this work and people only care about the [vocal] artist," says Beats. After coming to terms with this reality, Beats has a different mindset and enjoys working behind the scenes, away from the spotlight. 
"I'm very wishy-washy on fame. I feel like fame can be very toxic for one's health. I couldn't imagine people with cameras following me around and all in my business. That scares me, having no privacy," Beats says. 
Beats prioritizes immersing himself in his music production, including writing lyrics, mixing and mastering original hip-hop, pop, EDM and R&B beats.  
"I like my work. I'm happy with what I do and if other people enjoy it, then they enjoy it. So, I'm cool with that, otherwise, I'm just going to be resentful,' he says. 
Beats believes the vocalist's job is to memorize lyrics, book shows and focus on performances and says he doesn't mind that they receive the majority of the public's attention. 
Some of the local vocalists' Beats has worked with include Yaz Berrada, Zach Mang, Justin Walker, Chaz Alexander, Pat Curtin, and rappers, Socrates and The Phoenix. He also collaborates with Focus and Arkain. 
Beats produced "Say So," a single by Focus, which Arkain mixed and mastered. Mixing involves taking all the different layers, levels, instruments, and effects on a track and making them harmonize while mastering is creating the finished track. Beats and Arkain have yet to release more music together but plan to create a beat tape in the future.
Beats, who first met Arkain in 2018 when they interned at Northfire together, says working with Arkain comes easy. Beats credits Arkain to saving him when faced with standstills or technical difficulties during a recording session. 
"I've called Riley at least seven or eight times while in the middle of a session with a paying client when I have no idea how to do something like exporting stem," says Beats.
Peirc3, who also collaborated with Arkain, says the two can freely create within a conducive workflow. "Working with [Arkain] is fun. I try to learn as much as I can from any producer I work with but I think we both hip each other to a lot of knowledge," says Peirc3.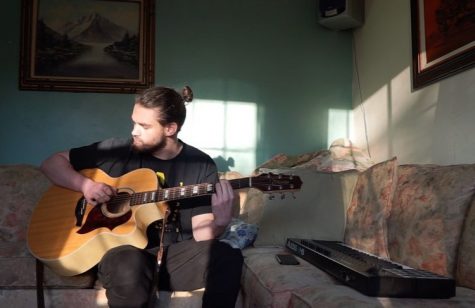 With his father a former bass player and background vocalist for the musician, Ramona Silver, Peirc3 and his four siblings grew up ina musically driven household. After his younger brother introduced him to Garageband, Peirc3 got into creating original beats. Having played bass, acoustic guitar and the drums, the production process came naturally to Peirc3 who labels himself as a self-taught producer. 
He dropped his first song, "5AM," the summer going into his junior year at UMass and within the first five months of 2018 he dropped five projects. 
"It kept flowing out of me I couldn't stop and for me, music is like a form of therapy. Everyone hears that, but I would be dead without it, probably. So it was just my form of documenting my progression," says Peirc3. 
His production process is rooted in hip-hop but labels his genre as an alternative as he progressively experiments with authentic trap sounds, switching up pitches or tempos. "I love hip-hop. I feel like it can go a lot deeper than what is there now so I'm trying to push that depth," he says. 
Peirc3 began producing with no commercial motivations in mind, instead, he thinks of his published music as a public diary. Like Beats, he's not searching for fame but rather the ability to continually do what he loves every day. "I'm going to be making music until the day I die," he says. 
Although Arkain dreams of fame in the music industry he shares similar ideologies as Peirc3 and Beats, whose main incentives are creating meaningful content expressive of their true selves that listeners can relate to and draw inspiration from. 
With Arkain's lyrics reflecting his determination to go after his dreams, the artist hopes to push listeners to go after what they want in life.  "It's important to follow your passions from an early age and not get pushed down by people," Arkain says. 
The idea of helping people and being able to create change through his music continues to drive Arkain forward. He wants to write more lyrics that cover social issues such as inequalities in the country as well as global concerns such as climate change. Arkain makes it a priority that the artists he works with share the same values as him.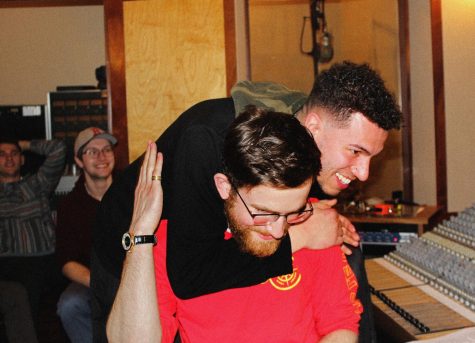 Arkain showcases his authentic sound and principles on his new album "It Takes a City," where he produced, mixed, mastered and organized each track. After a year and a half of work, the project released on March 20th and features hip-hop talent from Western Massachusetts. 
The producer tape models, "Not All Heroes Wear Capes," by Metro Boomin'. Boomin' serves as an inspiration for Arkain, Beats and Peirc3 proving producers can make a name for themselves as they collaborate with various vocalists. Focus, Dezmond Dane, DJ Lucas, Del Gado, and Alone are some of the vocalists included on "It Takes a City." 
"It was great to work with a producer as talented and versatile as Arkain. This is my first time being featured on someone else's project so I definitely knew I wanted to kill it," says the rapper, Del Gado. 
Focus, impressed by the new release, couldn't be more excited. "It's the genesis of the next level that we are reaching in terms of our music and I think with the intention around it, it can help boost us to a place of notoriety, locally and regionally," Focus says. 
With plans to move to Los Angeles after college with Focus by his side, Arkain will dedicate his time to progressing his music career.  "I'm not going to put a time stamp on it, but in the future I see Riley and I being very successful with a fan base and living off music and we're going to do it together. That's the goal," says Focus 
Arkain agrees. 
"There's not really another option," he says.
Email Samantha at [email protected]