New art bar opens in downtown Amherst
November 25, 2014
When Katie Day found out about a local jewelry shop moving out in downtown Amherst, she jumped at the opportunity to take over the space. Not exactly sure what approach to take, she looked to her daughter for advice.
"What's hot in Boston right now?" Day asked.
"Art bars," was her daughter's reply.
Day, along with Judie Teraspulsky, are the current owners of Judie's Restaraunt in downtown Amherst and are now the proud owners of Judie's Art Bar located directly behind the restaurant.
Her team of four artists, namely Annalise Ritter, David Frazier, Donna Estabrooks, and Marie Crane-Yvon, have brought inspiration, talent, and variety to the Art Bar with their 2-3 hour step-by-step paint classes.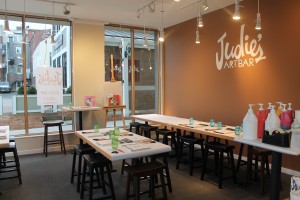 Ritter, a recent UMass BDIC graduate specializing in Creative Education for Sustainability, hosts themed paint parties inspired from her worldly travels. Previous dishwasher at Judie's restaurant, Frazier, applies his BA in Fine Art to teach fundamental painting skills. Another UMass alum and once professor, Estabrooks, brings forth her "spirituality and Buddhist practice" in her classes and painting technique. And lastly, Crane-Yvon, "a professional color consultant and decorative artist" enjoys sharing her passions with artists and students.
Along with relaxing and instructional art, customers are welcome to enjoy snacks from Judie's restaurant, including the restaurant's famous popovers. Both alcoholic and non-alcoholic beverages are served from the bar, which is of course, hand painted. The array of drinks include everything from wine or Mike's Hard Lemonade to sangria from the restaurant's bar.
Private parties are also hosted, upon registration, through the website or over the phone. Guests are able to choose their own painting theme, if desired, and receive group rates. The capacity for group events is up to 30 guests. This newly developed gem is great for a Thursday night out with your girlfriends, birthday parties, holiday and dorm decorating time, or to just channel your creativity through artistic outlets.
The best part is, visitors of the art bar do not need any prior experience with painting. Day, who had little experience with art before opening the shop now has a variety of beautiful artwork and firmly believes that, "anyone can paint."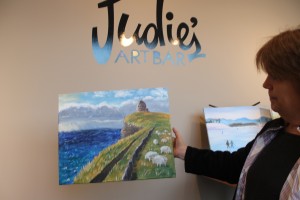 This past Sunday, November 23rd, everyday writing pencils were replaced with different styles of painting brushes, displayed in cool colored mason jars, and a palette of Christmas colors. Under the instruction of Annalise Ritter, a group of aspiring painters put their creative energy into designing advent calendars for the holiday season.
"Day sent me home with a bunch of art supplies to see what I could paint, and it was the best day of my life," Ritter said about her new job as an art instructor.
After being brought aprons and supplies, the group began to sketch their masterpieces while classic Christmas tunes played softly in the background. The humble, calm, comfortable, and creative atmosphere really makes guests feel apart of this close-knit and passion-filled art sanctuary.
Day expressed her vision for the art bar's growing future and hopes to branch out and bring other types of art into the studio.
"I have many creative ideas to come," she explained, such as pet inspired paint themes, wine bottle toppers, art music playlists, V-One vodka-sampling nights, and a visit from Karrin Allyson, a four-time Grammy nominated Jazz singer.
The art bar hosts several events throughout the week and a full list of upcoming venues can be found on their website. Judie's Art Bar is located at 49 Boltwood Walk, Amherst, directly behind Judie's Restaurant in Amherst Center.
For more information and class registration check out the art bar's website or follow them on Facebook and Twitter.