Game of Thrones confronts gender inequality with strong female characters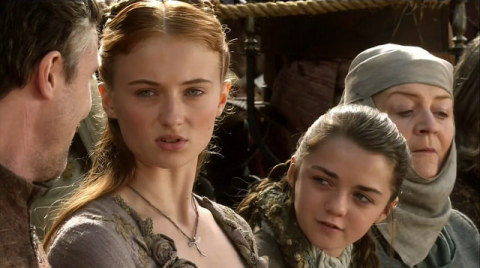 "Game of Thrones" is back. The epic saga based on George R. R. Martin's "A Song of Ice and Fire" book series is a staple in HBO's Sunday night line-up, and its fifth season is set to premiere on April 12.
With a fantasy series like "Game of Thrones" there are common trends, many of which we ought not to encourage. Though set in a fictional world, it is reminiscent of medieval literature known for the inclusion of quests, sorcery, and outright misogyny.
Female roles in these works are historically minimized. Princesses exist as treasures for heroic men, to have sex with and ignore. Men perform actions, men achieve greatness; the roles of women are almost entirely supplementary.
"Game of Thrones" is prodigal in its avoidance of this stereotype. Among the show's lead characters are an intimidating heiress, a child vigilante, and a brutish warrior — all of whom are strong and developed female characters.
The irony behind this is Westeros, one of the four fictional continents in the "Song of Ice and Fire" series that resembles the very sexist middle ages. All of the women on the show have been used as a sex object or has had to be subservient to a man in some way. Despite all of the women being victims of an extremely sexist world, they all manage to be just as complex, cunning, and badass as any of the male characters.
The most notable gender-defying woman is Brienne of Tarth. In season four, she conquers one of the strongest male characters in battle, and establishes a relationship with the handsome Jaime Lannister. Characters are not confined by traditional gender boundaries. When a misogynist character questions Brienne's strength, the audience is amused by his ignorance, as she is stronger than almost any man.
Brienne is not the only woman who has made a fool of the men who have mocked her. Daenerys has gone from a girl who was married off to a savage by her abusive brother, to a fierce and powerful queen. Arya has gone from a sweet and innocent tomboy to a cold hearted assassin. In season five, a character named Cersei is probably the most powerful character in Westeros. We know what these characters are capable of, and stereotypes of inferiority is a laughing point instead of a concern.
Martin calls himself a "feminist at heart," to which he credits the show's success among female audiences. The series is renowned for its character development, and it succeeds without calling attention to itself.
In comparison, shows like "Mad Men" try to be overt in tackling gender roles. The show promotes feminist issues through a critique of gender stereotypes and goes out of its way to have strong female characters, whereas "Game of Thrones" just has strong characters.
Yet despite these strengths, "Game of Thrones" is not without flaws. The show has drawn criticism in the past for misrepresenting gender, abusing HBO's lack of restrictions to showcase sex, specifically the female form.
Most drinking games for the show have rules involving sex scenes and female nudity.
The show caters to the male gaze, but this problem doesn't just stop with "Game of Thrones;" the problem is with HBO itself. The channel has reached great heights by propagating one-sidedly explicit content, and there's not much encouraging them to change. A common response is to discourage the sexualization of all genders in television and film, but that isn't what is happening with "Game of Thrones."
One of the ways to push for this social change is to hold shows like "Game of Thrones" accountable. Viewers can help shape the show by insisting on changes that represent inequalities on screen. Natalie Dormer, the actress who plays Margaery Tyrell on the show is "absolutely" in favor of more male nudity to counteract the hyper sexual images of nude women.
So while the show takes place in a fantasy world full of dragons, magic and zombies, it's more honest in its portrayal of women than almost any other show, movie or book that involves a sword.
Nicholas Hull can be reached at [email protected] or on Twitter @Nhullus