S#arp Attitude hits the high notes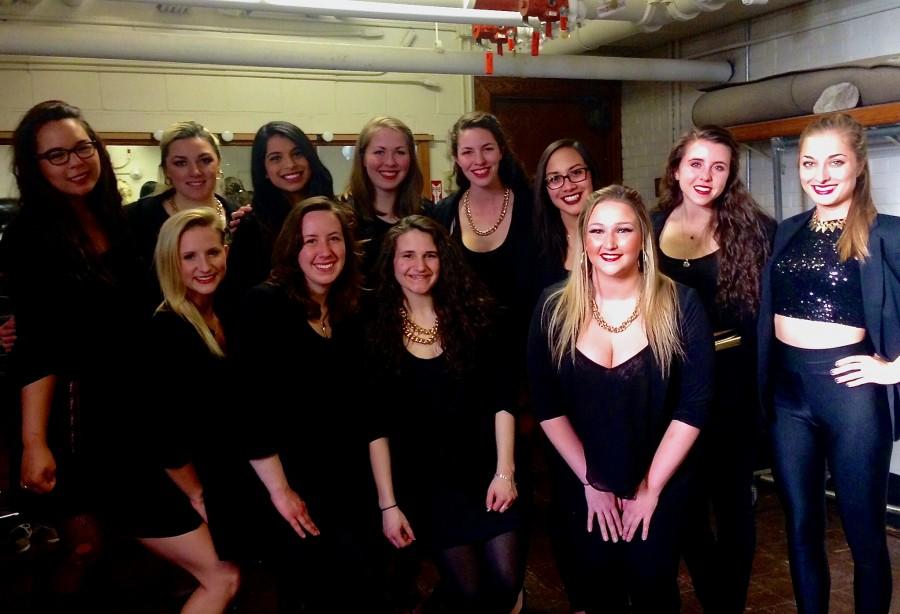 The buzzing crowd falls silent as the lights dim in the University of Massachusetts Amherst's Bowker Auditorium on April 13. Stragglers hurry to the few remaining seats as UMass' Vocal Suspects introduce the first performers on the talented A Cappellooza lineup. A parade of fabulously dressed young women enters from stage right.
Donned in sleek black jackets and the occasional shimmering crop top, S#arp Attitude, UMass' female A cappella group, awaits the first notes from the pitch pipe. The group breaks into angelic harmonies and meticulously calculated dance steps in its opening number, "Bang Bang." The female pop ballad, featuring strong vocalists Jessie J., Nicki Minaj, and Ariana Grande, is perhaps a representation of the S#arp Attitude mission itself.
Co-founded a mere three years ago by Alissa Platcow and Melinda Packer, the A cappella ensemble has flourished into a group about far more than just raw, musical talent. The singers aim to promote female empowerment in the face of gendered stereotypes.
"Before the movie "Pitch Perfect" came out, girl groups were known to be flowery and unable to have a great bass. They weren't seen as being good," says Platcow, a music and Judaic studies major. "I wanted to create a group that was good enough. I wanted us to be better than the stereotype."
Members of S#arp Attitude admit to having a rough start, and attribute their swift turnaround to the dedication and confidence that comes with being a part of a supportive and accepting group. The leading ladies find that the group has been more than just an outlet for music, but a home away from home.
"I say it everyday: This group is my heart and soul," says member Sam Cormier, a communications major.
The group's passions go beyond musical arrangements and female empowerment. As many A Cappellooza attendees surely noticed, an essential aspect of the performance is dance. The unique blend of vocal talent and original choreography elevates S#arp Attitude from a group of singers to a group of true entertainers.
"We're one of the only groups that consistently does choreography. I think a lot of people appreciate that," says Cormier.
All of the hard work that goes into creating the perfect set list is undoubtedly exhausting, but you'd never know it watching the effortless power and grace of S#arp Attitude. Layered harmonies, fierce bass beats, and a plethora of vocal ranges — all paired with fancy footwork — sets the A cappella group apart from the others.
The group strikes another harmonious balance between background vocals and solo performances.
"We usually feature more than one soloist on many of the songs we do," says choreographer Emma Irvine, a sports management major. "We try to let everyone have her time to be up there, but also have that background group where everyone is supporting her, too."
A group rich in spirit, talent, and support is the perfect place for singers at any level to grow.
"It's pretty amazing how many voices the group has turned around," says Platcow. "Even just [confidence]. Some girls come in really shy and then, all of the sudden, have this great confidence and they're taking these great solos. Everyone grows in this group."
"We call this group a 'twelve-step program,'" says member Marina Napoletano, an anthropology major. "When most of us joined, we were in an awkward place. We were either new to school or didn't have many friends. In a way, A cappella and S#arp Attitude kind of saved us."
As the semester comes to an end, many of the powerful female voices that have shaped S#arp Attitude will graduate, taking their passion and vocal talent with them. Surely, the group's new wave of members will uphold its female forte.
"We're losing about half the group," says Cormier. "It's almost like we're starting over, fresh. But we're still keeping in mind what S#arp Attitude means."
The ladies of S#arp Attitude will host their final concert of the spring semester, with special guest Doo Wop Shop on Saturday, April 25, at 7 p.m. in Herter Hall 227. Admission is free, so be sure to stop by and watch the ladies dazzle the crowd one last time before summer.
Ruthann Barry can be reached at [email protected] or on Twitter @ruthann_barry