Country music changes for the times (and for the worse)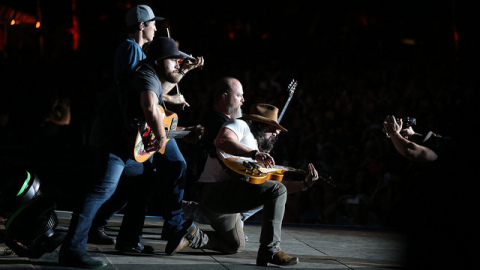 Afton Andreadis, Contributor
October 16, 2015
Hang on for a minute...we're trying to find some more stories you might like.
Though friends often make fun of me for it, I am proud to say that I am an avid country music fan. No, I did not grow up in a small, rural town in the South, nor have my exes ever left me for my sister (at least not yet). I have, however, always been drawn to the simple melodies and storytelling lyrics the genre is known for. While my dad was force-feeding me AC/DC and Black Sabbath, my mom would play me the upbeat, sing-along tracks of Alabama along with the slow, heartfelt ballads of a young Leann Rimes. It's safe to say I fell in love with the latter of the two.
With that being said, I feel country music is going down the tubes. What was once a genre filled with soul and beauty has turned into, like many other genres, a factory-produced mash-up of recycled lyrics and duplicated guitar riffs that inevitably have my stomach churning with every new song I listen to. Yes, country artists for the past decade have been singing about beers, babes, and trucks, but the quality of the music itself is something I just can't find in today's country.
Artists like Kenny Chesney and Brad Paisley, both of whom have been a major part of the industry since forever, seem to have upheld their original style and lyricism within their most recent album releases. But I can't seem to distinguish country's new artists from each other: Thomas Rhett, Cole Swindell, Parmalee, and Chase Rice, to name a few. It's as if their record companies threw them a word bank of the same words and phrases and told them to somehow come up with different songs. Those songs are, inevitably, borderline identical to each other.
I find myself replaying late 80's, 90's, and 00's country on a daily basis, simply because the new guys can't seem to stand up to the old.
Chesney and Paisley may stand up to the carbon copy lyricism and instrumentals the industry keeps pumping out, but many other old-school country crooners have succumbed to the trends. Take an artist like Keith Urban, for example. Even though Urban has always produced pop country above anything else, he is known for being a phenomenal six-string guitar player; his complex guitar solos are what made him stand out from competing artists.
However, any trace of guitar can barely be found in his recent tracks. Even artists like the Zac Brown Band, who are notorious for speaking out about the recent decline in song and lyric quality (and publically bashing Luke Bryan's hit "That's My Kind of Night") seem to have taken a few steps back within their recent music as well. Their hit "Loving You Easy" sounds more like a song that would play during an E-Harmony commercial, rather than a challenge to the industry.
Female country stars, I'm afraid to say, are guilty as well. Gone are the days of Martina McBride belting out girl-power anthems and Trisha Yearwood singing her heartbreak in "Walkaway Joe." All right, while Carrie Underwood may be an exception to the current decline in female country music, up-and-coming artists like Jana Kramer and Maddie & Tae are a lackluster representation of the female voice on country radio. They too seem to be products of a repetitive, colorless industry like their rising male counterparts.
I am mourning the loss of a genre I have grown up loving dearly. Is it the current monopolization of the music industry that is causing the artist to not have a voice in what they are producing? Or, is it the artist simply starving for relevancy and not caring about the music itself? Perhaps this is why Taylor Swift left country for the pop melodies of "1989;" I wouldn't blame her if that were the case.
I have not given up on you just yet, country music, but I may have to take a break for a little while. We may meet again, but if the current trends in lifeless tracks continue to rise… I'm out.
Afton Andreadis can be reached at [email protected] or follow her on Twitter @afton_andreadis.