Homecoming weekend: It's not just about football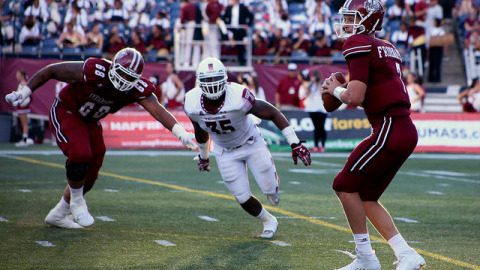 Homecoming weekend is upon us once again. It's a time when students, alumni and families join together at Warren McGuirk Alumni Stadium to support the UMass Minutemen. Yet, among the sea of maroon sweatshirts and Minutemen gear, splashes of pink stand out, especially on the football field.
Like any morning before a home game, the football team plans to meet at around 9 a.m. for breakfast and a walk-through of the plays. They'll then break for a pre-game meal and board the bus to McGuirk. But this Saturday they'll play with a special purpose: to fight breast cancer.
October is Breast Cancer Awareness Month and gains national support from major public figures, businesses and organizations each year. The American Cancer Society reported that an estimated 40,830 women and 440 men are expected to die of breast cancer in 2015. Because of this, the UMass Minutemen use the homecoming game as a platform to spread awareness and promote early detection.
Bernard Davis, a senior wide receiver, said he takes great pride in wearing pink during the game.
"Wearing pink is both an honor and a humbling experience," he said. "When we put on our pink gear, our purpose as a team becomes so much bigger than just winning a game; we join the fight and support the many families that have been touched by cancer."
UMass's offensive lineman Elijah Wilkinson agreed, and said that it's crucial to use his position as a football player at a major university to spread awareness.
"Literally everyone comes out for homecoming: young, old and in the middle," he said. "Aside from the swag factor, we wear the uniforms to spread awareness and impact as many lives as we can here in the stadium."
While the efforts of the football team are highly applauded, they aren't the only players trying to help fight cancer; the women's field hockey team will also wear pink during their homecoming game.
So, when you step into the stadiums this weekend to see your favorite UMass teams, be sure to cheer a little harder in honor of those fighting breast cancer.
Tickets for the football game on Saturday, Oct. 17 against Kent State can be picked up at the Mullins Center.
For more information on how to support the fight against breast cancer, visit the American Cancer Society or the Susan G. Komen organization.
Email Valerie Inniss at [email protected], or follow her on Twitter @readvinniss.