Top Five: Halloween activities in the Pioneer Valley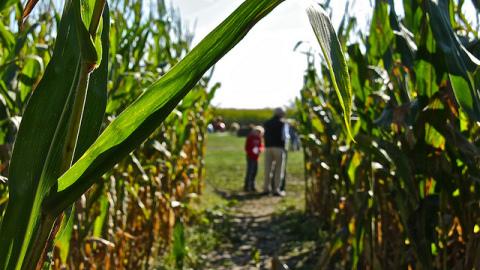 Jenna Careri, Contributor
October 27, 2015
Halloween is creeping up on us. While you may have your costumes planned out (Hillary Clinton and Donald Trump, anyone?), but do you know how you're celebrating this year?
Here are our top five activities to do in the Pioneer Valley to get you into the Halloween spirit before the big night.
Verge Campus Tour
For those of you planning to stay on campus this Halloween, the Mullins Center will host the Verge Campus Tour concert at 8 p.m. on Halloween. Rap duo Rae Sremmurd will be stopping by, along with hip-hop artist Mike Stud and electronic-soul duo Kaneholler. Tickets are available only at the box office with your student ID, and start at $12. The concert is open to UMass Amherst students only, so you'll get your own private concert.
Amherst Zombie Crawl
If you didn't feel like zombie-walking it all the way to Northampton for the bar crawl last weekend, or if you just really love zombies, Monkey Bar, Lit, Stackers Pub, and McMurphy's Uptown Tavern have teamed up to create the first-annual Amherst Zombie Crawl. The Crawl takes place on Friday, Oct. 30, and each bar will give out prizes to the best zombies. Enter before 11 p.m. to win. Beer, zombies, and a location within stumbling distance of your apartment? You couldn't ask for more.
DementedFX Haunted House
For those of us unlucky enough to be under 21 this Halloween, there is still plenty to do. In Easthampton, the DementedFX Haunted House is back every Thursday through Sunday until Oct. 31. Visitors enter the world of BioMedCorp, a biotech company that has some deranged experiments going on. The scientists might seem friendly, but be warned — they just might clone you when you're not looking. Tickets can be purchased online or at the ticket counter for $20 per person.
Mike's Maze
Every year, Mike's Maze at Warner Farm in Sunderland opens "Mike's at Night" which runs until Oct. 31 and includes a haunted maze open Friday and Saturday from 7 p.m. until 11 p.m. This year, the maze is an Alice in Wonderland mural, and at night the familiar tale gets even weirder. After entering the eight-acre maze, groups of six are led through tasks by "semi-evil [and] semi-human guides." Please your guide and they'll show you how to sneak past the maze demon; anger them, and you might not make it to your classes on Monday. Tickets can be purchased the day of for $27, or online for $24.
Monster Mash Haunted Hayride
Keeping with tradition, McCray's Farm in South Hadley continues to celebrate Halloween with its infamous Haunted Hayride. This isn't your average hayride; it whips across 165 acres of cornfields ending in a 25-room haunted house ominously called Massacre Manor. Even better, there are plenty of creepy clowns to keep you company. The ride opens at 7 p.m. Friday, Saturday, and Sunday through Halloween night. Purchase your tickets online for $20 to avoid long lines at the ticket counter. The final ride of the night takes off when the last victim in line hops on board. Good luck getting through the whole hour alive.
Email Jenna Careri at [email protected].