Top Five: Mistakes when moving off campus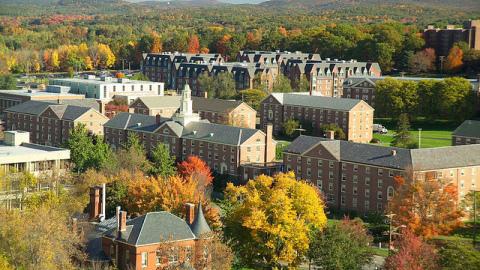 Living off campus has its perks, but many common mistakes threaten to sour your experience. Here, I'll be serving up even more advice to prevent you from making these same mistakes.
1. Not knowing who you're moving in with
In the excitement of moving, especially with friends, it's easy to overlook potential red flags. A friend who "sometimes" needs to borrow money could become a roommate who can't afford rent, and friends with drastically different habits will annoy each other in communal living situations.
Before moving in, have a conversation about rules and expectations. Discuss how the rent will be paid, specifying rent per person, and how the monthly payment will be paid to the landlord. When utilities aren't included, designate a responsible person or two who will be in charge of paying water, electricity, and heat, as well as cable and internet. Explore living habits thoroughly to make sure everyone's lifestyles are reasonably compatible.
2. Not planning ahead for utility costs
In the rush to move into an otherwise perfectly-located and ideally-priced place, it's easy to ignore the utility elephant in the room.
In Mass., the cost of utilities can become prohibitive in the winter months, so it's essential to do some research before you move in.
First, talk to the real estate agent or property management company to get an average monthly utility usage for the property. You can also check with the current occupant of the place, but keep in mind that houses with more occupants will have comparatively higher bills. You should be able to call the utility companies that service the property and ask for general information on average utility usage as well.
If utilities are included in your rent, check your lease carefully for any hidden fees.
If you leave for winter break, make sure you never set the thermostat below 55 degrees; this can cause the pipes to freeze and burst. You simply will not get enough warmth through heat "rising" from the apartment downstairs, and don't assume you'll simply use less to avoid high utility bills. Did you know the temperature one night last February was negative 26 degrees? That's right. Negative 26 degrees. You've been warned.
3. Forgetting to take transportation into account
That $900-per-month three-bedroom might look like a sweet deal when you sign the lease, until you realize it's in Holyoke — at least a 30-minute drive from the University of Massachusetts Amherst. Commuting long distances can affect both study and work time, and add to your overall stress level.
You should not commit to a place without checking out its distance from school and other places you'll patronize frequently —grocery stores, drug stores, Target (of course), bars, etc. Ideally, test out the commute at the time of day you'll be traveling the most.
If you're planning on taking the bus to avoid the long walking distance from commuter parking lots, be sure to remember that riding the bus is much slower than driving. An apartment in Northampton center may be a twenty-minute car ride from UMass, but it's about an hour away via PVTA.
4. Failing to think about safety 
If wandering around a potential apartment complex or neighborhood feels like an audition for a third-rate horror movie, you'd be wise to reconsider living there. Check for several safety features before you sign on the dotted line.
For one, consider whether security access is required to enter — key cards, codes, etc. Make sure that doors are equipped with sturdy deadbolts and locks.
Be sure that emergency exits are not only secured from the inside, but are also to exit from in case of a fire or other emergency.
Ensure that smoke detectors are installed and working properly.
Make sure that the parking lot, laundry, common areas, mailboxes and entryways are equipped with bright lighting. Visit the areas around the apartment or house during both the day and night; you should feel safe at all times. If not, keep looking.
Once you move in, make copies of your keys and give them to a close friend. Don't hide them anywhere on the property.
5. Misusing loan refunds or excess checks.
It's easy to live above one's means off-campus. Luxury apartment complexes advertise heavily to students, and it's understandable to feel like a nice apartment is a natural transition from the prison-like dorm situation you may be used to. On top of that, costs can add up quickly. Cable, Internet, utility bills, and furniture will all come out of your pocket, and don't forget the security deposit, renter's insurance (which you should have), and home maintenance supplies.
However, most of us are on limited budgets, and if money for living expenses runs out, we may have to turn to even more loans to make up the shortfall – loans that charge interest. That's why, no matter how much it hurts, the time for fiscal discipline is now.
The bottom line: life can get expensive if you're not careful. Have a firm maximum budget, and don't look anywhere that will require you to exceed it. Set limits for yourself regarding outside spending, especially on discretionary purchases like eating out, and stick to them.
Your bank account will thank you in five years.
Have a legal question? Email Patricia LeBoeuf at [email protected].