Plug into the headphone zone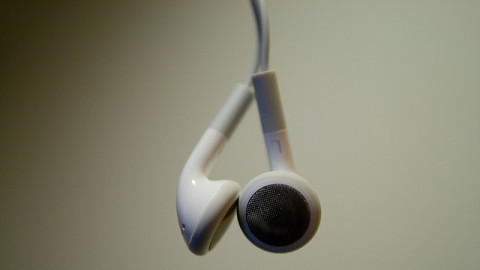 One student skateboards through the crowd during the standard 15 minute scurry from class to class at the University of Massachusetts Amherst. He almost lands flat, but another student holds out her arm to catch him. "Are you okay?" she mouths. The reckless rider picks up his headphones, places one bud back in his ear, and nods. His rescuer shrugs her shoulders, puts her own headphones back in, and walks off in the opposite direction.
This is the headphone zone.
As students travel to and from classes, meetings and lunches, most, if not all, have one thing in common: some type of headphones or earbuds in, either the standard Apple brand that accompanies their iPhone or Dr. Dre Beats. They are the constant, routine accessory to students' ears.
According to a graph on Statista.com, headphone and headset sales have increased by 31.6 million units over the last five years. This may be the result of celebrities like 50 Cent, Ludacris and Jay-Z venturing into the headphone business by founding or endorsing companies.
Headphones serve countless purposes: they play music, help to keep phone conversations private and even help students with studying, despite the risk associated with them and tests that show they might not be as great for studying as some people think.
A 2011 study conducted by the British Medical Journal (BMJ) reported 116 deaths or injuries from pedestrians wearing headphones between 2004 and 2011. Though the number seems small for the seven-year span, the BMJ concluded that the use of headphones with handheld devices poses a safety risk to pedestrians, especially in environments with moving vehicles.
Regardless of the safety risk, most students enjoy the company that music brings, especially while maneuvering through a hectic campus. Whether they're blasting Taylor Swift's "Wildest Dreams" or Drake's "Hotline Bling," it's safe to assume that these students are always plugged in.
"When I have my headphones in, I'm listening to music and that's normally when I'm walking to classes or eating by myself," said junior journalism major Eva Katana. "I really enjoy listening to music, and sometimes it seems like it makes my walk go by faster. When I'm alone, I like to zone out into my own world and just jam to my music."
The flagship UMass campus sits on about 1,450 acres of land and is home to 29,269 students, according to the university's factsheet, essentially functioning as its own town within the city of Amherst. Lengthy distances separate the four main residential areas on campus – Southwest, Central, Northeast, and Orchard Hill – from academic buildings. A laborious walk from Northeast to the historical Bartlett Hall can definitely feel like a drag; that's where music comes in.
"I usually have headphones in when I'm walking around campus; it's just something that I think makes the walk more enjoyable," sophomore psychology major Grace Dalton said. "I usually just have my Spotify playlist on shuffle, so it's a mixture of all kinds of music, but mostly upbeat and happy songs to get me in the mood for a good day."
Headphones are everywhere in the bustling Campus Center, noisy dining halls and other hot spots, like the W.E.B. Du Bois library.
"When I study, I choose spaces that are quieter so I use my headphones in order to have some sort of background noise," said senior psychology major Hana Sebbana. "For studying, I usually listen to instrumental music, because it doesn't have lyrics that will distract me."
According to Rensselaer Polytechnic Institute's Advising and Learning Assistance Center's webpage, background noise helps students while studying, but headphones do not. The site states that studying with headphones in tends to decrease retention of information. This is because headphones have direct access to the brain by covering the ears, and this can interfere with the brain and how it grasps information.
Devoted headphone users disagree with that claim.
"When I'm studying, I use my headphones initially to help with my concentration," said senior chemistry major Seo Yeon Orite. "I like to listen to slow songs, mostly ballads. But, once I feel like I can concentrate, I take them off; if I get distracted, I put them back on."
Dalton agreed that headphones help her concentrate.
"When I'm at the library or anywhere doing work, I have my headphones in, but sometimes nothing is even playing," Dalton explains. "There's something about having ear buds in that makes me feel more focused, it kind of blocks out the rest of the world. I also feel like people are less likely to disrupt my studying if they see that I have my headphones in."
There's no question; the consistent use of headphones is standard today. Welcome to the headphone zone, we see you've come prepared.
Email Ellanjé Ferguson at [email protected], or follow her on Twitter @ellanjeferguson.