Bat House, Human People rock UMass with two intimate yet contrasting performances
The bands showcased their talents at UMass' Integrative Learning Center providing not-so-typical coffeehouse tunes.
On Friday the 13th, with a full moon in the sky, students filed into Peet's Coffee inside the Integrative Learning Center. This evening, however, it was not caffeinated beverages that they sought, but instead an intimate musical performance. 
Students for Alternative Music (SALT) organized the show which comprised of the bands Bat House and Human People. Entering the venue and looking around, I noticed some of the charming characteristics of a DIY show: speakers propped up on chairs, string lights lining the area and a vaguely Christmas-themed gnome blanket serving as the backdrop. At first, the crowd was sparse, but when the music began the coffee shop quickly filled up.
Bat House, a psychedelic rock group out of Boston, opened the show. Their music can best be described as a rougher Tame Impala, loud and fast instrumentals contrasted by crooning vocals. They included a nice message to all of the students in attendance saying "College is fun, study and do your homework." They said that they usually play louder; joking that this evening they were more like the little jazz band in the corner of the coffee shop, but their performance was entertaining and engaging nonetheless. After ending their set with "Alright, Spaceboy," a song which they correctly described as "wonky," Human People took the stage.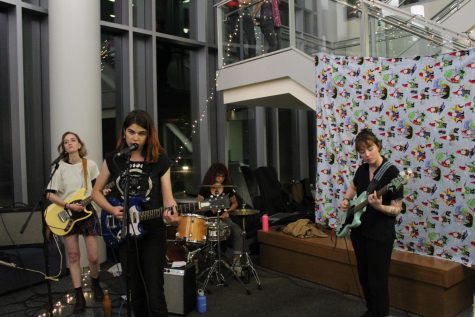 Human People, a punk outfit out of New York City, provided quite a different vibe than their predecessor. Where Bat House presented a chill, wholesome and more polished air about them, Human People were punk rock through and through. They started their set by requesting everyone stand and come closer to the front, making it feel more like a rock show. They quickly followed this by contrasting Bat House's pro college message by saying "College sucks, don't study and don't do your homework." Their tracks were guitar-driven, quick and angry with raw lyrics such as "I wanna die, why won't you let me die." With speedy and intense instrumentals and quick and emotional vocals, Human People turned the quaint coffee shop into a den of pure punk. 
Hayley Livingston, one of the guitarists and vocalists for the band, met Victoria Guillem and Abigail Austen, the drummer and bassist respectively, during their freshman year of college. Soon after they met Marisa Gershenhorn, another guitarist and vocalist, through attending shows that same year. The band then formed in 2014. Since then they have released two EPs titled "Sleep Year" and "Veronica" and one album titled "Butterflies Drink Turtle Tears" which was released in Sept. 2018 and is their most recent release. Since producing "Sleep Year" in 2016 their music seems to have become increasingly aggressive; becoming more fully punk as the years passed.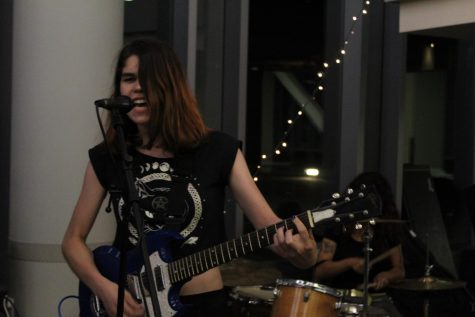 In full punk fashion, many of their answers to questions were a bit against the grain. They don't think their music has a message. They claim to be inspired by "whatever they play in the supermarket." Artists they like outside of supermarket tunes include Bowling for Soup; a band best known for songs "1985", and the "Phineas and Ferb" theme song.   
Throughout the show, Human People thanked the audience for being there and supporting them. It was their first show in three months, the band stated. Human People has tracks available on Bandcamp, Spotify and iTunes. They will be playing on Sept. 24 at an undisclosed location. "Ask a punk for the address," says their poster. Listen for them in supermarkets sometime soon.
Email David at [email protected]