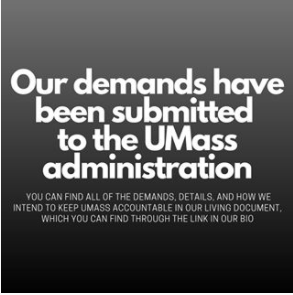 U-Más Fuerte Together: UMass Racial Justice Coalition unites with UMass for Black Lives
Both activist organizations unite to propose demands for the University to respond to by July 30.
AMHERST – On July 20th, the University of Massachusetts Amherst Racial Justice Coalition announced their unification with UMass For Black Lives. This union comes after the successful organizing efforts of both groups. Wayne Barnaby, a graduate student in Neuroscience, organizes UMass For Black Lives and recently created a petition for anti-racist changes to be made at UMass Amherst that has gathered over 3,000 signatures at the publication of this article. The petition can be found and signed here. 
At the same time, UMass RJC has been tirelessly working to create five task force committees to address racism at UMass Amherst. A conversation about the work of UMass RJC can be found here.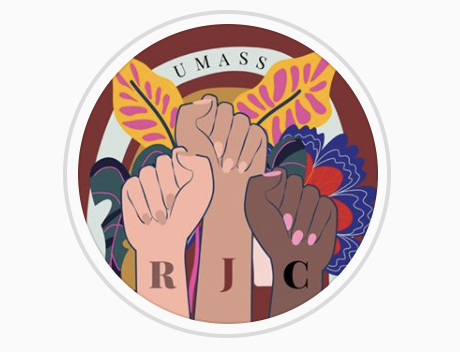 The new series of demands include metrics on how many students, alumni, parents and community members signed their initial Google Form- 1,085 students, 214 alumni, and 102 parents and community members. Deadlines for administrative goals and detailed demands are also included, demanding specific changes to everything from Center for Multicultural Advance and Student Success to divestment from UMass PD. All of this can be viewed as a living document here along with a linktree that includes various petitions and ways to get involved. In bold the document states that UMass RJC, "expect[s] a demand-by-demand response by July 30, 2020."
In a conversation with UMass RJC, Emily Steen, Zach Steward and James Cordero discuss their unification with Barnaby and Lian Guo of UMass for Black Lives. They also address specifics about the systems of injustice at UMass and how despite racial incidents, they continue to fight for future generations of UMass Amherst students.  
This conversation has been edited for clarity. 
On the Merging of RJC and UMass for Black Lives
Zach Steward: I can say, at least for me, it's definitely been an experience outside of an academic purview. I've never really spoken to that many grad students before. At least I get it specifically the ones that are involved with the movement for Black lives. The ones that are my department, which is Afro-Am [Afro-American Studies], I do talk to them, but again, not as much. So it's definitely been an experience.
Emily Steen: It's been very smooth, Wayne and Lian are the coordinators of petition and UMass for Black Lives and they've made time in their busy schedules to come to our meetings, and we've had some great conversations. We weren't asking for a very different thing. So it was just like, little tweaks here and there to have a better outcome of coming from a unified front.
ES: When we first heard of Wayne's petition,  I think that was three weeks ago now, and we immediately reached out and got connected. But it was more of a recent conversation that we should merge some of our ideas into each of our documents so that it can be more obvious that we're connected.
ZS: Getting in touch with Wayne was our first priority. And then, you know, having those conversations with him and Lian and the other grad students that have been involved, you know? And then going from there in terms of merging the two documents together and presenting a more united front to the administrations
James Cordero: Yeah, I think that's the goal. Really. It's just a united front. We welcome collaborating with different students and particularly BIPOC led initiatives. So this kind of collaboration was natural and will hopefully show the administration that students are really united around these issues.
ES: I was. I thought it was gonna be a big undertaking, but like I said we weren't asking for very different things. We're all coming from the perspective that UMass has a lot to do for BIPOC students to make it a safer, more comfortable space. So, honestly, I was surprised at how smooth they went. It just seems like a big undertaking. But it wasn't.
ES: Well  I believe it's relatively small they had mentioned. I mean, it's pretty evident that grad students don't have a lot of time to spare they're very busy, so we don't know an exact number but they mentioned that they have had conversations with many grad students and faculty. From my perspective, it seems more like STEM grad students that were kind of leading this initiative and focusing on efforts within specific departments or applying more accountability for a department to better support BIPOC students, specifically grad students, but yeah, that's my understanding of it.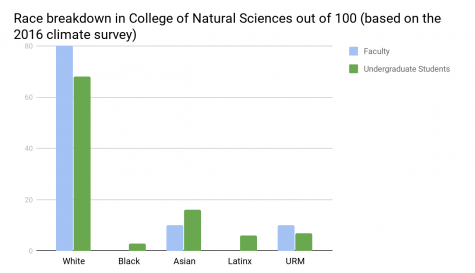 JC: Sure. I would just briefly say that I don't think it necessary that we're working with grad students that will make our demands be taken more seriously. I think it's that we're working with more students and more community members in general. In general, I don't think grad students or undergrad students are necessarily taken more seriously than the other. But when we work together, we show that issues have a wide reach, wide-reaching effects and that we're united, and so that unity, regardless of who we're working with who were uniting, we are united at the population and the community, and that's what's gonna make the difference here
Changes to Demands and Excitement
ZS: I can just speak for myself here and say that in terms of what I'm excited for is this renewed momentum and with this renewed call for a more anti-racist and a more racially just society that we live in, along with a bunch of other things but in this particular context of more anti-racist society. To me, these demands represent the collective work of a large group of individuals and organizations and recognizing that at the end of the day, you know, when we come together, we are stronger than when then if we're not together, that makes any sense. In that, it shows that no matter how they may try, and by they I mean powers that be, they may try to tell us that it is impossible to enact a certain thing here or a certain thing there they're depending on what it is. 
It's that sustained push of recognizing that this isn't something that will just have an impact for students and other individuals that are currently connected to the university. But individuals that will come after us in the sense that you know, we took inspiration from the man planning 50 years going back to the 1970s. And I think that you know, in those 50 years, UMass still hasn't implemented these demands like I'm tired enough it's 2020 let's try and get this done sooner rather than later because there is a need for this. There's a need for it and a collective sense of you know, If we don't get this done now, it's never gonna get and so I get I mean, where this goal and I'm excited to see where this goes and I'm excited to see how the university responds to these demands and whether or not they'll be willing to come to the table.
ES: Yeah, I'm excited to see how admin responds, because all we're asking for is to ensure the safety, comfort and success of BIPOC students. And it will be interesting to see how readily they support our effort or if there is push back. I think right now we're in a different place than students were in 1970 when they first submitted demands. Although BIPOC students are still a small percentage of the school, there's way more than there was when in 1970 when students were first making requests and demands of the administration to create a safe space. So it will be interesting how admin reacts and how much effort they put in. And if, if they're willing to help us implement these action steps based on the racial tensions that have been boiling over and in the limelight this summer. I'm just excited for and hopeful that admin will make UMass finally safe and comfortable for BIPOC students. Beyond that support BIPOC students, faculty and staff to make sure that they stay at UMass and they thrive at UMass and are successful and graduate and kind of repair years of systemic oppression through their success.
@Administration
ZS: I would just say and again, this isn't to one particular person within the administration, but to them as a whole that you know, empty words and empty platitudes and empty promises are things that UMass has prided itself on for years, and you know, we have seen the consequences of all of these things play out for years and, you know, and again just provide this is a small example. In 2018 when I was a freshman, I lived in Melville* [On Sept 23, 2018, racist writing appeared in a bathroom mirror of UMass Amherst's Melville Hall] so when all that went down I could see how the administration responded to that, and it was disheartening.  It was horrifying, and it really just put into perspective the ideal of how they were more ready and willing to put monetary value and put their statuses on the line rather than protecting minority students and it showed. Even now it continues to show in one of the emails that Chancellor Subbaswammy sent in response to the racial tension, he had mentioned institutional racism but refused to call out police brutality. I mentioned it to an administrator and I was like yeah that was great that he mentioned institutional racism but you didn't do enough. It didn't go far enough. There weren't any clear and true being to talk about beyond that. There needs to be more. And I know Dr. Walker from the Office of Equity Inclusion has set up a bunch of initiatives that are hopefully going to be enacted. But I can just say again, you know, empty words empty promises empty platitudes every word these initiatives seem to be moving that way because, you know, we all know that realistically, the money and these are the resources that could go towards the things that they don't. Because again, UMass as much as they like to say they care about diversity and inclusion as much as they like to say they care about hate not having a home that, you know, it does. They don't care about diversity and inclusion. I'm just gonna say that. So I felt that today it was more about holding them accountable and more about making sure that they don't just give us more of the same because it's 2020 something has to change.
The Office of Equity and Inclusion
ZS: I want to clarify this isn't a reflection of any individual interaction just more so calling them out as a whole. You know, going back to my experience from when I was a freshman. I just don't want something like that or something worse to happen again and for the university to just backtrack to the same ideals of sending an email but not having the systems in place to prevent something like what happened. God forbid it happens again for something worse and then not having plans in place to support those individuals that need that support after the event happens. Until we see the results from the initiative. All is surely personal. That's all gonna be a job.
ES: Just to clarify Anna Branch left UMass. [This reporter erroneously asked about Enobong (Anna) Branch. She left UMass and is currently the vice chancellor of diversity inclusion and community engagement at Rutgers University. Dr. Nerfertiti Walker took over as interim in 2019] She's no longer associate chancellor of equity and inclusion. And there's a lot to be said about that. UMass is horrible at retaining specifically Black women at the university and we're really aiming to make them correct that. There's currently an interim associate chancellor of equity and inclusion. Dr. Walker and she's been interim for a year and there is no search for a replacement for a permanent position person for that position. That's a big statement for UMass.
To answer your question about if that is just a position to have so that you see they have it? Entirely, yes. That's been an open position for a while, and there's no search going on. It's time that someone is held accountable. We've had conversations with the Equity Office of Equity and Inclusion and they don't necessarily have control or the ability to implement new procedures for Student Affairs. That falls under the vice-chancellor of Student Affairs. So it's really been an interesting dynamic to try and navigate when we're asking for the protection of diversity and the enforcement of equity. When we can't even have that conversation with the Office of Equity and Inclusion, we have to go talk to the Office of Student Affairs and Campus Life. There's a disconnect between administrators too, where they don't necessarily know what's going on in other offices, and specifically, they don't know what's going on with students. What we would really love to see and what our coalition tries to enforce is student empowerment and making sure that there are constant dialogues between administrators and students so that that disconnect does not exist and that student needs are heard. Like we shouldn't have to come together to spend six weeks drafting demands for administrators. There should just be open dialogue already that aren't just one-sided. It should be a two-way dialogue so that people can understand what's going on. The last Camp Campus Climate Survey was 2016. I'm a rising senior, so I've never taken it. That means that no one at UMass currently is represented by that survey, but that's how they're making the bulk of their decisions. It's just time that there needs to be a correction in the operations of any university, really, to ensure that people need their being heard and that they're being met.
Bureaucracy at UMass
ES: I don't think it's an issue, really, because we are in open conversations with many administrators in the Office of Equity and Inclusion and in the Office of Student Affairs. They're really receptive to the work that we're doing. It's just about getting to know who is the right person to be held accountable. If you talk to a vice-chancellor, they can delegate tasks, but you want to make sure that we know who we need to be talking to and following up with to ensure that action item[s] are all through and implemented. It has been a challenge navigating bureaucracy, just like you said. It's hard to get meetings, timely meetings. But when we do have those meetings, administrators are willing to extend the time limit and really go through our needs. We just need to make sure that beyond helping us find who is accountable, that they help us hold those people accountable so that there can be that follow up.
Retaining and Hiring Black professors
ZS: I would just say plenty and they're just not doing it. It just goes back to their whole ideal of diversity and inclusion and the Office of Equity and Inclusion. And, you know, "hate has the home" and they have all these slogans and they have promises and they're all again, just empty. I guess in terms of retaining Black professors and in particular Black female professors, it would just look at the hiring practices that they've had, really, since this place became an institution and since they started calling themselves the flagship and see what still there from when this place was first built and what they've changed and how much they still need to change. 
It is hard for me because the current chair of the African American Studies Department is leaving at the end of August. It is very hard for me to see because she started the same year I did. So we grew close and to see how UMass handled her situation and presumably those that came before her, not particularly in Afro-Am, but in other departments; it's disheartening, to say the least, because I didn't come to this school expecting to have to fight on six different fronts while also trying to be a student. I came to the school simply because this is one of the best schools in the state.  I wanted to get an education and I wanted to be able to drive. So I would just say to them like to seriously, look at the hiring practices that they've had in place for forever and see what needs to change and see if you need to do an overhaul of those practices. This is more so on the students' side; whenever there are tour groups on campus, the majority of the tour guides I've seen on this during the academic year. They are white and the students themselves that are in the tour groups, are majority-white as well. So it's this heartening again, the how-to that complete and utter disconnect that complete lack of disrespect for before minority students. But again, in this particular context for Black and Brown looking around didn't just to see what is a human truly cares about and to recognize that as much as they like to say that they care about everyone and that everyone has an equal footing, that the opposite is true.
ES: Basically UMass has misogynistic and an anti-Black history like Zack was talking about. Unfortunately, we have to explain to them that they must value Black women in higher education. It's really disheartening, and we don't necessarily want to point out their hiring practices. Like in an ideal world, they would hire, any underrepresented individual, but specifically a Black woman, and she would feel comfortable at UMass. And she could stay. A lot of times after years of being at UMass and being undervalued, people feel relieved when they finally leave. Only because they've been putting up with so much and they've been undervalued and overlooked at UMass. And it's really unfortunate that we kind of have to explain to them the importance of having representation for any underrepresented community. Student retention would increase if there was higher representation in faculty and admin. Not just having someone looking out for you in the decision-making room, but also having someone to talk to, having someone you can trust as a mentor that would increase student success greatly. It's interesting trying to ask an administrator to care about the people in its communities, but it hasn't happened. So, unfortunately, that's the conversation that we have to have. We have to let them know that these people have a value to them. Unfortunately, they can't just see that their ideas and their creativity and the comfort that they bring for students aren't enough for them.
"
It needs to be, 'How does this fit into your business model?' If we can kind of talk in admin language that they can better understand and accept what we're saying. So it's unfortunate that we have to approach it like a business deal, but that's the language that they understand.- Emily Steen
ZS: Well, it's funny you mention that because you're not the first person to ask me that question and probably won't be the last. For me, besides the typical besides the friends that I've made, the classes that have taken, the professors that I've had the pleasure of being connected with. Besides the food, it's also just a sense of community and that I've come to know here. The thought of having to start over is scary. As much as this place is dangerous for BIPOC students, I would also say to those students that if you're able to find your comfort zone, I know it's easier said than done if you're able to find people that you can connect with variable, find people that can relate you on even, the smallest thing, then [it] doesn't matter what it is. If you can find those people then you'll be able to understand what it is to carve out space in a predominantly white world. They say college is a microcosm of the real world. Here, I would say that's arguably the truth. It's all about finding that space, finding your truth, carving it out for yourself and so you don't have to as though you're constantly trying to decide whether or not you were there or not. It's just about finding the people, whoever they are, finding spaces and also carving one out for yourself, carving multiple out for yourself so you have something tangible to hold on to.
"
You want to put yourself through these things because it's hard. It's gritty. It is terrible. No one should ever have to experience this. – Zachary Steward
ES: Yeah, I would. I have not had a good experience at UMass. I don't think many BIPOC students kind of leave unscathed. Leaving wasn't much of an option due to the financial security that I had with UMass. I also want to point out the fact that this isn't solely UMass issue. Systems of repression follow us everywhere. It's not like we can change our skin and go somewhere else and feel safer. I don't really see that option. People who I do know that have transferred out of UMass just go back to their hometown so that they can at least be with their family and have that sense of community that Zach was talking about. The reason that I stay and fight, and I think the reason that we all stay and fight is so that future students don't have to go through this. It's not something that they should have to. It shouldn't be that college is a fight for your life. That is ridiculous. We're all paying money to attend the school. The school should return the favor and care about us and support us and provide those from communities and safe spaces for student success. I probably never left because it was too much work on top of academics and there wasn't even support for that process. So it's like a trap. But the food is good and the sense of community once you find it is good. It takes a lot of work and it takes a lot of effort. And no, I just keep fighting so that no one else has to go through this. It's not fun. It's not worth it. No one should have to suffer. That's really how I see privilege. I don't see it as why something comes easier to some people or why opportunities are more available to others. Privilege basically fear, right? So if you have privilege you don't have to live in fear. You can just live free. You can just live with the normal ups and downs of life that everyone has versus if you don't have privilege, you have those normal ups and downs of life on top of fearing for your life the majority of the time. It's not a sustainable way to live. I think targeting UMass as a microsystem within society is a really possible way to enact change and run really to show people a model for how you can support underrepresented communities and how that can really lead to future success for them. It doesn't have to be a cycle of pain and suffering.
"
"If I walked away from the injustice that I saw UMass I would simply find it in other communities. So I may as well face it here, learn how to build the kind of solidarity and power that we need so we can overcome it and then take those skills and do that in every community I'm in the rest of my life."- James Cordero
JC: Yeah, I would briefly just say I really want to build on what both Emily and Zach have said is, "an injury to one is an injury to all." The systems that we're fighting here on UMass are not unique to UMass. Racism is in every community, issues of oppression regarding class, gender, sexuality, ethnicity all kinds of identities. They're not unique to UMass. They intersect and overlap in every other aspect of our lives.  If I walked away from the injustice that I saw UMass I would simply find it in other communities. So I may as well face it here, learn how to build the kind of solidarity and power that we need so we can overcome it and then take those skills and do that in every community I'm in the rest of my life. You know, I don't think this is an overnight process. We're not going to get rid of hundreds of years of white supremacy in one night or in even one movement but we can make concrete improvements in the lives of those who are oppressed. We can make concrete improvements for BIPOC students and for all students on the UMass campus. And we can go from there, and that will be worth it.
ES: To finalize what James was saying is that our efforts are led by Black and brown students and with that lens of helping the most overlooked members of our community as a way of uplifting the entire communities. So everything we do benefits more than just Black and brown, but it makes our UMass communities stronger.
ZS: Again just calling UMass truly do better and be better and not continue to stand behind those empty promises, stand behind those empty platitudes, just to reflect on what it truly means. As as they like to say 'Be Revolutionary', like what does that mean in the age of 2020? In the midst of COVID-19, in the midst of racial unrest and how you can call on people to 'Be Revolutionary' and just be human beings when you know you're not necessarily practicing those same values yourselves.
---
Email Julia Donohue at [email protected] or follow her on Twitter @juliadonohue3