How can the Celtics avoid letting the failure of last season have disastrous consequences for the future?
After a tumultuous season filled with injuries, inconsistent play and antsy fans, how can the Celtics turn it around for this upcoming season while keeping our stars happy?
Boston Celtics on Twitter: "Thank you, Danny ☘️… "
Ten months ago, the Celtics were in the midst of an Eastern Conference Finals series with the Miami Heat, both teams deep into an NBA bubble playoff run with hopes of making an NBA finals bid. Now, both teams are faced with tough roster construction decisions and an early elimination from the playoffs. 
In the first move of a major offseason, Danny Ainge retired as Celtics president of basketball operations and current head coach Brad Stevens was promoted into his role. In 2019, Ainge suffered a mild heart attack before a playoff game against the Milwaukee Bucks. He would go on to return to the team but between the pleas of his family, a rocky 2018-2019 season with internal turmoil and a lot of work ahead following this past season, Ainge decided it would be in his best interest to retire. He will remain in an advisory role, but his responsibilities will be reduced greatly and Stevens will essentially step into his role. Stevens was also feeling fatigued after the deep bubble playoff run and the mental tolls the short offseason and pandemic took. Ainge may have had a rough end to his tenure, but it was far from unsuccessful.
Prior to Ainge's tenure, the Celtics had a run of terrible luck and the franchise was in disarray. On June 8, 1986, legendary forward Larry Bird led the Celtics to a championship over the Houston Rockets. On June 17, the Celtics selected Len Bias with the second overall pick, looking to help give Larry Bird some young help and keep him healthy long-term. On June 19, Bias died of a cocaine overdose, suddenly cutting those future aspirations short. 
Bird was falling apart by the tail end of his career. Battling foot and back injuries, Larry Legend decided to finally retire after the 1991-1992 season and leave the franchise in the hands of Reggie Lewis. In the 90s, the Celtics were able to develop home-grown talent in shooting guard Lewis, a perennial 20 point per game scorer and an all-star in the 1991-1992 season. For context, Lewis was 15th in the NBA in points per game with 20.8 and ranked near stars such as second-fiddle Scottie Pippen and sharpshooter Reggie Miller. However, while playing on a court in 1993, Lewis succumbed to a hard-to-diagnose heart disease that had plagued his career. A tragic ending for Lewis, and an uncertain future once again for the Celtics.
The Celtics would later draft Paul Pierce in the 1998 NBA Draft with the 10th overall pick. In 2000, he was stabbed 11 times outside of a night club. He was rushed to a hospital, narrowly avoiding being the third star Celtic in a row to suffer a tragic death. The Celtics then had to survive the hiring of Rick Pitino, who had a coaching win-loss record of 102-146 in his tenure and would eventually become an infamous figure in Boston sports lore. This would drive the fervent Pierce to request a trade to the Dallas Mavericks until the current general manager finally rewarded him for his loyalty and went all-out to get stars around him.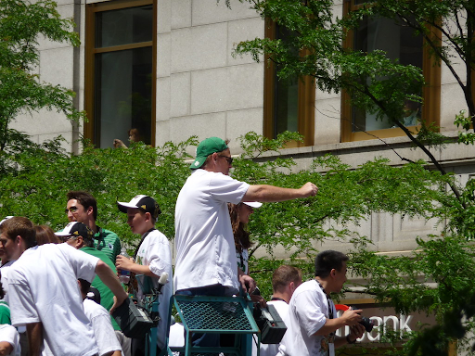 Danny Ainge celebrates with fans after winning the championship in 2008.
In 2003, the Celtics hired former Phoenix Suns head coach Ainge as their general manager after a temporary retirement. In 2007, when faced with an unhappy Paul Pierce, he created one of the most iconic rosters ever in the "Big Three" Celtics by trading for former Most Valuable Player award winner Kevin Garnett from Minnesota and sharpshooter Ray Allen from the then-Seattle Supersonics. The Celtics won a championship and contended for many years before injuries started to deteriorate the quality of the team. Ainge was able to move the aging stars in one of the greatest NBA trades of all time. The Celtics traded Pierce, Garnett, and veteran shooter Jason Terry for pricey forward Gerald Wallace, a collection of role players to make the salaries work, three first round picks (in 2014, 2016, and 2018) and the right to swap picks in 2017. The Celtics would go on to draft core pillars to their franchise such as Jayson Tatum, Jaylen Brown, Marcus Smart, and trade the 2017 pick swap to Cleveland for star point guard Kyrie Irving. 
The Celtics were unable to contend with this trade as they hoped they could due to chemistry issues and players not quite fitting with one another on the court. Many criticized Ainge for holding onto Smart, Brown, and Tatum and not trading them to sell out for a championship in the present. At the end of the day, despite the drawbacks of his management style, including holding picks for too long, or trading injured players, hurting his reputation in the process, he was able to bring success back to the Celtics after years of struggle. As the franchise is handed over to Ime Udoka and Brad Stevens, pressure is on them to expand on the platform Ainge helped rebuild.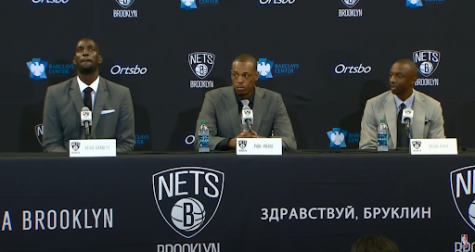 Kevin Garnett, Paul Pierce, and Jason Terry being introduced as Brooklyn Nets. Credit to the NBA YouTube channel
Udoka is faced with a tough, yet promising situation. He has two flatout stars in front of him, elite scorer Tatum and the versatile Jaylen Brown, a foundation that many coaches would take in a heartbeat. He also has a premier defender in Marcus Smart, although he had a shaky defensive season this year in terms of his usual standard, which may have been caused by the calf injury he suffered.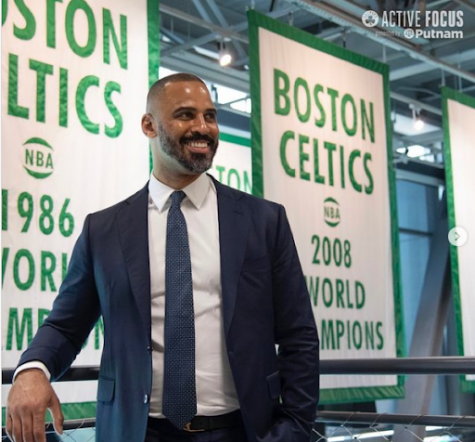 New head coach Ime Udoka poses in front of the legendary Boston Celtics championship banners. Credit to the Celtics official Instagram account.
Sports analytics are a little tricky for discerning how good a player is, but when used in tandem with the eye test, help provide useful additional context. Net rating is a player's offensive rating subtracted by their defensive rating and helps to give context as to how much better the team does when a player is on the court compared to off of it. Offensive rating is the efficiency of an offense and defensive rating helps tell how good the team is at preventing points. It is better to have the former be high and the latter be lower. Smart's net rating in the 2019-2020 season was an astonishing 7.3. Compare that to fellow first team all-defense member Ben Simmons' 1.7 net rating and Smart looks like a demigod. In past seasons, despite the volatility of his 3-point percentage, Smart perpetually brought it on the defensive end. This season, his net rating was -13.2. This all becomes increasingly worrying when considering the fact that this is Smart's last year on his contract. Smart has shown plenty of playmaking savvy and him starting at point guard and not taking shots away from Tatum and Brown may be exactly what the Celtics need. Score-first point guards such as Kyrie Irving, the recently traded Kemba Walker, and Boston folk hero Isaiah Thomas failed to help us reach the promised land and so it may be time for a shift.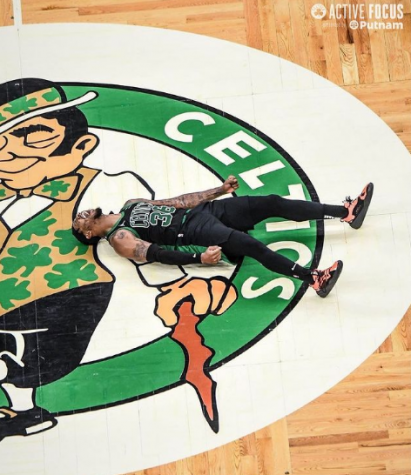 Marcus Smart gets hyped after a big play. Credit to the Celtics official Instagram account.
The Celtics need a more pass-friendly offense that helps get Tatum and Brown moving around, slashing, drawing fouls, and getting open looks for everyone. Last season, set plays often ended early, which left them in an isolation situation, resorting to a vast array of dribble moves to try and get a slightly contested shot rather than an open one as a result of multiple passes. Tatum and Walker could find ways to score, but these were very inefficient and left the team stagnant in critical moments, and the team lacked the core identity it has had in past seasons. Udoka will have the challenge of connecting with the players to help motivate them again, while also installing a scheme that gets everyone involved and has the high-level passing that teams such as the Milwaukee Bucks, Los Angeles Clippers and Phoenix Suns have shown this past season.
Smart has always been an above average passer and his defense will feel amazing at point guard after having former point guard Walker attacked in the playoffs year after year. Robert Williams is a defensive gem with quick, efficient passing, and helps provide vertical spacing with his insane vertical and dunking ability. Aaron Nesmith showed some serious lights out potential from the 3-point line towards the second half of the season and a knack for making hustle plays that a championship team needs. Romeo Langford is finally healthy and can add onto his already solid defense and raise his shooting and playmaking to a similar level as it was during his collegiate career. Pritchard showed flashes of brilliance throughout the season and his 41 percent 3-point percentage brings some much needed spacing for Tatum and Brown to crash to the hoop. 
The Celtics also have useful veteran presences around our young core. Al Horford is a great shooting and passing big man with some defensive acumen. Kris Dunn provides additional perimeter defense as long as he can stay healthy. Josh Richardson allows us to have another secondary ball handler in the second unit, and as long as he isn't forced into another spot up shooter role, he should be able to thrive off the bench. If Evan Fournier is re-signed, the team has some more bench scoring, which he is currently putting on display in the Olympics. The pieces are there for success, but the team has to want it as bad as other championship teams do. Not to mention players like LeBron James, Giannis Antetokounmpo, and Nikola Jokic will be vying for a championship next year too. Regardless of what the Celtics decide to do, this past season was a failure and any hopes to hang Banner 18 up anytime soon lean heavily on the Jays, their desires to stay here and what the new regime can get out of them.
EDIT: This is a little bit after the free agency buzz, and I'm sure more will change involving the Celtics roster. As I'm writing this Lonzo Ball has gone to Chicago, Devonte Graham is with New Orleans, and Derrick Rose re-signed with the New York Knicks. The Celtics let Fournier walk and didn't try to match the 4-year, $78 million dollar contract Fournier got offered by the Knicks. I get why people are upset, especially after we traded two second-round picks and absorbed him into our TPE (traded player exception) from Gordon Hayward. While I think his bench scoring would have been a huge plus, sinking that much money into a tolerable defender and volatile scorer could have handicapped us in the future.
There are also rumors buzzing about that president of basketball operations Brad Stevens is upset with Marcus Smart's erratic and unpredictable playstyle and he may be looking to trade him before his contract is up. Dennis Schroder is also still kicking around and after multiple point guard positions have been filled I wouldn't be surprised to see him sign with the Celtics. He turned down a long-term deal from the Lakers and may want to try to rebuild his value once again. A one-year deal to keep some talent around Tatum and Brown while also maintaining financial flexibility down the road in hopes of getting a max contract player seems like a worthwhile gamble.