BLACKPINK's Lisa releases solo debut
The third installment of BLACKPINK's solo debut projects harkens back to their power-filled origins as the members continue to solidify themselves as unique artists.
"Lalisa," the debut single album of BLACKPINK member Lalisa Manoban, more commonly known by her stage name Lisa, released midnight on Sept. 10, along with the music video for it's title track.
This release marks the the third installment of wildly successful K-pop group BLACKPINK's solo project, in which each of the four members release their solo debuts, including Rosѐ's "On The Ground" and Jennie's "Solo."
Lisa, the main rapper and dancer of BLACKPINK, is arguably one of the most recognizable members of the group, has already broken records within hours of the Music Video's release, amassing over 60 million views. This makes it not only the most viewed video for a solo female Kpop artist in 2021, but first debut music video to hit 50 million views in under 24 hours in YouTube history.
The video is a bold, classic example of the YG Entertainment aesthetic: bright and decadent sets and endless wardrobe changes, edgy visuals. It also shows strong centered shots of Lisa, who is portrayed in positions of power: an FBI agent, a leader of a desert motorcycle gang, even a deity. The overarching bold themes call back to the bold, self-indulgent world BLACKPINK tended to find their footing in in the past.
Up until recently, BLACKPINK had been angling toward the softer side of their normally edgy attitude. Their first full-album comeback song, "Lovesick Girls," was an unexpected departure from their booming, confrontational style of music, detailing the journey of learning to accept self love. Even the most recent solo release before "Lalisa," member Rosé's "On The Ground" was a vulnerable guitar ballad that spoke about the complex life as a breakout star in the cutthroat K-pop world. 
It's difficult to elicit duality in pop music the way that BLACKPINK aims to achieve. Fellow girl group Red Velvet have a similar concept, the more peppy and experimental "Red" side and the mature, R&B influenced "Velvet." While they are able to do this successfully, their end product tends to end up on the more experimental side. Their "red" concepts especially sticking to more camp aesthetics, while their "velvet" music tends to air on the side of refined maturity.
BLACKPINK, on the other hand, tries to offer this type of contrast with more nuance. Their music across the board varies in mood, but never sacrifices power for impact. There isn't a song from the girls that doesn't have a message of self love or cockiness often reserved for their male contemporaries.
"Lalisa" is a consistently powerful and satisfying return to form for the sound that BLACKPINK has built a name off of. The title track of the same name commands attention in every aspect, whether that be it's clanging, buzzing instrumental or generally bold lyricism that flows between varying levels of intensity effortlessly.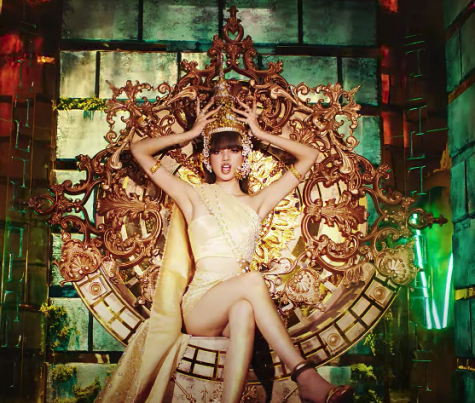 What really stands out in "Lalisa," and what is the common thread in each of the BLACKPINK solo debuts thus far is it's strong sense of pride in identity. Lisa, a Thailand native, made a deliberate effort to include Thai culture into the music and video. Even the name of the album, "Lalisa," is her real name, which has been shortened and changed for more international appeal, as most non-Korean K-pop idol's names are. 
In a livestream following the release of "Lalisa," Lisa said "I had wanted to put in the vibes of my homeland, Thailand, into ''Lalisa.' I said that I wanted to produce the song in a Thai-style, and I was thankful that Teddy (producer) did so. I also added traditional Thai dance and wore Thai clothing. I think people will be fascinated that it's in Thai style. I hope you look forward to the duality."
"Lalisa" is available on all streaming platforms.
You can email Isabel at [email protected] or follow her on her Twitter: @isabelguilmette