Five clubs you may not have heard about
Check out these five clubs if you are looking for new groups of people to meet up with!
The tumultuous 2020-2021 academic year is over, and the student population has finally returned to something more akin to normalcy. Clubs can now meet again in person and the changes they had to make last year due to number changes are finally gone for the most part.
At the end of last semester, I met with five different club leaders to ask more about those alterations and to help give them a platform to showcase themselves. To all incoming freshmen and new sophomores, feel free to check these clubs out!
Comedy League (UMass Amherst) 
The first club on our list is the Comedy League here at UMass Amherst, which was run by journalism and communications major Amanda Miller last semester, and is now currently being run by Senior Robert Shapiro. It is not as much of a club as it is an overarching organization; there are three groups who meet on their own times and will sometimes have joint meetings. The three troupes are Mission Improvable (short-form improv), Toast (long-form improv) and Sketch-22 (sketch comedy). If you're interested in joining, you can reach out to a group and inquire about their specific audition time. Auditions involve interviews, basic improv games, and sketch writing. 
Naturally, it was difficult to perform scenes over Zoom last semester and a regular schedule is far more enticing. One of the cool things about the Comedy League is that the troupe Mission Improvable was actually founded by Lloyd Ahlquist, also known as EpicLLOYD on YouTube, who is one of the founders of the iconic YouTube series, "Epic Rap Battles of History." They also host a variety of events such as a special Halloween-themed event in Herter Hall, the "funny b—— show," which consists of all the women from the Comedy League, and Comedy Jam where professional groups and comedians perform for free.
"It's a group of silly people who like to be silly," said Miller. "We run around and just goof off." 
If you're looking for a fun group of people that share a passion for comedy, audition for the Comedy League!
Contact the Comedy League at the email address [email protected].
Archery Club (UMass Amherst)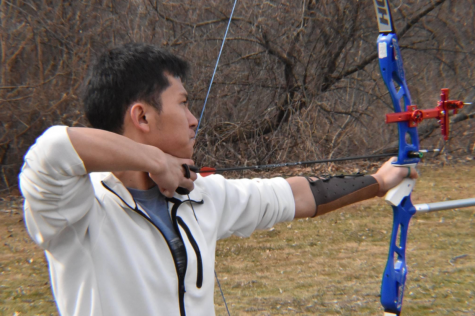 "Do you want to look really really cool and impressive and make a bunch of friends that you will have for years? Then join the Archery Club! Archery club is as much about shooting as it is about being social." -Rachel Green
The second club on my list is the Archery Club, also here at UMass Amherst, run by Rachel Green, a senior double majoring in legal studies and history. The group normally meets every Friday from 3 to 5 p.m., as well as Saturdays and Sundays from 2 to 4 p.m., and they provide the equipment themselves. They are currently a recreational club, but are working to soon be an officially recognized organization that can attend tournaments as a representative of UMass Amherst. Last semester was largely one to recuperate and get new equipment with plans to return back to normal for this fall. 
"We accept anyone. It doesn't matter to me whether you've never picked up a bow in your life or if you're like me and have been shooting for a decade," assured Green.
Archery Club, which has been around since the mid 2000s, has held various special events in the Amherst community or at a practice location on campus. In September, they shoot apples, however, not off the top of someone's head (as exciting as that would be). They also have a Halloween shoot at local farms where they buy pumpkins and paint targets on them while giving out candy. So whether you are looking for a close community of Archery enthusiasts or just want to replicate your favorite fictional heroes such as Katniss Everdeen from "The Hunger Games" or Princess Merida from "Brave," check out the Archery Club!
Contact the Archery Club at the email address [email protected] and follow them on Instagram @umassarchery.
Chess Club (UMass Amherst)
The third club on my list, and last one from UMass Amherst, is the Chess Club. I got the chance to speak with Andy Malinsky, who ran the virtual meetings, and President Joshua Correia. The in-person meetings have returned this fall and are great social events where people get together every Monday and Thursday from 6 to 9 p.m. at Blue Wall to just play some chess. Malinsky and Correia are also available to give out lessons and help tutor people at these meetings, and plan on setting up tournaments during this semester.
Correia put it best when I asked him what are the best drawing points of the club: "The Chess Club is an entirely recreational opportunity to both play and socialize with other chess players," he said. "Regardless of your level of skill you can just come and play. Make friends, get better, check in whenever you can, it's fun."
Contact the Chess Club at the email address [email protected]
Wool People (Hampshire College)
The fourth club I met with was Wool People at Hampshire College. I initially interviewed Alyssa Coffey, who was one of the three signers of Wool People and a double major in religion and American studies. The current three signers are senior Edward Looker, who is majoring in Molecular Biology, Caleb Stoloski and Sunniva Harnisch.
Wool People has an extensive history and it has been managed by various signers over a couple of decades. Hampshire College has a system that uses signers for their clubs and while it is still very democratic, the roles are not as traditional as president, vice president or treasurer. Rather, three signers manage the logistics around the club such as setting up events or helping new members get acclimated and overall help make Wool People as great as it is.
The meetings are hosted on the first floor of the R.W. Kern Center from 6-8 p.m. every Monday. The meetings are very casual and they tend to sit around and work on craft projects with each other including knitting, crochet, embroidery and spinning yarn. Their main focus as a club is creating a community around this shared interest and helping each other learn. The group also has a Discord community that people can find in the Hampshire College Hub on Discord.
Do not be discouraged or intimidated if you are a beginner. Coffey compared it to "riding a bike" so once you learn it, it's hard to forget it.
"Wool People is a really good space to be creative and relax with other students and to make friendships that you otherwise might not have made," said Coffey. "One of the beautiful things about crafting is that it's a process and it's not necessarily what you're making but the process of ending up with it." 
Contact Wool People at the email address [email protected]
Hampshire Standup (Hampshire College)
The final club I interviewed was Hampshire Stand-Up at Hampshire College. I got to speak with Sunny Laprade who is the head signer. Laprade, who currently majors in humor studies and the comedic arts, said she recently joined UMass comedy a couple years ago. The group meets every Friday at 6 p.m. in Franklin Patterson Hall Room 104 to workshop jokes with each other, get feedback and relax with one another. Last semester they did shows in a hybrid format with some attending in-person and others online. Unfortunately, one of their live shows was "Zoom bombed," which is when someone hijacks the meeting to mess with people, by a person saying racial slurs. Laprade said they realized it once many of the audience's faces didn't quite flash "that's a bad joke," but rather disgust and fear. Fortunately, this event is more a reminder of the current times and great to laugh at in retrospect.
Hampshire College's rich history shows itself in some of their alumni. Award-winning documentary filmmaker Ken Burns attended Hampshire College, along with author Eula Biss. Additionally, comedic icon Eugene Mirman, who voices Gene Belcher on the animated comedy "Bob's Burgers," attended Hampshire College in the late 90s and came back to deliver a commencement speech in 2012. 
The school's lengthy history is not the sole reason you should join Hampshire Stand-Up. Laprade put it perfectly on why you should join their club: "We're funny. Also, I've been performing since I was 15 years old. Going on your own can be awful because you have to sit through so many awful and offensive routines. Being with really cool people and fostering a community is the best thing you can do and we offer a very inclusive space."
Contact Hampshire Stand-Up at the email address [email protected]