Always "Walk On The Wild Side"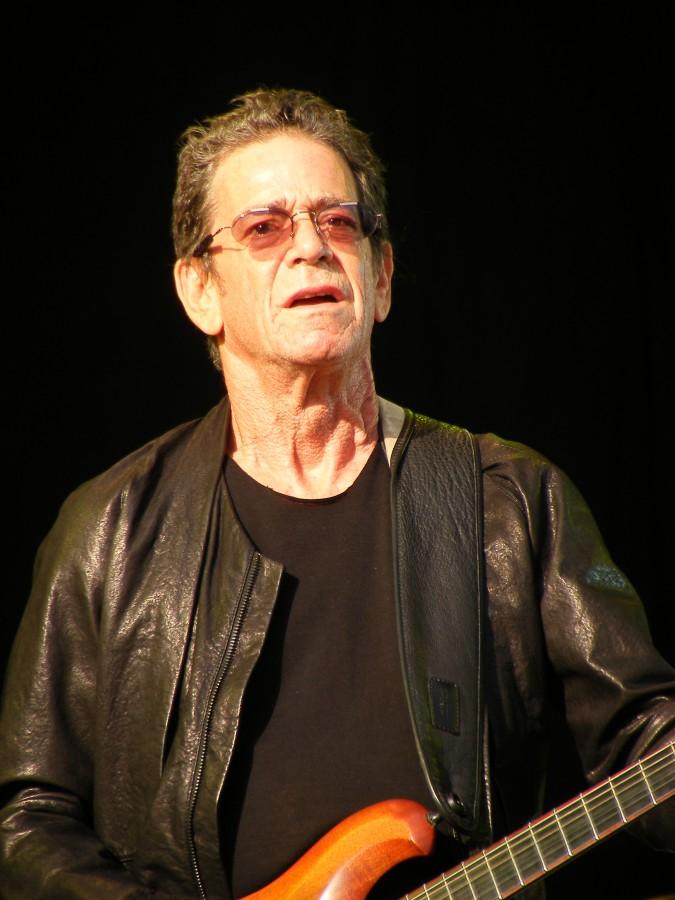 Nathalie Sczublewski, Writer
November 4, 2013
Legendary New York rock pioneer, Lou Reed passed away Sunday Oct. 27. in Southampton, N.Y. at 71-years-old. Reed's literary agent, Andrew Wylie told the Associated Press, that Reed passed away from an ailment related to a liver transplant he had back in May. Lou Reed shaped fifty years of rock music by leading bands and revolutionizing music with punk ideals. He will be remembered as one of the most influential musicians.
Lewis Allan "Lou" Reed was born in Brooklyn in 1942. Reed attended Syracuse University and moved to New York City following his graduation. Reed was a lover of doo-wop and early rock and roll. He worked in a record store in the city after college and around the mid-1960's, he befriended John Cale, a trained violinist who performed with composer, La Monte Young, according to Rolling Stone. Reed and Cale shared an enthusiasm for music and created their first band called, the Primitives. The duo later changed their names to the Warlocks. Cale and Reed met guitarist, Sterling Morrison, and drummer, Maureen Tucker, and changed their band name one final time. The Velvet Underground was born.
Different from most psychedelic and folk bands from the 1960s, the Velvet Underground had an edgier yet simplistic sound fused with a dark, ominous style. The band caught the attention of illustrious photographer and artist, Andy Warhol. Warhol took the Velvet Underground and integrated them in his Exploding Plastic Inevitable, a series of events hosted by the artist, which included film screenings, musical acts and dancing at Warhol's Factory. Warhol insisted that the Velvet Underground include German model, Nico as a part of the band.
 In 1967, The Velvet Underground released their debut album, The Velvet Underground & Nico. The album sold a few records at the time of its release, yet it became one of the most influential landmark albums to kick start New York's punk scene. The album epitomizes New York's aura of bohemia with heavy noise distortion with connections to drugs and sex. The guitar distortions revolutionized rock by creating a darker and much edgier sound – think of a hybrid beast of the Doors bred with the Stooges and you will get the Velvet Underground. The band released three albums: 1968's White Light/White Heat, 1969's The Velvet Underground and 1970's Loaded, which was recorded when Reed was leaving the group.
Reed traveled to England after parting ways with the Velvet Underground in 1970 and recorded a solo album backed by members of the band "Yes." His second solo album, 1972's Transformer, produced by David Bowie, took the former Velvet from the underground and turned him into a rock icon with the hit "Walk On the Wild Side," a homage to Warhol's Factory scene. "Satellite of Love" was covered by many musicians like U2 and Morrissey.
In the 1980s, Reed began to mellow down from his 70s persona, and married Sylvia Morales and released, The Blue Mask which is deemed as one of his greatest albums since Transformer. He released a few more solo albums and as the 80s came to a close, Reed released New York, a comedic and political set of songs about New York. In the 90s, Reed divorced Morales and began dating musician, Laurie Anderson. The two were inseparable and performed and collaborated together. In 2008, Reed and Anderson married in rock n roll matrimony. In the 00's, Reed continued to rebel and be Lou. He released a double feature called, The Raven, an ode to Edgar Allan Poe and his works in 2005. Reed made a return to rock mainstream with 2011's Lulu, an album that oozes in-your-face-rock-n-roll about a young woman who has been through a lot. The album also was a collaborative project with thrash founders, Metallica providing back-up. Lulu was Reed's final album.
Reed was one of punk rock's pioneers. He revolutionized the sound of rock by using low-fi, guitar distortion, creating a hauntingly dark sound fused with early rock n' roll nostalgic chords.  Many artists such as Garbage, Metric, Sonic Youth, Weezer, and others were influenced by Reed or the Velvet Underground. He spent his career in the 1970s rebelling expectations as if it were an Olympic sport. He had a brazen outlook and his stage presence reflected his free spirited attitude. Lou Reed simply did not care.
The world waited for the man and he showed us that it's alright to rock and roll. Reed once said,
"There's a bit of magic in everything, and some loss to even things out." Here's to you sweet Lou; thanks for showing us the magic and to always walk on the wild side.
Nathalie Sczublewski can be contacted at: [email protected]