"Bangerz" is bangin'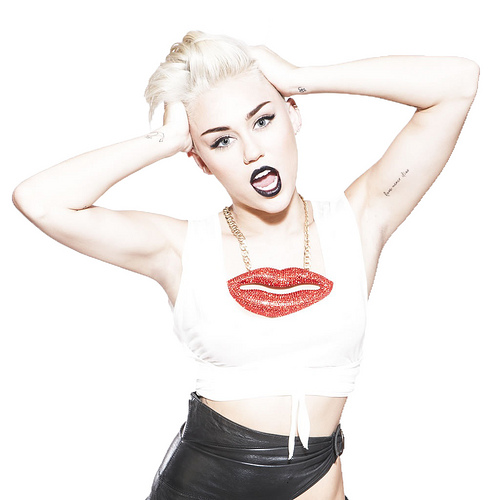 Maggie Moriarty, Writer
November 4, 2013
Over the past six months, Miley Cyrus has stirred up controversy across the country for her risqué and provocative actions. Ditching the blonde wig and sequined dresses that branded her as Hannah Montana, Cyrus has come into her own with "Bangerz." For her fourth solo studio album, Cyrus escapes the glitzy pop sound and goes for a more electronic party record that is sure to get people excited.
Cyrus splits the album into three parts: ballads, dance anthems and features. The gloomy ballad "Adore You" opens the album, showcasing Cyrus's vocals in a simple, yet effective way. "Drive" has a fast, electronic beat, but is masked by Cyrus' powerful, forceful voice that takes over the chorus. "Maybe You're Right," highlights her best vocals and emphasizes the mature sound that she has been vying for. Then there is "Wrecking Ball," that is currently dominating radio charts everywhere. The song has a slow and haunting beat, but encourages listeners to belt, "I CAME IN LIKE A WRECKING BALL," at the top of their lungs as if sharing Cyrus' experiences.
Bangerz is full of club hits that will have girls of all ages dancing all over the world for years. "Do My Thang" has a dubstep vibe with Cyrus semi-rapping for the majority of the song. She tells listeners that the only thing she cares about is "turning up." The dancing begins once the chorus drops and the beat speeds up. "#GETITRIGHT" is a personal favorite on the album. It has an old-school California beach beat to it making it easy to sway along to. The lyrics are definitely the "new Miley" as she tells the lucky guy "you're sexy sexy I got things I want to do to you" and "I been laying in this bed all night long/Don't you think it's time to get it on." This song is definitely the new, tongue- out Miley we met at this year's past MTV Video Music Award Show.
"Someone Else" has the most dubstep and electronic sound on the entire album. Cyrus sings about a broken love that has left her feeling like someone else and doesn't recognize. It shows Cyrus' vulnerable side, but in a way others can relate to and can dance to. "We Can't Stop" dominated the radio this past summer and annihilated any other songs trying to compete with it. This song can be played today and people still stop what they are doing and begin dancing. It certainly is a dance anthem that will be known for years to come.
Miley Cyrus has definitely expanded her horizons over this past year, which shows in her choices of featured artists on the album. Cyrus recruits G.O.O.D Music rapper, Big Sean for the track "Love Money Party" and highlights her rapping skills. The chorus is Cyrus simply chanting "Love Money Party" about ten times and has Big Sean rap for the third verse. Big Sean delivers as he normally does with witty, smooth lines that add spunk to the track. "My Darlin'" features rapper Future. Cyrus and Future both sing the chorus and manage to croon well together.
In early October, Cyrus released a promotional documentary on MTV titled " Miley: The Movement," to give fans a behind the scenes look on the making of Bangerz. The biggest feature on the album is Cyrus recruiting Pop Princess, Britney Spears. In the MTV documentary, Cyrus jokingly claims, "I always say I only want one bitch on my record, and that's Britney bitch." Spears is featured on "SMS (BANGERZ)" which is intended to be the powerful female anthem with a fast dance beat. The track is not anything spectacular, but Spears' appearance on the album is impressive enough to overlook the flaws of the not-so-great song.
The two worst songs on the album have features from two notable rappers in music. "FU" features rapper French Montana and opens up with a soulful Cyrus singing alongside the tunes of a piano. The song is very jazzy sounding with a screaming Cyrus. French Montana provides a weak, boring verse that could have easily been left out on the album. Veteran rapper, Nelly, joins Cyrus on the track "4×4" which has a unique, somewhat country square dance vibe. The song also has rather strange lyrics with Cyrus singing "driving so fast 'bout to piss on myself." Nelly's verse is decent, but his notable sound does not mesh well with the country beat.
Overall, Miley Cyrus makes a name for herself in Bangerz. The listeners are guaranteed to sing their hearts out and dance along with Cyrus for the album's entirety. Cyrus delivers a solid and entertaining album that shows who she is as an artist. Her music speaks for itself and people will listen to it without even acknowledging her recent tongue flaunting behavior.
Maggie Moriarty can be contacted at: [email protected]