The Queen of Weird is Back: ARTPOP review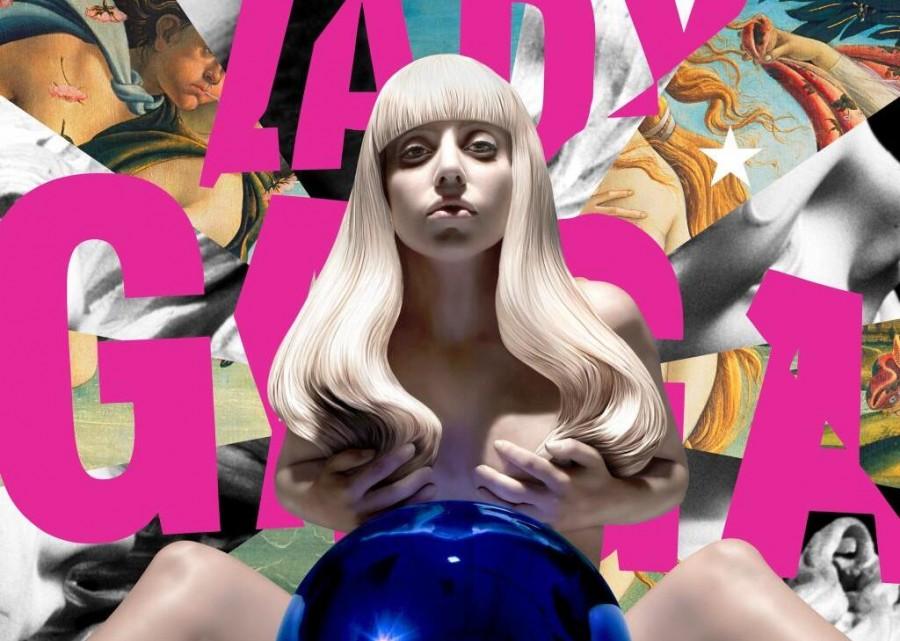 Maggie Moriarty, Writer
December 2, 2013
It has been two long years since Stefani Germanotta, better known as Lady Gaga, has released any new material. For her third studio album, Lady Gaga comes out strong with ARTPOP, a riveting electronic pop record that was worth the wait. And even after a long awaited return, the artist has not strayed from what she does best; being unique.
Gaga opens the album with the spooky "Aura." The song begins with Gaga speaking in a Southern accent over the sounds of a western cowboy guitar. "I killed my former and /Left her in the trunk on the highway 10 /Put the knife under the hood. If you find it, send it straight to Hollywood" Gaga spookily repeats until the instruments begin.
ARTPOP features three hip-hop superstars: T.I., Too $hort and Twista for "Jewels N' Drugs." The song has a typical hip-hop beat and will most definitely earn radio air time on across the country. The artists take turns sharing the spotlight as each rapper lends a verse followed by Gaga angelically singing the chorus. Twista delivers the speedy verse he is known for, making the song even more memorable.
For what is perhaps the best song on ARTPOP, Gaga brings in R&B legend R. Kelly. Currently dominating the radio, "Do What U Want" is a powerful R&B sounding song that displays Gaga's vocal diversity and R. Kelly sounds smooth as ever in his verse. The song itself is a tad controversial as Gaga continuously tells R. Kelly to "Do what you want/What you want with my body" and he responds with, "Do what I want/Do what I want with your body."
While "Do What U Want" is controversial, "MANiCURE" could have easily been left off of the album. The word "manicure" is said over thirty times in a three minute period. There is no storyline to the song and it has a somewhat rock instrumental vibe to it that avid Gaga listeners are not accustomed to. Gaga's constant repetition of "MAN-I-CURE" becomes over the top and redundant as the song then breaks off into an electronic beat that seems all over the place.
"Dope" is the album's only powerful ballad and Gaga makes it one to remember. It can be challenging to recognize Lady Gaga's vocal talent amidst her odd persona but Gaga gives listeners three and a half minutes of pure vocals in "Dope" and displays her ability to be a fabulous artist once more. Gaga hits every high and powerful note imaginable shows her vulnerable side as she pleads "My heart would break without you/Might not awake without you."
"Applause" premiered this past summer and was the first single listeners had heard from the singer in two years. The long awaited powerful dance anthem is a gift to Gaga fans everywhere for their patience and has dominated radio charts since its release. Easily one of Gaga's top radio singles to date, "Applause" and will be getting airtime for many months to come.
As always, Lady Gaga delivers unusual, controversial songs, this time through "G.U.Y" a song devoted to Gaga begging to be the guy in the relationship. Paired with "Sexxx Dreams" a three and a half minute song about to Gaga's crazy sexcapades, Gaga is talking to what seems like a female lover as she sings about the nasty things that took place the night prior and followed her into her wild sex dreams. Even two years later, Gaga proves she still knows how to stir up a little controversy with her music.
In a music world where being sexy sells and rap rules radio air time, Lady Gaga is one of the few artists who focus solely on putting out the music that they love and want their listeners to hear. Although the album has its weaknesses, Gaga stays true to herself throughout. The original Queen of Weird, Lady Gaga does not disappoint with ARTPOP and will forever remain Mother Monster to her loyal fans.
Maggie Moriarty can be reached at [email protected]