Coachella, Bonnaroo, Ultra, "oh my!": 10 Music festivals you should attend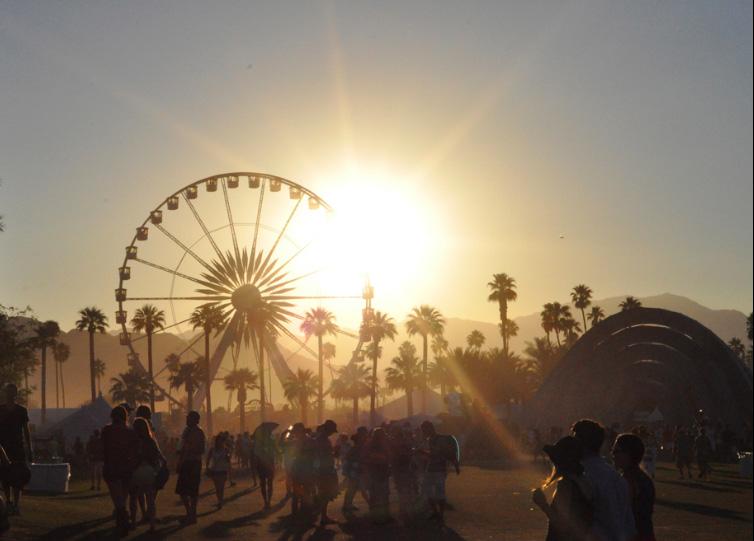 Nathalie Sczublewski, Writer
March 3, 2014
Music has an indescribable power: It brings people together. And music festivals do exactly that every year, all over the country. Whether you enjoy listening to your favorite artist in the great outdoors or meeting people from different walks of life who share that same love for a band, a music festival can be a life changing experience. Here's our list of the top 10 music festivals to attend in your lifetime.
Coachella
Coachella is entering its 16th year and has had Kings of Leon, Beck, The Killers and Radiohead as past headliners. The festival is held in Indio, CA every April and is made unique by the gigantic ferris wheel on the grounds. This year's headliners include: OutKast, Muse, Arcade Fire, Beck, Lana del Rey and Pharrell Williams. Newcomers like HAIM, Lorde and Chance the Rapper are also slated to perform.
Bonnaroo Music and Arts Festival
Bonnaroo is a four-day music festival taking place from June 12th to the 15th on 700-acres of farmland in Tennessee. The festival has over 100 acts performing this year and includes a diverse group of artists. This year, Elton John, Kanye West, Vampire Weekend, Arctic Monkeys and Lionel Richie are some of the headline acts.
Lollapalooza
Created by Jane's Addiction front man, Perry Farrell in 1991, as a farewell tour for the band, Lollapalooza's acts range from Alternative Rock to Hip-Hop. The festival has a reputation of being one of the most organized music festivals in the nation. In 2012, a storm hit the Windy City of Chicago, IL (home of Lolla), and organizers cancelled and re-scheduled sets accordingly so the show went on. There are comedy acts and crafts booths. Past acts include: Nine Inch Nails, The Smashing Pumpkins, Lady Gaga, Foo Fighters, Pearl Jam, Beastie Boys and The Strokes.
Sasquatch!
This festival makes use of not one, but two holiday weekends with different lineups. Held every Memorial Day and Fourth of July weekend in Gorge, WA, Sasquatch! is different compared to other music festivals because the grounds overlooks mountains making the festival experience one you'll never forget with a breaktaking view.
Austin City Limits
Austin, TX is one of the music capitals of the country. What separates this festival from Coachella and Bonnaroo is its timing. It is held every October. so fans enjoy a cooler temperature and a smaller crowd. The festival is held for two weekends and last year's acts included The Cure, Kings of Leon, Phoenix and Vampire Weekend.
Ultra Music Festival
Taking place in the party city of Miami, FL, Ultra is one of the biggest Electronic and Dance Music festivals in the country. The festival is usually a two-weekend event, but this year it is only one.  Headliners include: Afrojack, David Guetta, M.I.A., Tiesto, Zedd, Kaskade and many others. The party begins March 28.
South by Southwest
Here's another festival in Austin, TX. Fans can bar and venue hop while rubbing elbows with people in the music industry. Yes, you read correctly, fans can network with people working in the music business. Half the fun about SXSW is stumbling across new acts who may become the next big thing.
Bumbershoot
Held every year in Seattle, WA, Bumbershoot is one of the largest music and arts festivals around. The name of the festival comes from an old term for umbrella or parachute and the venue as both indoor and outdoor venues. Headliners for last year were Death Cab for Cutie, Heart, Kendrick Lamar and Fun.
Outside Lands
Held annually every August in San Francisco, CA at the Golden Gate Park, Outside Lands has over 60 acts for the weekend. There are art installations throughout the grounds, which makes this festival different from most. Past acts include: Tom Petty and the Heartbreakers, Jack Johnson, The Black Keys and Dave Matthews Band.
Made In America
The last festival to make the list is Made In America, which is founded by rapper and mogul, JAY Z. The festival started in 2012 and is held in Philadelphia, PA. There are three main stages: Rocky Stage, Liberty Stage, and the Freedom Tent (held for EDM artists). Some of last year's acts include: Imagine Dragons, 2 Chainz, Calvin Harris, Wiz Khalifa, Fitz & The Tantrums and Mrs. Carter herself, otherwise known as Beyonce.
Nathalie Sczublewski can be contacted at: [email protected]edu