Band spotlight: Values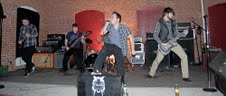 Being a local band in today's music world can be tough, but for hardcore metal band "Values," it's been a mostly positive experience.
Hailing from Enfield, Connecticut, Values recently left a huge mark on the local New England metal scene after performing with Hardcore Metal band ATTILA at the Webster Theater in Hartford, CT.
"It was pretty insane," says Bassist Mike Stauffer, "There were about 350 people there [the Webster] and everyone was moving [to the music] and people didn't seem to know that we were a local band and not a touring band, so they were just losing their minds. The venue management had to cut the line and had to stop letting people in! It was pretty cool."
At a recent show at the Waterfront Tavern in Holyoke, MA, Values wasn't playing for a venue that held hundreds of metal heads. Instead, only 30 people were in attendance, and even though they weren't headlining, the band says they're always excited to play at the Waterfront.
"Well, we are not opening, which is always nice," says Guitarist Brendan Baker. "It is a welcoming place because I basically grew up around here… it is more intimate and more fun."
The acoustics in the venue were not ideal, but Values managed to keep the momentum going in every song they played. Band member Michael May says they want to keep this momentum going for as long as they can.
"Whatever momentum we get we are trying to build upon," says May. "If it does start going somewhere it's like 'ok, cool!' but we don't want to be those bands where people will think 'wow, they should really stop.'"
Value's influences range from rock bands like Alice in Chains to American Deathcore bands like Within the Ruins. Going from deep growls and ear piercing screams to melodic singing, Values finds ways to give their music style more range in tone.
But with so many groups trying to make a name for themselves, it can be tough for a small, local band to try to form a lasting relationship with other bands from the area. May says it could possibly destroy many local metal scenes.
"It's about building a community," says May. "You know, it's got so competitive with ticket sales that it has gotten to the point where nobody is supporting each other. It also lost the point of investing in a local band that could be big in the future."
For Values, another area of difficulty is expansion. Trying to expand can be difficult, but trying to expand into other states can be even worse. Jordan Tammaro, the band's other guitarist, says gigs in New Hampshire and New York can pose problems with trying to attract a crowd.
"It sucks playing shows that are not your local scene," says Stauffer. "It is tough to get people to come out and drive that far."
"When we try to email the promoters and tell them that we are trying to expand as a band, they would go 'of course you can, but you are going to have to sell 20 tickets or send us 200 dollars up front to just cover the tickets.' It sucks, but that's how it is. Promoters are going to have to take a risk and give some of these local bands a chance, if not, then these sort of things will never change."
In a big world where hundreds of local bands trying to stake a claim in their scene, Values continues to perform and grow with other heavy hitter metal bands. Next up on their performance list will be a show at the Webster Theater on Thursday, April 3rd, where they will perform with metal bands Protest the Hero and Battlecross.
Alex Lindsay can be contacted at: [email protected]