Marky Ramone visits UMass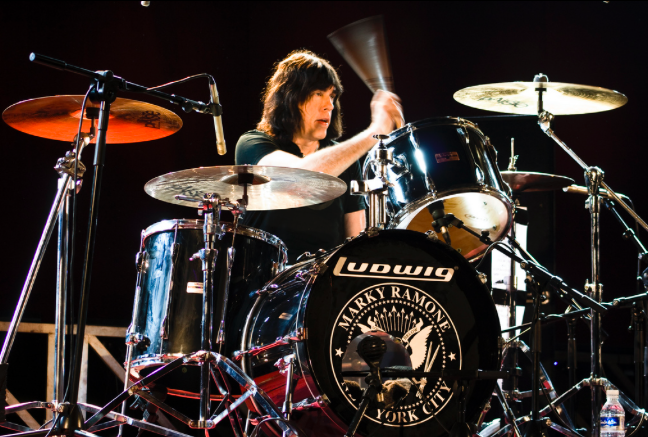 Nathalie Sczublewski, Writer
March 31, 2014
"Yeah!" hollers Joey Ramone in a video clip from the US Festival in 1982. "We are, we are the Ramones, yeah! And you heard it here first. Right here," he said, catching his breath. The Ramone's pounding drum beats from the old video clip filled the Student Union Ballroom on Monday, March 24th when halfway through the song, drummer, Marky Ramone, hoped onto the stage to talk to students. Students listened as Ramone told them about growing up in New York, the rise of punk music, The Ramones, substance abuse, the road to getting clean and life after The Ramones.
Born on July 15, 1956 as Marc Bell, Ramone grew up in Brooklyn, NY. Ramone told students that he decided to become a drummer at eight-years-old, when The Beatles appeared on the Ed Sullivan Show.
"I remember sitting in the living room playing with my toys when I heard screaming," he says. "I turned around and I see Ringo playing, the girls screaming, and I thought, 'Wow, this is really cool.' " A few years after watching The Beatles, Ramone's parents bought him his first snare. The rest is history.
At 16 Ramone played for a Brooklyn based hard rock band called Dust and recorded two albums. After two records, Dust disbanded and he auditioned for the New York Dolls, but lost the part.  Ramone joined Wayne County and The Backstreet Boys for a year. He met Richard Hell, Bob Quine and Ivan Julian and formed Richard Hell & the Voidoids. They released, Blank Generation in 1977. The music scene was changing with fast-paced loud guitars and drums with musicians that had free-spirited, tough attitudes. Thus punk rock was born.
"There was this hole in the wall in New York. It was dirty, the dressing room was small and the bathroom had no stalls," Ramone recalls of his early playing days. "It was a little dump called CBGB's."
Ramone reminisces of his glory days playing at the infamous CBGB's to students and continues by saying that the small, "dumpy" venue was a breeding ground for artists such as  Blondie, Talking Heads and Patti Smith.
"It was a place to show off what you could do," he says. When he was approached by a guitarist named, Dee Dee, at CBGB's to join their band, Ramone's life took yet another turn.
Ramone auditioned and became the drummer for The Ramones in 1978. Within a few weeks, Ramone was in the studio to record Road to Ruin. The Ramones are one of the pioneers of the punk rock scene with their looks, creating chants like, "Gabba Gabba Hey," the infamous count downs of "one, two, three, four's" before songs kick off, and of course, their fast drums and guitars.
"It's difficult to create a sound," he says. "You never know until someone points it out to you." The band recorded several albums and even filmed a movie. In the early 1980's, Ramone was asked to leave the band as a result of his drinking problem. Ramone explained that he never got into hard drugs, but enjoyed to drink. After being kicked out of the band Ramone knew he needed help.
"I went to a bar, drank a six-pack of Newcastle and ordered two dirty martinis," said Ramone. "I thought I was okay to drive, obviously not, I blacked out and the next thing I remember is waking up, and my car was in the middle of a furniture store." Ramone went to a rehab center and found work at a guarded place, scrubbing floors. After working, he discovered he was happier being sober and never wanted to slip back into a dark place again. The Ramones asked him to return and he continued to be their drummer until the band's farewell tour in 1996.
Ramone reunited with Ramones singer, Joey, for Joey's solo album, Don't Worry About Me in 2000. "It was special to me and I knew how much it meant to Joey," said Ramone. "My favorite track off that album was a cover we did of Louis Armstrong's "Wonderful World."
During the recording sessions for this album, Joey suffered from lymphoma and Ramone saw the toll the disease took on his friend. "It was tough to watch," he said sadly, as his eyes shifted to the floor. Joey lost his battle with lymphoma in 2001. That same year, Marky and the rest of his band mates were inducted into the Rock 'n' Roll Hall of Fame and MTV presented The Ramones with the Lifetime Achievement Award. In 2002, Dee Dee Ramone died of a heroin overdose and two years later, Johnny Ramone passed away, making Marky Ramone the last remaining band member.
Ramone remains strong and finds outlets to please fans. Throughout the years playing with The Ramones, Ramone filmed the band backstage and on the road. He compiled the videos together and released a documentary, "Raw," which shows behind the scenes footage of the band. He dabbled in the fashion industry working with Hilfiger Denim and also entered the food industry by sharing his pasta sauce recipe to the world. Ramone is an activist for autism and supports the Autism Speaks Campaign. In 2010, The Ramones received a GRAMMY Lifetime Achievement Award, the first GRAMMY for the band.
Ramone continues to play music with his band, Marky Ramone's Blitzkrieg.
"People often ask me why I don't take The Ramones name. I feel like it is disrespectful to Joey, Dee Dee and Johnny," he said. "There will never be another Ramones. There's only one Ramones."
As Ramone wraps up his speech, he says he never thought the band would skyrocket to where they were today and left students with one piece of advice:
"I think that if you don't worry about stuff, good things will happen," he says. "I feel like if you focus too much on accomplishing one thing, it's not going to happen. I didn't think about getting GRAMMYs, I just wanted to play music and have fun. When you don't think about it, stuff like the Lifetime Achievement Awards will happen to you."
Nathalie Sczublewski can be contacted at [email protected]