Nehruviandoom combines sounds of a young MC with a Hip-Hop Veteran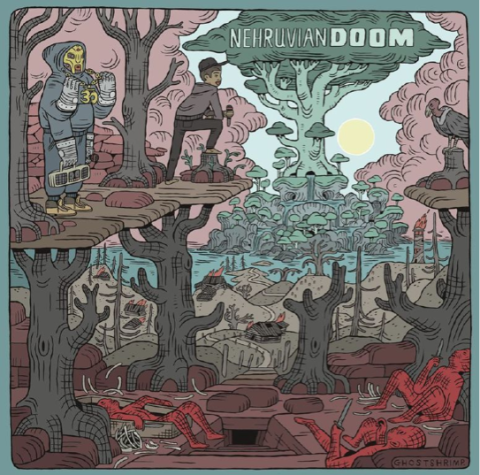 It's definitely been a weird few years for MF DOOM and his legion of fans. Since 2010, DOOM has been barred from reentering the United States over what the rapper describes as "a lot of legalities". This led to the masked man of hip hop setting up shop in his home nation of England and surprising many hip hop fans by collaborating with producer Jneiro Jarel on their 2012 LP "Key to the Kuffs." In August of 2013, DOOM again shocked the hip hop community by announcing a collaboration with the young and largely unheard of, Bishop Nehru.
At the time of the announcement, Nehru had only two mixtapes to his name, making this collaboration with DOOM a possible jumpstart to his budding career in hip hop. Despite the major age difference between the 43-year-old DOOM and the 18-year-old Nehru, the LP has been eagerly anticipated within the hip hop community. The goal of this opus was utilizing the experience and wisdom of DOOM and the hunger and energy of Nehru that would  hopefully lead to an incendiary new project that hip hop has never seen before. Now the album is finally here and it's pretty good.
First off, Bishop Nehru has proven he can hang with a legend as great as DOOM. His rhyming is solid throughout the album although some of his hooks are a little corny (looking at you "So Alone" and "Great Things"). His flow is monotonous but like his mentor DOOM, he makes it work for himself. While he may be young, his rhyming is quite mature for his age. DOOM describes Nehru as "an old soul." DOOM's praise is well founded as Nehru's rapping is more clever, fluid, and imaginative than the current standard in hip hop. His work on "Nehruviandoom" makes it clear that Nehru could be a household name in hip hop in the coming years.
Where the project really stands out is in its production. As he has done in the past, DOOM proves that he is still one of hip hop's best producers with few contenders to his throne. Some fans were disappointed that the first single "Darkness" featured a recycled beat, titled "Bergamont," from DOOM's catalogue. However, those doubts can be alleviated with the new work he included on the album. "Om" in particular features a delightfully bombastic beat reminiscent of "Beef Rap" from DOOM's 2004 album "MM..FOOD." "Mean The Most" changes the pace by introducing some jazzy trumpets and a more relaxed tempo, which Nehru lyrically glides over. "Disastrous" uses a children's choir in the beat which gives the song a laid back, melodic groove. The album also features a good amount of random samples sprinkled throughout, a staple to any DOOM production.
"As he has done in the past, DOOM proves that he is still one of hip hop's best producers…"
As great as the production is, a good majority of it sounds similar to "MM..FOOD." Nehru himself said that "MM..FOOD" was his favorite DOOM album. While it is a classic DOOM album, "Nehruviandoom" at times sounds like an unreleased bonus disc rather than its own musical personality. In the past, DOOM's production and sound has evolved from lo-fi to spacey, gritty, and then jazzy with each passing album. On this project, his production has failed to bring anything new to the table and is too much of a rehash of his previous sound on "MM..FOOD." Both projects start with a strange collection of samples introducing DOOM followed by a booming anthem. The middle of both albums are filled with similar jazzy samples and boom-bap beats. This creative return to the past is unfortunate since DOOM has traditionally been one of the few innovators in hip hop.
However, the biggest sin committed on the album is the lack of vocals from DOOM. With three verses on "Caskets", "Great Things", "Disastrous", and a hook on "Om", "Nehruviandoom" really leaves the listener wanting more of DOOM's ingenious rhymes. Nehru is no slouch, but to have one of the greatest MCs ever on only a few songs is nearly criminal.
Problems aside, "Nehruviandoom" is still a success and compares favorably to some of the other hip hop albums released this year such as "Oxymoron" by Schoolboy Q, "Cilvia Demo" by Isaiah Rashad, and "My Krazy Life"by YG. DOOM and Nehru provide a more precise and intelligent approach to hip hop that can be hard to come by these days. Thanks to DOOM's production, the LP is easy vibe out to and Nehru's wordplay is sharp enough to keep you engaged throughout the album.
It's clear that DOOM's mission was to act as a mentor to Nehru and really highlight his abilities rather than take the spotlight away from him. It is slightly disappointing  for classic DOOM fans wishing for a return to his "Madvillainy" greatness, yet an exciting one for hip hop fans looking for a young MC like Nehru to breakthrough on the hip hop scene.
Marcello Rossetti can be contacted at [email protected].