UMass Football returns to McGuirk Stadium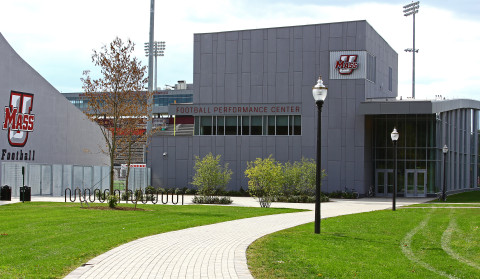 Matt Gingras, Writer
September 29, 2014
Hang on for a minute...we're trying to find some more stories you might like.
For the first time in the three years, the Division I-FBS football team at the University of Massachusetts Amherst played on their home field at McGuirk Stadium Saturday, Sept. 28 as part of the school's Homecoming weekend. In celebration, UMass held tailgating events around McGuirk for their home game against Bowling Green.
The game sold out and 17,000 fans piled into the newly re-opened stadium to welcome football back to UMass. Clara Fenton, a junior at the university, was one of many happy fans to have games back home.
"I think it's awesome," said Fenton before the game. "I think everyone's being pretty responsible, I think overall it's very fun, kind of laid back."
It was Fenton's first time seeing a UMass football game, and the same could  be said for many in the audience. Prior to Saturday's game, the Minutemen played their home games at Gillette Stadium, sharing with the New England Patriots for the 2012 and 2013 seasons. They will continue to split home games between McGuirk and Gillette for the duration of the 2014 season. It was the two hour commute to Gillette Stadium that scared off some fans from enjoying UMass football.
"I didn't go to any games at Gillette," said graduate student Lindsay Buldoc, who also did her undergraduate work at UMass. "It was just too far, I didn't want to travel to go see football."
The pre-game events ranged from a rock climbing wall to inflatable obstacle courses. Students were playing tailgate toss, also known as cornhole, and just like any good tailgate, fans were throwing around the pigskin.
Live music filled the air, giving the whole event a party-like vibe. In the Southwest residential area, UMass Dining Services held a tailgate barbecue, and the Baby Berk food truck was right in the middle of all the action selling food to attendees. According to graduate student Priscille Dalexis, who completed her undergraduate degree at Salem State University, a Division III school with no football team, the Homecoming event was a success.
"This is my first UMass event," said Dalexis. "This is definitely different to me, but it's been great so far. It's really exciting because there's a lot going on."
Buldoc also thought the pre-game festivities were managed well by the students. "I think everyone's really happy that we're having our football games here again, so it's not going to get out of control like something like this normally would," Buldoc said. "Everyone's having a good time enjoying themselves."
Once the game started, students were on their feet for the majority of the first quarter. After UMass scored four minutes into the game, McGuirk exploded into cheering. Still riding World Cup fever, "I believe that we will win," could be heard being chanted throughout the student section.
Sparks flew early in the third quarter during an injury timeout to UMass linebacker Vondell Langston. The UMass video board crashed to the ground due to what the public address announcer called a hydraulic lift failure. The crowd, which at this time had emptied a bit, collectively shared oohs-and-awws during the crash. UMass reported no injuries.
"It was crazy," said Daniel Roach, a UMass sophomore. "It just randomly went down. I'm glad no one was hurt."
The game ended in a 47-42 loss to the Bowling Green Falcons, putting UMass at an 0-5 start for the third straight year. Despite the loss, Minutemen quarterback Blake Frohnapfel threw for 589 yards — a UMass school record for passing yards in a single game, also adding five touchdowns in the air.
Still, the pre-game activities and the general atmosphere were a welcoming sight on a campus where only seniors and alumni have seen a game on their true home field.
"You can't be bored, I like how there's different things going on," said Dalexis. "There's always something to do, the music has been great. There's a good sense of community at UMass Amherst."
"It was definitely a blast," said Buldoc, "and I'm glad it's back."
Matt Gingras can be contacted at [email protected]