Music, dance, and fist pumps at the 40th Annual UMass Multiband Pops Concert
"While only a few hours long, the UMass Pops Concert let the best of the university's talented music groups show their stuff, and gave the audience a night to surely remember."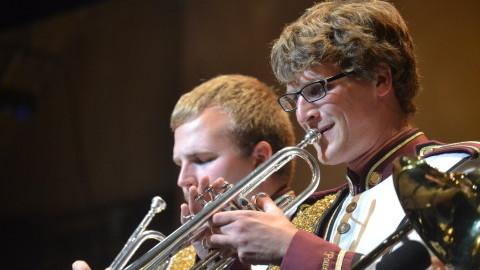 The 40th Annual UMass Multiband Pops Concert was the highlight of the University of Massachusetts' Thursday evening as  various music and dance groups at the school celebrated another amazing year. Parents, students, and longtime UMass music aficionados flocked to the packed Fine Arts Center to see student groups perform.
In the event's opening, director Eric Berlin and his seven-person trumpet ensemble set a positive mood for the crowd performing "Fanfare D' Art," as Dr. Jeff Cox, the chairman of the Department of Music and Dance at UMass, took to the stage to introduce the show.What followed was a variety of talented acts.
The UMass Chamber Choir, led by conductor Tony Thornton, performed pieces ranging from the somber and soothing battle hymn of "Workin' for the Dawn of Peace" to the hip and upbeat tune of "If I Got My Ticket, Can I Ride?" Following the choir, the Mass Marimba Band provided a little color to the night by playing Hiromi Uehara's "Summer Rain," allowing energetic percussionists to take center stage.
Not to be outdone, the UMass percussion quartet directed by Ayano Kataoka took the audience by surprise with their rendition of Steve Reich's "Drumming Part I." The fast and creative drum beats were not only audible, but visible in the extreme focus in the performer's expressions
Later, University Dancers added artistic diversity to the pops concert's musician-focused night in a performance based off of Raymond Scott's "Manhattan Research." The dancers, all dressed in "I Love NY" t-shirts danced to Sinatra-like music provided by UMass musicians.
However if there was one group that stole the show, it would have to be to the beloved UMass Minuteman Marching Band. The band, which impressively managed to fit the 300-plus piece ensemble onto the seemingly tiny stage, kept the crowd on its feet with  classics such as "Fight Mass" and "Rolling Down the Field." When drum major Chris Moehringer noticed that the crowd wasn't heavily participating in "Fight Mass," he decided to take to the microphone and give them some words of encouragement.
"Here at UMass we have one little rule," the ecstatic Moehringer said, "when you hear the fight song, you are absolutely required to scream your heart out!"
And sang they did. Fists in the air, the words "Go UMass!" belted throughout the venue, making the audience the center of attention.
As the night came to a close, the marching band stormed the surprised crowd to perform its final songs of the night, ending in an emotional performance of the song "My Way." While only a few hours long, the UMass Pops Concert let the best of the university's talented music groups show their stuff, and gave the audience a night to surely remember.
Alex Lindsay can be reached at [email protected] and Katherine Ferrante can be reached [email protected]