President Robert Caret visits Amherst on #UMassontheMove bus tour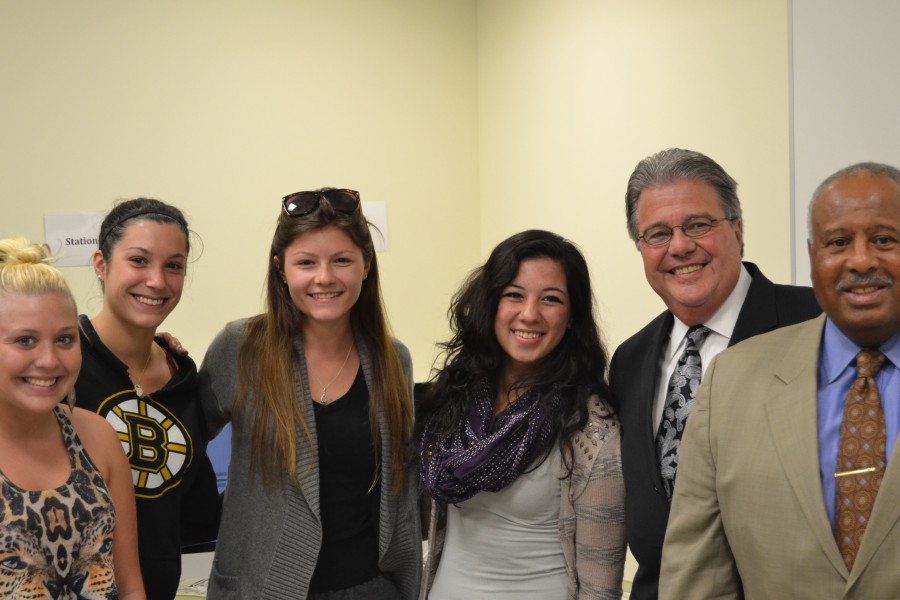 By Nia Decaille
A handful of journalism students sat in the lobby on the fourth floor of the Integrative Learning Center at UMass Amherst on Thursday morning. Some were waiting for the president of the UMass system Robert Caret, to arrive;  others were doing homework or waiting to meet with a teacher.
"Is he supposed to come through this way? They said that he would be speaking somewhere downstairs," said a student from behind his laptop.
"I'm sure he will, they said that he would do a walk through," replied BJ Roche, senior lecturer and internship coordinator to the UMass Journalism department.
Soon after,  the doors to the journalism department swung open, and in walked President Caret and Chairman Henry Thomas III followed by an entourage that included journalists, cameramen and UMass administrators. Suddenly the Journalism Hub was filled with chatter, sounds of cameras clicking and journalism faculty  joining the small fanfare.  Caret and Thomas visited Prof. Greeley Kyle's Broadcast Journalism class for more pictures and introductions.
This visit is part of the president's fourth annual statewide bus tour and the slogan is "IMPACT! UMass has Massachusetts On the Move" according to a press release. The tour began October 7, and celebrates the contributions of UMass alums around the state. The bus tour has already traveled to UMass Dartmouth and Lowell where the president met with alumni, and speaking engagements at roundtable discussions. The Twitter hashtag #UMassonthemove  is connecting students, faculty and alumni to Caret's journey around the UMass system.
"We're on the road making that point that UMass graduates have played a key role in creating our state's storied past, are a big part of its current success and will have a major role in defining its future. In many ways, as goes the University of Massachusetts, so goes Massachusetts," President Caret said.
The 2015 U.S. News & World Report ranked UMass Amherst as one of the top 30 public schools in the country. The system's website also boasts that it has built an international reputation as a research school, rising enrollment and received over $100 million  from the state that has contributed to tuition freezes for students.
"As trustees, we are pleased to see all that this university has become and note the many ways it serves the citizens of the Commonwealth," Chairman Thomas said in a press release.
Caret's UMass Amherst itinerary also included a meeting with Coach Derek Kellogg at the Mullins Center, a tour of the Northeast Climate Center and a roundtable discussion on student debt with students and members of the Student Government Association (SGA).
"This is the vision that we celebrate, and it is as important today as it was 150 years ago," said Caret about the mission of the tour.
Nia Decaille can be reached at [email protected]