UMass basketball: a preview of the upcoming season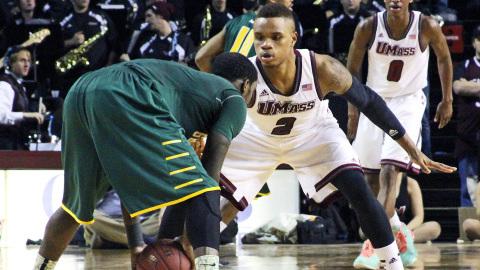 With a record of 24-9 that earned the University of Massachusetts a sixth seed in the NCAA Tournament last season, the Minutemen are looking to repeat that success.
In a consistently competitive conference that saw six Atlantic-10 teams take part in the 2014 NCAA Tournament, UMass will almost certainly have to rival their record from last season  to stay atop the league.UMass has many fresh faces that will need to step up their game with  the loss of star point guard Chaz Williams and other veteran leaders and producers like Raphiael Putney and Sampson Carter. That's not to say that returning players from the tournament team won't also have a major impact this year as they look to expand their roles and log a majority of the minutes.
"It's nice when you've got a lot of new, fresh faces that you're teaching," coach Derek Kellogg said in an interview with Mass Live. "It's a combination of pushing the older guys along hard enough and also making sure we're bringing the young guys along slow enough." This dynamic of veterans and up and coming players will  be crucial to UMass' success and development this season.
Junior guards Derrick Gordon and Trey Davis along with recently eligible West Virginia transfer, Jabarie Hinds, will look to man the backcourt this season. Additional help comes from Demetrius Dyson who saw crucial minutes as a freshman off the bench last season for the Minutemen. Newly acquired standout freshmen C.J. Anderson and Donte Clark will round out the UMass backcourt.
Up front, the Minutemen are lacking depth where they had the majority of their production last season, but senior forward Maxie Esho will look to start off where he left last season after the tournament loss to Tennessee, where his role can expect to increase after averaging 8.3 points per game and ripping down a respectable five boards.
Star center, Cady Lalanne, who had a great season last year, tearing up A-10 opponents, will have to continue leading this young yet talented team, hoping to improve upon his 11.9 points and 7.9 rebounds per game while defending the paint as the team's best shot blocker.
Junior forward Tyler Bergantino can also expect his role to expand after logging minutes off the bench in 32 out of 33 games last season for the Minutemen. Kellogg will need Bergantino's rebounding and defense prowess when Lalanne gets foul into trouble.
Sophomore forward Seth Berger will continue to use his length on the wing as a pesky defender, looking to further mature his game after seeing minutes as a true freshman, while redshirt freshman, Zach Coleman, hopes to come back re-energized after a foot injury held him out of the entire season last year.
UMass also has two wild cards in the mix that could prove vital to adding depth to the slim front court that has raised a lot of questions this offseason. Freshman big men Malik Hines and Rashaan Holloway are currently ineligible to suit up for the Minutemen, awaiting a decision from the NCAA. As for now, these two big bodies are left on the sideline, hoping to join the team as soon as possible.
Coach Kellogg and his Minutemen have faced a lot of questions this off season, but the former UMass point guard and Massachusetts native has reassured us all that he will be patient with his young team, as they develop chemistry.
"I'm going to be patient. I just won't accept anything less than those guys going full blast," said Kellogg to Mass Live.
The UMass coach will also look for the veterans on the team to step up early and often, while expecting to see some steady progression from his younger players. The Minutemen will tip-off their road to the tournament Friday, Nov. 14 at 7 p.m., inside the Mullins Center, hosting Siena College.
Ryan Donovan can be contacted at [email protected]