Red Velvet Ribbon gives alternative and grunge rock a home at UMass Amherst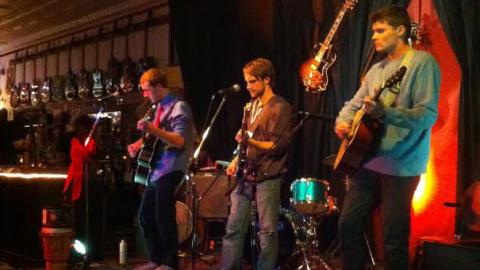 The night of October 23 was cool and calm as the college alternative and grunge band Red Velvet Ribbon were set to play their first live acoustic performance at Luthier's Co-op in Easthampton. Guitars, violins, basses, ukuleles lined the walls of the venue. The sounds of a previous performer vibrates throughout the black and white tiles of the bar floor.
The manager of the co-op, a clean dressed man in his late 50's with glasses, checks in with the band as guitarists Kyle Ostrander and Dave Whitaker go over the playlist with vocalist and bassist Corey Lambert. The co-op was the fifth gig on the band's New England tour, which started last September. Since drummer Eric Marcantonio couldn't attend the show, the band had to soldier on with an acoustic-only performance.
"We just want fans," Ostrander said, with a grin on his face. "We don't care about the money really, we just want to spread our music to as many people as possible. Because playing live and being in a band is just so much fun that I just want to make it last as long as possible."
The rock group's origins go back to their regular practice sessions in a small classroom in Herter Hall. Each member has his own writing and playing style: Lambert enjoys writing hooks as much as playing them on his bass while being the lead vocalist, Ostrander gets to experiment with riffs on his electric guitar, Whitaker takes his time to thrash out guitar solos as the band's music pulsates in the walls of the empty classroom. You can catch the band regularly rehearsing in their practice space around several times a week.
"For me… I like [creative processes] to be spontaneous," Lambert said. "When we're jamming and I'm going to write the song, I'm going to write lyrics. I like them to just come out on the spot. It's the kind of gusto I want to take in naming an album. The same kind of gusto we take in naming our songs."
Although they enjoy the work they put into the band, schoolwork always takes a front seat. Ostrander is going through his senior year at UMass with Marcantonio and Lambert. Whitaker, the youngest member, is a sophomore with  an ambition to play for a massive audience. It's an ambition the band shares but realizes the amount of work it takes to get to that point.
"You really got to find the people who're willing to want to find new music and want to find new bands," Ostrander said. "You know it's just like any other pursuit once you find the people that have the common interest and share it, everyone is going to have each other's back and help each other out."
"We try to play three of our originals to one cover has been about our ratio as of lately," Lambert said, concerning the Luthier's venue."
The band's live performances excellently portrays the craftsmanship of their original songs. Whitaker will even sometimes take a break from the guitar and will pull out a saxophone.
"We try to play three of our originals to one cover has been about our ratio as of lately," Lambert said.
During their tour, the band released their first single called "Mulligan" on October 10. Ostrander wrote the song during his freshman year in high school and felt excited to see his creation take form during the tour.
"'Mulligan' was the first [song] we had 100 percent down and we kind of liked the hook of it," Ostrander said. "We thought it would grab people's attention, so we decided to throw that one down first and see what the response would be."
Listening to the single feels like hanging out with a group of all your best friends; drinking beers and replacing alongside the melodies that the song produces. Presently, "Mulligan" is the bands only single that can be heard on their website, which provides regular updates on the band's touring schedule.
"The biggest thing to really keep in mind is that everyone works for what's best for the band and to try to make this song the best as possible," Ostrander said. "I think we all understand there's not really any pettiness, no one gets upset when someone says, 'Hey I think something would be better this way,' which is really cool because that really brings everyone together and you end up with something great that everyone is proud of."
For their tour, Ostrander did most of the venue booking work during beginning of last summer. He sought help from other artists who have played in New England, and searched for possible venues that would be interested in the band. The band has recently booked two more shows since the performance at Luthier's. These new dates include Herter Hall on Thursday, November 6 at the UMass Amherst Campus, and Cabot Pub II in Chicopee on Friday, November 7.
During the Winter break, Ostrander, Whitaker, and Lambert will be recording an album in Marcantonio's studio. The band has crafted eight original songs with ten more still being developed in the classrooms of Herter Hall. Ostrander will be working out the spring schedule with the other band members in the next few weeks. Like "Mulligan," the band's first album will be up on their website for free.
Paul Bagnall can be reached at [email protected] or follow him on [email protected]