Local bands and Diarrhea Planet shred the stage at Halloween Concert in Amherst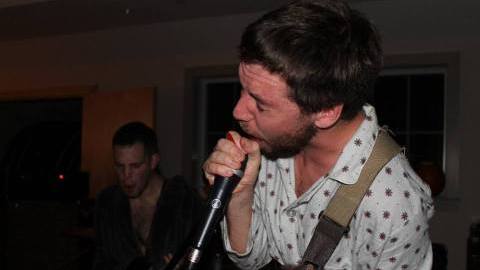 Ben Bosco, Writer
November 3, 2014
Tuesday's Halloween concert at the Unitarian Meeting House in Amherst was a night dedicated to live music, but this time with an unexpected twist. Local bands Shakusky, Settler, and California X opened for Nashville-based punk rockers and shredders extraordinaire, Diarrhea Planet.
This was Diarrhea Planet's first time playing in Amherst, Mass., only having played a show in Northampton in summer 2012.
Diarrhea Planet met in the late 2000's at Belmont University in Nashville, a school focused on the commercial aspects of the music business. Guitarist Brent Toler and drummer Casey Weissbuch formed and named the band as a reaction to the stuffy environment of the school. Gradually, they added guitarists Emmett Miller and Evan Bird and bassist Mike Boyle, and set about making the most bombastic punk rock they could.
"You usually have four or five guitar tracks in the studio anyway," said Diarrhea Planet guitarist and singer Jordan Smith. "So I wanted to just make a band that sounded like a live recording without any compromise. I saw a band a while ago with lots of guitars, and it was so harmonically rich. It filled out the sound a lot and it sounded really cool. I didn't see any reason not to do it all the time," he said.
This style has carried them through their EPs "Aloha!" and "Yama-Uba" and albums like  "Loose Jewels"  and "I'm Rich Beyond Your Wildest Dreams." The bombast will be present on their forthcoming EP "Aliens in the Outfield"  which is being released by Infinity Cat Records on Nov. 18, and "being pressed as we speak," according to Smith. They have, however, changed their sound a bit between albums, eschewing more frenetic punk for a more composed sound with thoughtful lyrics.
"Many things factored into why the records sound different," Smith said "but I think one of the main things is that we got a little older, and a lot of the anger and aggression that was there when we were younger mellowed out a bit. Plus, the lyrics are a little more sobering because I realized that I'm doing this for my job, so I have to start saying what matters."
"Also," said guitarist Brent Toler, "for our last album we've just advanced musically as a band a lot more and learned how to play better with each other."
The local acts did their part to draw a crowd for the night, with the Marlboro-based band Settler opening up. Settler had a sound reminiscent of the bands Touche Amore and Joyce Manor, mixing atmospheric guitar work with bassist Curtis Emery's screaming vocals. The band wasted no time, linking song after song into a giant medley. They will be going on a short tour with Shakusky in November.
The next band that played was Slingshot Dakota from Bethlehem, Pennsylvania. A piano-rock duo made up of singer and pianist Carly Comando and Tom Patterson, Slingshot Dakota covered a large swath of stylistic territory that sounded like a singer-songwriter pianist with Keith Moon on drums, but in the best possible way.
Next up was  Shakusky, composed of Mark Hillier, Liam Cregan, Kira Mattheson, Eli Albanese, and Lenny Schwartz, many of whom helped to put this show together with an RSO called Students For Alternative Music, which helps book shows for local and touring acts at UMass. Shakusky recently released their second album "Transient", which is their first album with the new lineup. They took the stage wearing bathrobes, and played a relatively short set with interwoven guitar lines, complex rhythms and gang vocals reminiscent of American Football, Joyce Manor, and Hella, to a degree.
Shakusky has been pretty active this year, as far as bands at UMass go. They recorded their album "Transient", did two tours, and their constituent members helped to found the organization that made this concert possible, Students for Alternative Music.
"We saw that there was a need for something like this after a lot of the house show venues got busted," said Albanese, "we needed to have a place to play."
"We tried to start the RSO that became SALT in 2011," said Hillier, "but they said that it was too similar to UPC so we weren't approved. However, the next year Liam knew some folks on SGA. It's all about the politics."
After Shakusky, local band California X followed suit with  a relatively short set.  Their sound paid homage to Western Mass. rock pioneers Dinosaur Jr. and, California-based bands such as Sleep and Queens of the Stone Age, with some of Tom Scholz's classic guitar harmonies thrown in. Guitarists Lemmy Gurtowsky and Zach Brower's guitar playing, sometimes soloing together, added melodic complexity to their sludgy grunge-ish sound. California X released their first album "California X" in 2013, and are currently working on a new one.
At long last, the headliner Diarrhea Planet took the stage, with Smith, Toler, Miller, and Bird wielding their guitars like machine guns. They launched into a barrage of punk-meets-Van Halen sonic bliss, and the crowd responded by forming a mosh pit.
About a quarter of the way through their set, however, the PA blew a fuse. Undaunted, Diarrhea Planet and the Planeteers (their fans) decided to sing along to the songs, hoping to not be drowned out by the walls of guitars, Boyle's throbbing bass, and Weissbuch's walloping drums. They played many of the songs off of their albums and EPs, notably "Ghost with a Boner," the first song they ever wrote. They also played  a few covers such as parts of Sum 41's "Fat Lip," Lit's "My Own Worst Enemy," and their closing song for the night,  Third Eye Blind's "Semi-Charmed Life."
Before they closed the set, however, everyone in Diarrhea Planet except drummer Weissbuch took advantage of  no longer being tethered to the microphones. Band members went out into the audience to do a couple songs in the middle of the room and everyone  tried to gather around for live music up-close and personal.
Despite the technical difficulties, Diarrhea Planet reinforced  why they became a band. While they're serious musicians, they're all about having fun. They know how to not take themselves too seriously and make light of adversity. This was  made evident when Smith shouted to the crowd, "I know you can't hear us, but f—- it, we're gonna keep going!" when the PA blew out.
Ben Bosco can be reached at [email protected] or follow him on Twitter @ponchobosco.