Troy Power named captain of the Minutemen Hockey Team, again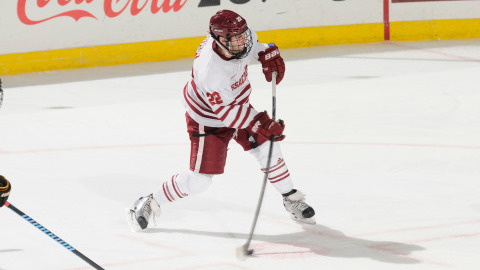 By Matt Gingras
Watch one UMass hockey game and you'll see– it's no secret that Troy Power leaves his heart on the ice during every game.
Power is the Minutemen captain — his second year in the role. The position isn't appointed by the coaching staff, but voted on by the players. After being named a captain in 2013, his junior campaign, Power felt honored.
"It's obviously a huge honor. There's a ton of captains before here that have done a great job," said Power. "To be able to represent the team and the university, it's very special for me and it's something I don't take lightly. I want to lead this team in the best direction."
It may seem odd that a native of Camarillo, California, would end up in Amherst. Aside from Dennis Kravchenko, who is also a California native, most players on the UMass roster come from "hockey areas," — Massachusetts, Minnesota, Michigan, Alberta and Ontario. Thanks to junior hockey, a stage of hockey usually played between high school and college, Power was recruited to be a Minuteman.
"I was playing junior hockey in Nebraska in the [United States Hockey League], and got recruited and came on a visit and really liked it," Power said. "I really fell in love."
Fast-forward to 2014 and ask Power how UMass worked out for him.
"It's been just incredible," he said. "There's a lot of good memories that I'm going to take with me for the rest of my life."
In his freshman and sophomore seasons, Power was not a major factor in the UMass offense. In his first 60 games at UMass, Power totaled 17 points. But everything fell into place during his junior year. Despite battling injuries in the beginning of the season, Power finished the year with 17 points — 10 goals and seven assists in 31 games — the same amount of offensive production in less than half the games.
With the new season, Power has also worked with the media relations department at UMass and started a blog on the UMass Athletics website.
"It was just something [Jill Jakuba, UMass Assistant Director of Media Relations] thought would be a cool insider's look, something I had never done before," said Power. "It's definitely a little out of my comfort zone, but it's something I didn't think I would ever enjoy doing, but I really do. It's been a lot of fun."
Writing a blog has been challenging for Power, but it helped him look at the game in a new way.
" Just reflecting on things, you notice a bunch of things that you might not have noticed if you weren't thinking about them," Power said. "It's been a really cool experience, it's hard to describe."
Power and the Minutemen had a slow start to the season. After dropping their season opener to Boston University by a 8-1 score, Massachusetts dropped four of their next six games, all on the road. After losing two games to Maine — one in overtime and the other by a goal in regulation — the team came out hungry against AIC in their return to Mullins.
Tallying an assist for the Minutemen, Power and his teammates walked over the Yellow Jackets and came home with a 7-1 win. "Looking back to the Boston University game, our home opener here, we were a little embarrassed with how that game ended up," Power said. "Not only did we want to respond to the Maine weekend, but we wanted to come back home and get our first win and get it in deciding fashion and I think that's what we did."
As a senior, Power has no NCAA eligiblity remaining after this season. While he said that he would love to continue playing on the professional level — either overseas or in America — he's still focusing on where he is now.
"I'm trying to enjoy my last year and if I have a chance to play hockey after this I would love to explore that," Power said. "It's been a dream of mine since I was a kid, so if I didn't do that or had the chance and didn't take it, I think I would regret that."
"If this is my last year playing hockey, then it's been a great ride and I'm ready for whatever comes."
Matt Gingras can be reached at [email protected] or on Twitter at @RealMattGingras