Journalism department hosts award-winning author Eula Biss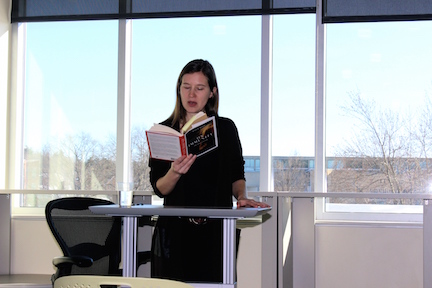 February 19, 2015
Filed under Campus
Hang on for a minute...we're trying to find some more stories you might like.
by Katie Bowler 
A crowd of about 30 students and faculty filed into the journalism department on Friday, February 13, snacking on Atkins Farms cider donuts and awaiting the arrival of Eula Biss. Murmurs filled the room as the audience prepared for the author to speak about her most recent book, "On Immunity: An Inoculation."
The book, one of The New York Times Book Review's 10 Best Books of 2014, explores the metaphors associated with disease and the science behind vaccinations, topics that so often raise questions of safety and necessity.
After a brief introduction by professor Brian McDermott, Biss walked up to the podium. The Hub was silent as the Hampshire College alum read excerpts from the beginning of her book. She recited a short section about Achilles and his immunity to physical harm, a tale that her father used to tell her when she was young. When she finished, she looked up from the page and closed her book.
"I'm going to stop there and turn this into a conversation," she said, encouraging questions from the audience. One student raised her hand and asked Biss what influenced her work.
"I started reading everything I could find in the news in 2009," Biss replied. "After the initial immersion, I started branching out in different directions."
When Biss became pregnant with her first child, she heard "murmurs" about vaccinations and decided to research the subject so that she would be able to make an informed decision when the time came to vaccinate her own child. She thought her research would only last a few days, but the process continued long after her son was born.
"That's how many essays begin for me," Biss said, "a problem I want to work out for myself." The process is what she describes as "a mess," saying that there are generally chunks of time where she has no idea what she is doing.
"I follow every line of thinking until it seems exhausting," she explained.
While researching, Biss became more and more interested in literature written before vaccinations were discovered in the 1790s. She read "A Journal of the Plague Year" by Daniel Defoe from 1722 in order to get a better feel for that time.
Eventually, Biss found herself combining historical nonfiction with science, although she is not a science writer. As she explored the field of immunity, she read a textbook dedicated to the subject.
"I had no background in science, you know, because I went to Hampshire College," Biss said with a smile, eliciting lots of laughs from the audience. Because of this, she worked closely with a scientist while writing her book, taking as much advice as she could.
"It was important to fact check with a person who had access to a body of knowledge that I was scraping the surface of," she said.
When Biss first started writing, she assumed that her research would result in an essay, but found herself writing a book. The first draft looked nothing like the final piece, she said.
"It took quite a bit of writing before I learned what belonged and what didn't," said Biss, something that is a part of every writer's process.
Biss is a lecturer of nonfiction writing at Northwestern University and said that she encourages her students to make messes of their writing as she does, following the unclear path and figuring things out along the way.
She ended the reading and conversation with some advice for student writers."The big thing I try to say is to not decide what you're going to say. Let yourself wander," she said. "Have questions and figure them out. It can kill a piece if you decide before what you'll say."
Katie Bowler can be reached at k[email protected] and on Twitter at @bowler_kathryn.