Drinking, DC's, and dimes: the Southwest experience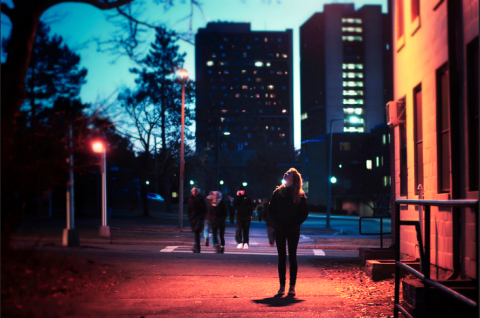 "Live in Southwest. I can totally see you living in Southwest."
Why would I fit in so well?
Whatever the reason, the advice resonated strongly and I decided to live in Southwest. On move-in day, I finally saw what the residential area was all about.
Southwest is a vision of gray concrete and brick, with tapestry-draped windows and steam rising out of manholes sporadically-placed between five high-rise towers, each with 22 floors, and 11 low-rise buildings. On weekends, colorful lights and thumping bass spill out onto the concourse. There is no surprise as to why the largest and most populated residential area is regarded as UMass' "city," home to 25 percent of undergraduate students.
I have to admit, I had a tremendous amount of fun living in Southwest my freshman and sophomore years. I understood why everyone urged me to live there–Southwest is fun. Residents get their schoolwork done, but the second the week comes to an end, everyone lets loose. The crisp sound of a beer can cracking open, girls scurrying around to borrow each other's clothes, phones buzzing with text messages of plans about that weekend's festivities– this was all I needed to cut the weekend welcome ribbon. Southwest is more than an array of concrete and brick. It is a city ablaze with nightlife, a strong sense of community, and young adults looking for a good time.
Part I: Drinking
One thing I didn't enjoy about living in Southwest was the negative connotation that sometimes came with living there.
I lived in Kennedy my freshman year and every time I mentioned it, I heard the same response: "Oh, one of the towers." I later learned that the towers were known as "the craziest part" of the already "craziest part" of campus. "Thirsty Thursday" made it normal for weekends to start a day early and around 7 p.m., the festivities began. "Drink, party, repeat" integrated itself into these three-night weekends.
Jodie Shea, a junior who works as a residential advisor (RA) in Southwest's freshman-only Moore House, describes those stereotypes while lounging in her dorm room with the door open for residents to enter.
"This is where all the riots happen, everyone here drinks, no one gets any work done," she says in a mocking tone that suggests the assumptions aren't true.
Shea, an ambitious double major in biochemistry and public health, insists that there is a lot more to Southwest than its "party central" reputation.
When she say "riots," she refers to the rare, yet unforgettable, rowdiness that follows major events like the New England Patriots' loss in the 2012 Super Bowl. After the loss, thousands of students rallied in the Southwest concourse, which quickly escalated into people climbing trees which were then set on fire, broken windows, and excess noise.
The UMass Police Department (UMPD) is no stranger to Southwest and in the past shot students with pellet guns and sprayed tear gas to contain riots. The UMPD has been studying better methods of crowd control and riot prevention to contain the  high levels of energy.
Part II: DC's
UMass proudly ranks second for the best college dining in the U.S. and Southwest is home to two of the best dining commons, or "DC's," on campus. Berkshire, "Berk," is open until 12 a.m. and Hampshire, "Hamp," is open until 10 p.m.
Southwest's food scene has drawn a lot of attention. Hamp was renovated and unveiled in September 2013. It boasts all new furnishings and cookware, and dishes out food inspired by a "healthy living" theme. The food is locally grown and provides better eating options for students. A Starbucks counter near the entrance is a convenient and popular place to grab coffee and other snacks before class, and every Sunday morning, a live band plays by Hamp's freshly-blended smoothies.
What happens when students are looking for food to satisfy their late-night cravings? They turn to other options in Southwest, like Pita Pit, a 70's-esque cafeteria open until 2 a.m.
"Most of the people who come in on the weekends are obnoxious and try to get free food," Pita Pit employee Joe Akiki says. He hasn't seen anything too crazy throughout his first semester working there, but he does recall one story of a girl's "upper half" popping out of her shirt as she ordered at the counter.
Part III: Dimes
One of my male friends lived in Central his freshman year and tells me he would have much rather lived in Southwest.
"The girls down there get dressed up. They put on make-up and look nice, even if they're just going to class," he says while some of his female friends in Central had decided to abandon bras and stop shaving.
Southwest is where all the "dimes" are, some students say, "home to the athletes, the sorority girls and the fratty bros" wearing Nike mid-calf socks, athletic sneakers, and basketball shorts or khaki pants and button-ups.
Many students decide to live in Southwest because of the residential area's proximity to the university's gym and recreational center. This focus on health translates into an appreciation for physical appearance.
When Southwest residents aren't hitting the gym, doing work, or enjoying the nightlife, some are found in any of the lounges on each floor of the dorms, or avoiding conversation and eye contact in tower elevators. The 22 floors make for a very long, and sometimes uncomfortable, ride.
***
Chris DiTullio is a Residential Assistance  in Coolidge tower, where he has lived in the same room for the past two years. Before moving to Southwest, DiTullio lived in Central and Orchard Hill. After living in Southwest, he disagrees with rumors of craziness.
"It's not party city. UMass is a party school and Southwest is the epicenter of that. If you want to experience those things, you have to find them," he says. DiTullio does homework without any distractions and admits that Southwest is not as loud or rowdy as it is often described.
Stereotypes disregard that students living in Southwest are still college students. In Southwest, the saying "work hard, play harder" holds a lot of truth.
Many of DiTullio's residents provide some of their own insight. They all agree, nodding, when he describes Southwest's "spirited" nature. "It's fun, friendly, bustling," junior Nicholas Koenig said. And, as Shea puts it, "it keeps you on your toes."
***
Year after year, Southwest offers great food, socializing, and an overall good time. The bustling residential area engages all kinds of people and is celebrated among the residents. Some enjoy it from afar, like a spectator sport, but I thoroughly enjoyed my two years reveling in the Southwest scene as a reward for hard work.
Email Mirabella Pulido at [email protected]