Vatrano shines in first full season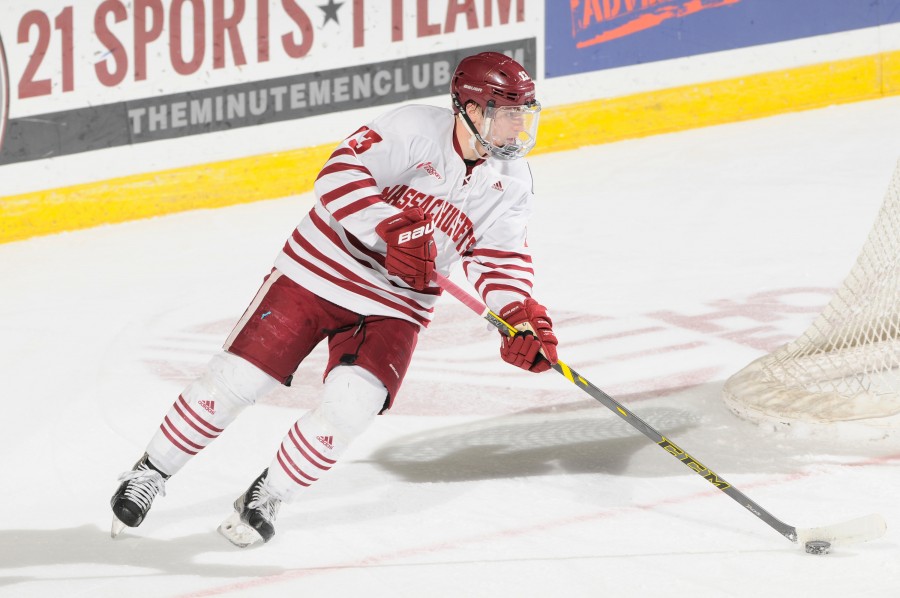 By Matt Gingras
Photo credit: Thom Kendall, UMass Athletics
UMass hockey may have finished in the bottom of the Hockey East, but some of the new faces on the Minutemen team can look forward to a better season next year.
The Minutemen got star defenseman Brandon Montour, the highest UMass NHL Draft pick ever, after the first semester. Dennis Kravchenko was 13th in the Hockey East in points, totaling 30 points for the season. Patrick Lee put up points seemingly every other night. The one thing all of these players have in common? They're freshmen.
But Frank Vatrano isn't a freshman. The 2014/15 campaign was his sophomore season, and he played just one game as a freshman, which happened in the Hockey East tournament. Nonetheless, Vatrano came into the season with no true college hockey experience. It didn't matter—Vatrano proves he is a talented player.
Vatrano started slow. Through the first seven games, he scored just one goal and recorded two assists. "The first few games took me a little to get used to how college hockey is and how fast the pace is, you know, how every team every night is going to be great competition," said Vatrano, an East Longmeadow native. "I think my teammates from the older classes helped me adapt to the game, that's been huge for me."
Vatrano, in the eighth game of the season, scored two goals and notched an assist against AIC. A month later, he did the same thing against Notre Dame. Vatrano notched two goals in a game four times this season .
"I just feel like when I shoot, hopefully it goes in," said Vatrano. "Some games, the puck finds the back of the net. In some games, I'm getting a bunch of opportunities but they're not finding their way. I think it's just puck-luck for me, if it's going in or not."
The forward finished with 17 goals on the season, tied for seventh in the Hockey East. The only player in the top seven with less experience than Vatrano to have more goals was Boston University star, Jack Eichel.
But Vatrano doesn't look at the game as just scoring goals. In order to score, someone else has to feed him the puck. Through most of the season, Vatrano was linemates with Steven Iacobellis and Ray Pigozzi, two sophomores who Vatrano said he had good chemistry with.
"I played with [Pigozzi] when I was growing up in summer tournaments, and Stevie is a really great center who I think works very hard and he gels really good with me and Ray," Vatrano said.
Twice this season, UMass took down teams ranked 12th in the country. It's no surprise that in those games, Vatrano was a major part in those wins.
Against UMass Lowell on Feb. 7, the Minutemen topped the Riverhawks 5-2. Vatrano scored two goals in the contest, which he said was the highlight of the season, team-wise. " I think we all thought that was the best 60 minutes we put together," Vatrano said.
Two weeks later, on Feb. 21, Vatrano scored the game-winning goal in overtime to top Providence, who UMass had lost to the night before, also in overtime. Not only did the game seal the win for the Minutemen, but it happened on Senior Night.
"It was awesome, especially for that being the last home game at the Mullins Center," Vatrano said. "It's a pretty special feeling, obviously, scoring that goal, but I thought it was even better to get that win for the seniors and have them remember that last game."
Moving forward, Vatrano wants to keep getting better. Despite such a great, although delayed, start to his hockey career, he still eyes improvement.
"Just stick with it, basically," he said. "That's what happened with me having great success here."
And, like he's been all season, Vatrano stays humble."My teammates, I credit it all to them," said Vatrano on his success.
Matt Gingras can be reached at [email protected] or on Twitter at @RealMattGingras