UMass Football remains positive despite another loss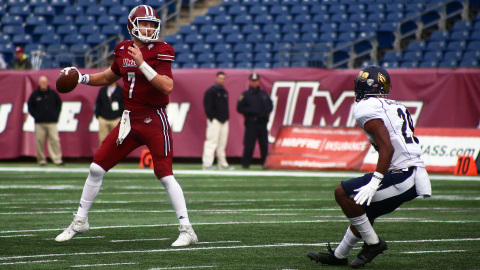 It's been a tough season for University of Massachusetts Amherst football, and things don't seem to be getting any better.
The Minutemen (1-8, 0-5 MAC) have only one win on their schedule, against Florida International on Oct. 3.
Last Saturday's painful 17-13 defeat by the University of Akron at Gillette Stadium was the team's fifth straight loss this season. With 36 seconds remaining in regulation, quarterback Blake Frohnapfel's pass was intercepted, giving Akron possession. Frohnapfel said that, though he tried to pass to his usual receivers, Tajae Sharpe and Rodney Mills, both were double-teamed, leaving his pass too far outside.
Statistically, the offense has regressed from last year's squad. Players attribute this change to their challenging opponents.
"Some of the things [that teams] are doing to us makes it harder," Frohnapfel said. "Some of the decisions and the rules and the plays. It kind of makes things more complicated for us."
Despite the  setbacks, the UMass Minutemen remain positive.
"We just gotta learn from it, grow from it and make sure we don't make those mistakes again," tight end Mills said. "At the end of the day, we had a chance to win [but with] untimely mistakes [and] penalties [nobody] was able to make a play for us. At the end of the day, we came up short."
Team members say they have improved since last season. Linebacker Jovan Santos-Knox, a senior who has seen a lot of playing time, described the development over the last few years as a "night and day difference."
"I don't even think, my freshman year, that we could stay in half the games that we are in now," Santos-Knox said. "And it's not them beating us sometimes. It's usually us shooting ourselves in the foot."
Mills said that the single win  this season is "disappointing" and "heartbreaking," but that, with three games left, the team has three more opportunities to go out and compete.
"We have a great chance to come back and practice, watch film, view things we did wrong, and go out and compete against Eastern Michigan for our second win," Mills said.
The Minutemen will take on the Eastern Michigan Eagles this weekend; kick-off is at 3 p.m.
Email Kaitlin Boyer at [email protected], or follow her on Twitter @Kaitlin_Boyer.