How to plan your first Friendsgiving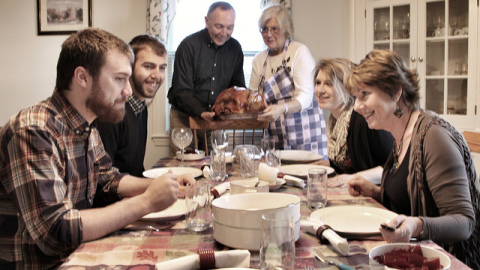 Too young to host Thanksgiving dinner for your family, but too old to not turn yet another holiday into an epic celebration? Host Friendsgiving.
Friendsgiving has become increasingly popular among 20-somethings who want to dabble in adulthood. College students usually host this friend-filled day several nights before leaving to go home to spend the holiday with their families. The turkey might not be as flavorful as Mom's, and what's a holiday without your weird uncle? Still, it's a great time to wrangle all your closest friends together and show them how thankful you are that they still love you, through all the stress-filled days and sassy nights.
Think of it as a Thanksgiving pregame.
Make it a potluck.
Hosting Friendsgiving can be overwhelming. Leaving the appetizers, main course, side dishes, and desserts all up to one person is a disaster waiting to happen. You'll find yourself calling Pioneer Valley Pizza for a party-sized pie.
Split up the cooking to not only make the day less stressful and costly for you but also to give everyone a chance to incorporate their favorite Thanksgiving dishes.
When hosting a potluck, make sure that you know what each person plans on bringing so that nothing is repeated or forgotten. Five bowls filled with mashed potatoes and no stuffing is a disappointment… and un-American. Prove that you aren't lying when you write "proficient in Excel" on your resume, and make a spreadsheet detailing what you need and who is responsible for getting it there. You'll thank me later.
Think long and hard about who cooks the bird. 
Preparing the turkey is arguably the most important part of the occasion, and also the hardest. This is no job for the procrastinator of the group. According to theKitchn.com, when thawing out a frozen turkey, you need to allot "approximately 24 hours for every five pounds of turkey." Do the math: a small turkey (less than 12 pounds) will take between 1-3 days to defrost, and a larger bird (12 pounds or more) can take anywhere from four to six days before it's ready to roast.
If you think you can take on the fea(s)t, check out this helpful guide. Melissa Clark of the New York Times covers the entire process, from purchasing to carving.
Read the guide and still don't know where to start? Buy a rotisserie chicken from Big Y. I'll keep it between us.
Only invite your closest friends.
In order to make this dinner as intimate as possible, everyone needs a seat. Put that beer pong table and extra futon to good use if you have to, just make sure it's not as tightly packed as a fraternity basement on rush week.
Friendsgiving is definitely not as fun when half of your guests are catching up on American Horror Story in your bed because there is no space for them in the dining room. Plan the guest list ahead of time and be sure that you can comfortably accommodate everyone invited. Consider sending a private Facebook invitation, rather than relying on word of mouth or text messages. This drives home the point that the potluck is invite-only, helps to organize RSVPs and updates, and makes the event more legitimate. As the event nears, hype up the occasion by posting countdowns and sneak peak pictures of preparations.
Get festive.
Don't just buy a box of Franzia and a package of Oreos and call it a day. Make a themed drink and dessert. The Food Network has a variety of seasonal recipes that will really impress your guests, like my favorites: Mulled Apple Cider and Thanksgiving Turkey Treats.
For a drink customized to your taste buds, take the What's Your Thanksgiving Cocktail? quiz. Don't worry; there are non-alcoholic drink options too.
Don't stop there. Buy a tablecloth, centerpieces, and matching silverware. I know every penny in your pocket counts, but decorations can actually be very inexpensive if you go to a dollar store. The products may be cheap, but they won't look it. Trust me.
And, if you're going to dress the house up for the occasion, you might as well play the part too. It's almost time to put away your cute fall clothes and unpack your frumpy winter jackets, so take advantage. Or set a theme. Pajama parties are always a hit; the possibilities are endless.
Do all of this and you're sure to star in your guests' Snapchat stories. Thanksgiving may fall on the last Thursday of every November, but why limit all that food and fun to just one day?
Email Kate Ferrante at [email protected], or follow her on twitter @kate_ferrante.