STUDENTx speakers promote self-acceptance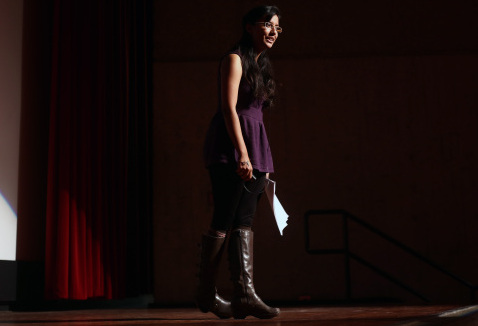 Chrissy Dasco shifts in the maroon armchair, quietly mouthing several verses of her spoken word poem. She looks down at her busy hands as they tug on the hem of her graphic crop top. The meaning of her poem suddenly comes to her.
"My shirt," she says, pointing at the black words on white. "Be More. Do Less."
Dasco, a Bachelor's Degree with Individual Concentration major (BDIC) studying Alternative Education at the University of Massachusetts Amherst, will join five other members of the Five College Consortium at the STUDENTx Showcase hosted by STUDENTx, a registered student organization (RSO) affiliated with student-run TEDxAmherst.
From a pool of over 50 applications, members of the TEDxAmherst speakership team selected speakers Sanah Rizvi of UMass, Kaelan McCone of Amherst College, Liana Miguelina Weeks of Smith College, Nirman Dave of Hampshire College, Stella Elwood of Mount Holyoke College, and Dasco, the spoken word performer.
Dasco's performance examines the public education system where, she said, the pressures of standardized testing and competition interfere with students' personal growth.
"You see, I don't want to breathe each moment with the intent to obtain," Dasco performed in a recent rehearsal, "'Cause the race to the top, that's a f****** one-lane course, where some are born in the front and the rest are held back."
Rizvi, a psychology major with a minor in biology, will explore this same idea in her talk, titled "Let's Be Ordinary." Many of the senior's peers perpetually race against the pre-graduation clock, cramming extra classes, internships and extracurriculars into their schedules in fear that they haven't done enough to stand out to prospective employers.
According to Rizvi, they're doing just fine.
"There's this resume self, and then there's the personal self," Rizvi explained. "We live in this world of twenty-something CEOs, of eight-year-old prodigies; there's this idea that you need to be exceptional. But being ordinary isn't a bad thing. If you can stand on your own in a three-hundred person lecture, you've already made it."
Phew.
The showcase, James Conlon of the TEDxAmherst outreach and marketing team said, fits with Rizvi's belief that "we all have something to share."
"[The talk] comes from someone who doesn't have a Ph.D.," Conlon said. "They're undergrads [who] can take something that is simple and make it grow and inspire, make it into something that can change our community and, hopefully, change the world."
Admission to STUDENTx, to be held in the Campus Center Auditorium at 7 p.m. on Nov. 19, is free and open to the public.
For more information, visit the event's Facebook page.
Email Brilee Weaver at [email protected], or follow her on Twitter @brilee_weaver.