Muslim Students Association holds peace vigil
Over 70 people came together on Friday, Nov. 20, at 5 p.m. outside of the Student Union at the University of Massachusetts Amherst for a "vigil for peace" organized by the Muslim Students Association (MSA). The vigil honored victims killed during the terrorist attacks in Paris, Nigeria and Beirut.
MSA members held a banner that read "Pray for the world," decorated with French artist Jean Julien's now-famous design, while those in attendance formed a circle and held small candles.
The inspiration for the vigil came from the recent Islamophobia, according to the MSA, across the country.
MSA Vice President Juwan Awad greeted the crowd, standing in front of the banner.
"We're here together to collectively mourn the loss of life that occurred this week," he said.
He expressed immense gratitude towards the UMass community for helping Muslim students on campus "fight the narrative" that casts their religion as inherently violent, and for helping them "feel extremely welcome and safe."
"Earlier this week, we saw a few derogatory comments on Yik Yak, but we feel the community was behind us," said Awan. "The community supported us. They identified that these things were bigotry… and are supporting us in our counter-narrative to what we're facing in the media today," he continued.
Student Government Association (SGA) President Sionan Barrett spoke after Awan, sharing words of support. Barrett said she has a citizenship in France and felt a personal connection with the attacks. After a few brief sentiments, she led a moment of silence.
Shelly Perdomo, interim assistant vice chancellor for student affairs, was next to speak, saying that "the sad reality is that backlash against Muslims [following terror attacks] is not new; it is a lived reality that many of our students, staff and faculty face."
She said that in these "challenging times," it is essential to "find ways to move from anger and fear to compassion and understanding, and that as a community, we must "support and care for one another."
Abdifatah Omar, MSA President, stepped up next and said that the Muslim community is in need of "solidarity," and encouraged those in attendance to reach out to Muslim students and show them support.
He also shared a letter that he received from Father Gary Daily of the Newman Catholic Center, in which he wrote that "we stand with you in your prayer for peace in the world," and "in solidarity with you and your organization."
Both Awan and Omar expressed gratitude to the religious community and leaders who came together to stand behind the MSA in their remarks.
"We're so thankful to be in a place like Amherst, where so many people share the values that we share," said Awan.
Before leaving, attendees were asked to place their candles on the ground where they were standing, so that the circle of light would remain lit even after most of the crowd dispersed.
After the vigil, Omar said that he thinks a lot of backlash against Muslims, often after acts of terror, is primarily driven by fear.
"People are afraid of what they don't know," he explained, "that's why we try to get out into the community and hold events like these, so that people who wouldn't ordinarily be exposed to Islam can see we're really no different than them."
Rabbi Chaim Adelman of the Chabad house, a prominent leader in the Jewish community in Amherst, attended the vigil in support of the MSA and thinks that moments like these are critical in understanding broader issues.
"I think it's great these students want to promote peace and dialogue. I think dialogue like this is critical in creating an understanding among different people, and finding the commonalities between us," he said.
Awan later said that it is discouraging to see so much underlying Islamophobia in the U.S., and he hopes people can understand that "terrorism is as foreign to us as it it is to any other American."
Email Bryan Bowman at [email protected], or follow him on Twitter @BryanBowman14.
About the Writer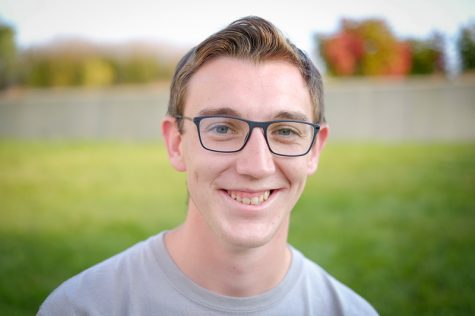 Bryan Bowman, Senior Reporter
"Buy the ticket, take the ride."