UMass holds third campus forum to address diversity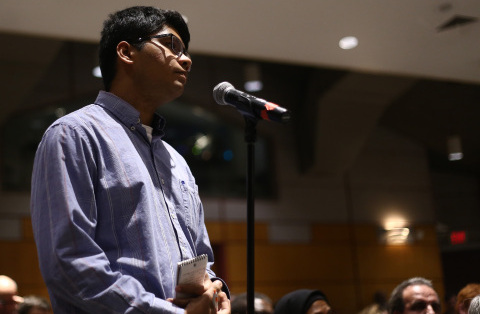 The University of Massachusetts Amherst first listened, then they answered, and on Thursday, Dec. 3, in the Mahar Auditorium, they acted. Or, to be precise, they reported on the actions they are currently undertaking, as well as their future plans, to create a more diverse campus.
Administrators and faculty leaders met with students and other members of the UMass community for the third time in a series of campus forums on diversity to discuss the university's efforts to make the campus more inclusive.
The administrators, led by Provost and Senior Vice Chancellor for Academic Affairs Katherine Newman, recognized that UMass has a long way to go in combating issues of representation and engagement among underrepresented minorities, but also noted the accomplishments the university has made so far.
Newman praised Leykia Brill, the assistant provost for diversity and enrollment management, for her work in the six months she's been on the job. Newman also acknowledged recent criticism of the recruitment strategy, namely that UMass is not doing enough in places like Holyoke and Springfield, to actively recruit underrepresented minorities.
Brill assured the audience that she will set up free workshops at the UMass center in Springfield. She said they will be held twice a month, and will focus on helping prospective students and parents navigate the college application and admissions process. She also said that she is working to formalize memorandums of understanding with several organizations across the state that aim to help college-bound students, including Upward Bound, GEAR UP, and the Massachusetts Association of Public Charter Schools.
Newman later announced that part of the admissions office will be relocated to downtown Boston. This new "satellite office" will help reach more of the diverse population in eastern Massachusetts.
"We have a number of students who come from the Boston area," said Neman. "We would like to see that grow, and the purpose of the Boston admissions office is to ensure that we have boots on the ground."
According to the provost, one of the methods under consideration for fostering an inclusive campus climate is changing the curriculum to include more diversity General Education (Gen Ed) requirements and first-year seminars that highlight social justice.
"The pathway to curricular change at UMass is through general education courses and through a diverse faculty," explained Yemisi Jimoh, chair of the Faculty Rules Committee.
The forum also focused on the Commonwealth Honors College (CHC). Gretchen Gerzina, dean of the CHC, said that the CHC "clearly recognizes that there is not enough diversity" within the college.
Among the CHC's initiatives to increase diversity is Honors to Honors, a program that offers honors students at community colleges a place at the Commonwealth Honors College. The CHC also has over $100,000 in scholarships to offer high school students of color applying to UMass.
Sheena Jeune, a senior legal studies major and vice president of the Black Student Union (BSU), spoke at the panel and raised her concerns about the difficulties transfer students face financially, and in adjusting to UMass.
"As a transfer student, I feel like a lot of the students who aspire to transfer to UMass Amherst are not given the same opportunities as an undergraduate student," she said. She explained that she was unaware of CHC when applying to UMass.
Alexandrina Deschamps, associate dean for recruitment, advising, and diversity at CHC, apologized on behalf of the college.
After the forum, Stacy Tchouanguem, a senior microbiology major and a policy advocacy coordinator for Student Bridges, said she was pleased to finally hear from Newman and her board members. She said this third forum was the university's way of saying, "This is what we're doing, so I don't want you guys to think we're not doing anything."
"We students do recognize that they're doing some work, but we still realize that there's a lot more work that needs to be done and understand that there's a lot more steps that need to be taken to solve these issues on campus," she said.
With impending finals commanding the student body's attention, she said, "Yes, [this issue is] exhausting. Yes, it takes a lot of time out of people. But these things need to keep happening, and students need to keep being involved."
Email Mark Dunphy at [email protected], or follow him on Twitter @m_dunphy97.