19 protestors arrested after third day of Whitmore occupation
A total of 34 students have now been arrested after silent demonstrations.
All was quiet in the Whitmore Administration Building at the University of Massachusetts Amherst on Wednesday afternoon. Scattered footsteps and ringing telephones occasionally broke the silence — a seemingly ordinary day.
But at the chancellor and provost's office on the third floor, the scene was far from normal.
Hundreds of protesters lined the hallways, decorated in orange to represent the divest movement. Rows of people stretched across the entire corridor and lobby; the third floor was under full occupation.
On Tuesday night, 15 people were arrested for trespassing after refusing to leave the building at closing time. On Wednesday night, 19 more people would follow.
The protesters, a mix of students and faculty, sat quietly looking at their laptops, notebooks and phones. Several people walked up and down the hallways handing out pizza, drinks and collecting trash. Some had signs while others had pillows.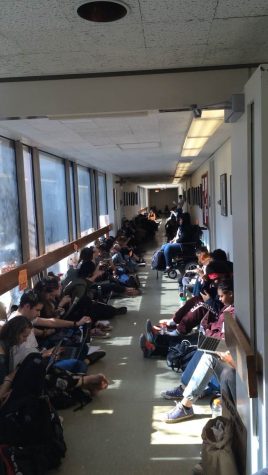 It was the third consecutive day of a sit-in organized by the UMass Fossil Fuel Divestment Campaign. The Board of Trustees must promise in a public statement to divest all investments in the top 200 publicly traded fossil fuel companies for the silent protestors to leave.
Divest UMass and their supporters agreed to leave Whitmore voluntarily on Monday at 5 p.m. However, according to Filipe Carvalho, senior spokesperson for Divest UMass, the campaign warned that if their demands were not met that night, they would be back the next day.
They arrived on Tuesday morning, this time with an even larger group of dedicated supporters. By noon, over 120 people occupied Whitmore's third floor. When it was closing time, 15 people volunteered to stay behind and face certain arrest. By 9 p.m., all 15 had been placed in handcuffs as supporters looked on, chanting, "We love you."
"Nobody wants to get arrested," Carvalho said during Wednesday's demonstration, "but it shows how serious we are, and that this issue is bigger than us, bigger than this university and its image. People are willing to be arrested and brought to jail… that's how important it is to them," he continued.
After Monday and Tuesday's demonstrations, the group's leaders participated in a series of lengthy, tense negotiations with UMass President Marty Meehan and Chairman of the Board of Trustees Victor Woolridge.
While the administration promised to "advocate" for full divestment from the fossil fuel industry, it was not willing to release the public statement committing to divestment that the group had demanded.
Ed Blaguszewski, a spokesperson for UMass, said in a statement that while the administration "will support a policy that divests and prohibits direct investment in fossil fuel companies," it is infeasible because of the current decision-making policies to commit to the proposal at this point before a proper meeting can be put in place.
Divest UMass stated that they will not compromise, and their legions of supporters will continue to occupy Whitmore until full divestment is promised.
On Wednesday, the group upped the ante again, returning with over 250 protesters by late afternoon. The group planned to leave 20 people behind after the UMass police issued a dispersal notice at 6 p.m., forcing them to arrest even more people than the night before. Reel was unsure why the final number turned out to be 19, but said she and the campaign were still satisfied with the demonstrations and, more importantly, optimistic.
Divest UMass organized a "jail support team," with about 20 members, tasked with bailing out and driving home the arrestees. The bail funds are paid for by the group's Go Fund Me page, which has raised over $2,000.
The organization has kept its supporters well fed during the three full days of occupation so far. Dozens of students have used their meal plans to bring food from Grab'n Go to the protesters inside. Other divest organizations around the country have also showed their support by ordering boxes of pizza to be delivered to Whitmore. According to Carvalho, some were ordered from as far as California and Montana.
When closing time came on Wednesday evening, the once quiet protesters rose to their feet, chanting and singing, as leaders from the group walked up and down the halls, riling up supporters.
At 6:06 p.m., UMass police officers entered to disperse the crowd that was now legally trespassing. As officers walked down the hall towards the chancellor's office, protesters held hands and chanted, "I know that we will win." Soon after, an officer issued a loud warning that everybody must leave immediately, or be subject to arrest.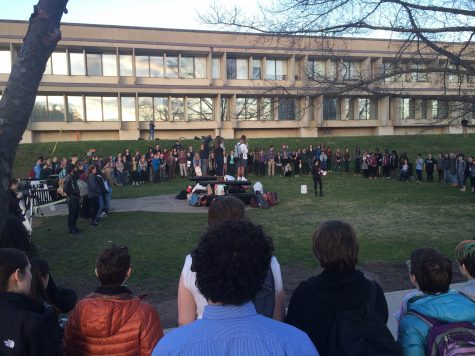 All but the 19 demonstrators who had been selected to stay behind marched out of the building in two single file lines, chanting and singing loudly.
As they flooded down the ramp in front of Whitmore, they were met by another hundred or so supporters outside. The groups joined together and continued to march around to the side of the building where the "#First15" arrested students had been lead out the night before.
A police line, made with yellow tape and wooden barriers, were put in place. Like the previous night, the UMass Police Incident Command truck, a large, ambulance-like vehicle, was on hand with several officers nearby with "special operations" decals.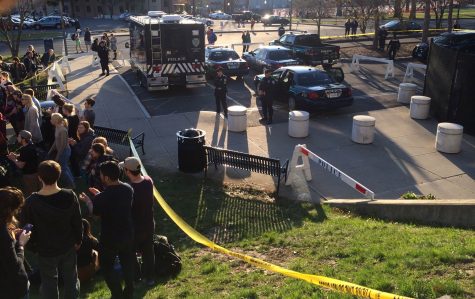 The remaining two to three hundred demonstrators gathered outside the police line and broke into more boisterous chants with Divest UMass members picking up the megaphones.
About half an hour after the protesters left Whitmore, the first five arrested demonstrators were lead out in handcuffs and loaded into police cars. The crowd again broke out into their now routine chant: "We love you."
While the last of the 15 students arrested on Tuesday night didn't leave Whitmore until around 9 p.m., the scene outside of the administration building wound down shortly after 7 p.m.
As the police packed up their barriers and unwound their yellow tape after the 19 arrests, Divest UMass demonstrators gathered in a circle, holding hands for one final chant.
"We'll be back. We'll be back."
Bryan can be reached at [email protected]