Is UMass still "ZooMass"?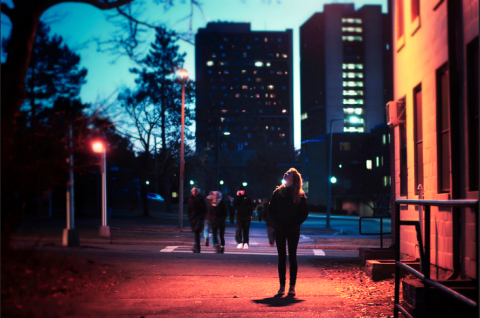 At the start of the 2015 fall semester, Erin Moore, 20, stayed in to serve her first night on duty as a resident assistant in Dwight Hall in the Northeast living area. As the biology major sat in her room, she could hear students shouting wildly outside as they headed to parties.
Just another night at the zoo, she thought. That's when she received a frantic call to go to the volleyball courts outside.
When she arrived, Moore saw a young girl lying face-down in the sand, unable to speak or even pick her head up — she had too much to drink.
"It seems like everyone [at UMass] has a story like that," said Moore, looking back on that night. "I know I've experienced others like that."
Some time ago, the University of Massachusetts Amherst earned the nickname "ZooMass Slamherst" for excessive partying. In 2005, the Princeton Review ranked UMass as the number nine party school in the nation and the university attracted national media attention in 2014 after Blarney Blowout, the annual St. Patrick's day celebration.
In recent years, the university has tried to separate itself from this image with new strategies to keep crowds under control, especially during larger celebrations, like the "riots" after the Red Sox won the World Series in 2013.
And recent data suggests that those strategies are working.
UMass Police Community Outreach Officer Brian Kellogg said that when he first started working here in January 2001, all units had to be available Thursday night through Saturday night.
They weren't preoccupied with something as trivial as a traffic stop — they knew something bigger would come up and always wanted to be available. During his rounds, Kellogg remembers finding kegs in the dorms and witnessing fights on Sunset Avenue, the edge of the Southwest living area.
According to the Campus Safety and Security Report, the average amount of on-campus discipline for liquor law violations was 688 from 2012-2014, while other universities, like Purdue University in Indianapolis, has quadrupled that amount.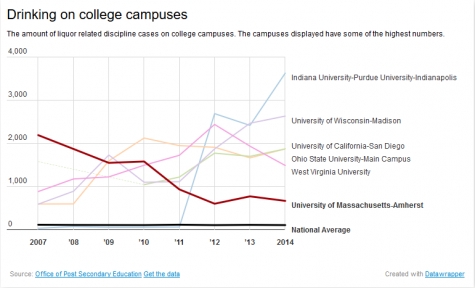 The report stated that UMass's on-campus liquor discipline numbers have decreased by 69.3 percent since 2007, which Kellogg attributes to the "crackdown" on the alcohol policy by the Dean of Student's Office.
Now, there are stronger enforcements of the Student Code of Conduct and better training for resident assistants. The kegs in dorms and fights he saw when he first started aren't as common, he explained.
"That just doesn't happen anymore," he said. "We've essentially moved the problem off-campus."
Still, the number of on-campus disciplines for liquor law violations reaches close to 700 on average — nearly six times the national average. From Moore's point of view, UMass is still a "zoo."
"My residents go out every weekend, every Friday and Saturday," she said. "There's never a weekend when there's not a party."
She also feels that UMass's "party culture" is perpetuated by an overarching drinking problem.
"Everyone feels like they have to go out and drink so they have fun stories for their peers," Moore said. "They feel like if they're not going to parties, they're missing out."
While Kellogg doesn't believe UMass deserves the title "Zoomass," he does recognize that binge-drinking and "party culture" is still a problem.
"There's a good portion of students who love the party side of UMass and want it to be the "Zoomass" their parents told them it was," he said, "and they take advantage when they can to drink and riot."
Going forward, Kellogg believes that it's up to the student body to create a better image for the campus.
"The strict enforcement will prevent students who are seriously concerned about their college careers, but will only push others underground," he said. "So it's going to take a larger effort by the student body."
Haley can be reached at [email protected] or on Twitter @hbucelew.
Colin can be reached at 
[email protected] or on Twitter @_ColinMcGinnis.