Why we need to change the way we talk about UMass football
UMass Football has taken some important baby steps thus far through two games, and nobody's giving them credit for it.
Rome wasn't built in one day, and for a Massachusetts football program still in its Division I infancy, we can't expect them to run before they can crawl.
In just their fifth season in Division I after making the jump from Division IAA, UMass is hoping to fight through growing pains from a challenging schedule this year that included a week two bout with Boston College last week.
The good, the bad, and the downright ugly were all on display for UMass in their 26-7 loss to BC in the "Battle of the Baystate."
After a 19-point loss, it's easy to point out all the things that went wrong for the Minutemen. The offense was outclassed by a highly talented BC defense, which was ranked near the top of the nation last year. Sophomore quarterback Ross Commis took a beating. He was sacked nine times, with three fumbles and threw an interception for good measure. UMass made far too many mistakes overall to beat a "power five" conference team like BC.
There's no sugar-coating any of that.
But for all their struggles and mistakes, for all their fumbles and sacks and defensive errors, the Minutemen have also showed tangible signs of progress through their first two games this season.
They aren't getting enough credit for it.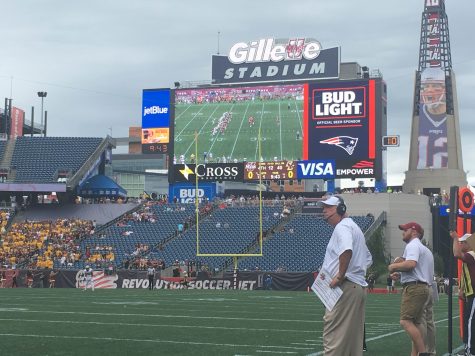 In their first game of season, UMass competed with the #25 Florida Gators, one of the most prestigious programs in all of college football, deep into the fourth quarter in "the swamp" — one of the most hostile venues in all of sports.
Ultimately losing 24-7, UMass had the game tied in the second quarter, and only trailed by three points at halftime.
Former Florida coach Steve Spurrier, who won six Southeast Conference championships and one national championship there, was impressed by the Minutemen's effort. Joining the SEC network crew in the press box during the game, he shared his analysis: "Maybe this UMass team is better than a lot of people thought."
Indeed, maybe they are.
While the final score against BC may have been disappointing, UMass was able to keep things competitive for the bulk of the game, drawing first blood with a 58-yard touchdown pass from Commis to junior tight end Adam Breneman and taking a 7-0 lead deep into the second quarter.
The UMass defense didn't make things easy for the Eagles all day, keeping them off the scoreboard for most of the first half while standing its ground and forcing BC to punt on its  first five possessions.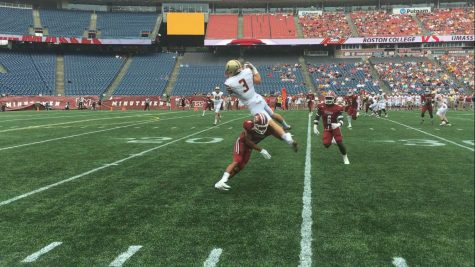 This should be encouraging to UMass fans after they allowed an average of 53.6 points to major conference teams last season.
With a one score game at halftime, the Minutemen had made many BC fans uncomfortable.
"What is going on?" read a text I received from my brother, a freshman at BC who was at the game.
"If I had to bet right now, I'd say we lose by one point," a member of BC athletics muttered to me while pouring a cup of coffee.
Clearly, UMass had at least planted a small seed of doubt in the heads of the BC contingency on hand at Gillette.
This is more than could be said the last time the Minutemen played BC back in 2014, when the Eagles at one point lead the Minutemen 20-0 in the third quarter, and never allowed UMass to gain any momentum at all throughout the game.
The final score in 2014 was 30-7 BC, and while the score was almost the same this time around, there was tangible improvement in how the Minutemen played throughout game.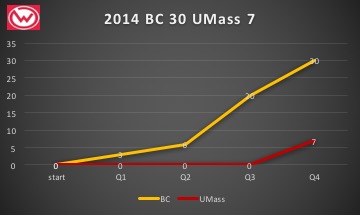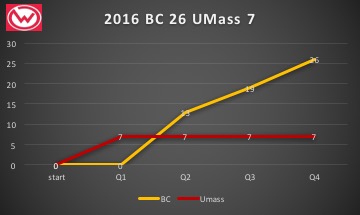 As legendary sportswriter Grantland Rice famously said, "For when the 'one great scorer' comes to mark against your name — he writes not that you won or lost– but how you played the game."
While this has become cliche, it's important to keep in mind when talking about UMass football.
"There's no question we want to win the game," Whipple said, "but there's also a process."
While the road ahead for UMass football remains daunting, it's clear Whipple's Minutemen are at least making headway in that process.
Keeping the game close through halftime, not letting a superior opponent run away with the game, not letting them put in their back ups or feel comfortable, demanding your opponent's respect — these are the things that Grantland Rice was talking about. These are the consolations UMass can take out of its first two games this season.
Going forward, UMass will face a host of beatable opponents including Florida International, their opponent on Saturday, Sept. 17 at McGuirk Stadium. Seeing whether the Minutemen can come away with wins against lower tier opponents will also be important in gauging their development as a program.
But with two SEC opponents, South Carolina and Mississippi State, remaining on the slate for UMass this season, fans should pay close attention not only to the final score, but to how the Minutemen compete.
A victory against Boston College would be a symbolic milestone for the UMass football program. How far off that milestone is, is tough to say. In a market dominated by professional sports, the Minutemen face a challenging college football landscape, to say the least.
But through two games this season, the Minutemen have proved that at the very least, they belong on the field with the big boys.
Bryan Bowman can be reached at [email protected], or follow him on twitter @BryanBowman14
About the Writer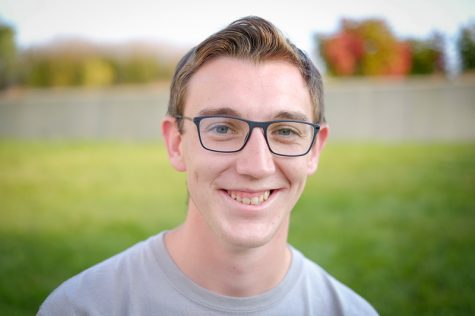 Bryan Bowman, Senior Reporter
"Buy the ticket, take the ride."