APD breaks up Hobart Lane 'night drink' with pepper spray
Police report using pepper spray after beer cans were thrown into crowd, at officers.
AMHERST — Amherst police used pepper spray to disperse a large crowd of college-aged people and flying beer bottles at Hobart Lane late Friday night, prompting questions about the use of excessive force.
Amherst Police have been under scrutiny for their crowd dispersal methods over the past few years. In March 2014, the university gained national attention after the annual "Blarney Blowout" St. Patrick's Day celebration got out of hand, leading to dozens of arrests.
According to Detective Michael Forcum, nine officers responded to reports of hundreds of people heading towards the location at around 11:44 p.m., according to the Daily Hampshire Gazette.
When police arrived at the scene, they found several thousand people gathered in the grassy quad behind the apartment complex on Hobart Lane.
University of Massachusetts Amherst students often call this type of gathering a "night drink," or  "nage," short for "night rage." The name stems from the ubiquitous "day drinks," where college-age people gather to drink alcohol and socialize at Hobart Lane on Saturday afternoons. Similar gatherings go on at the Townehouse condominiums on Meadow Street. The daytime parties have attracted attention from social media channels like Barstool Sports.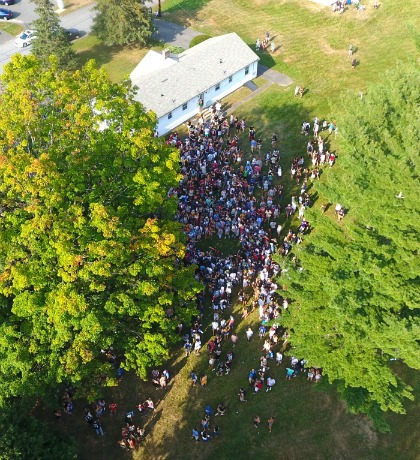 According to Forcum, cans and bottles were being hurled into the crowd Friday night, some toward the responding officers.
At least three people were hit by flying objects, though none required medical attention.
Officers deployed three bursts of pepper spray, and the scene was cleared at about 12:28 a.m., Forcum said.
UMass students report the chaos that erupted when the pepper spray was deployed. Several students reported being pushed, pulled and trampled as the crowd attempted to disperse between apartments.
Several people at Hobart Lane Friday night took to Twitter to express their concerns.
It's all fun and games until someone gets pepper sprayed.

— nichole (@Nichole_Elise) September 17, 2016
they were pepper spraying people, tackling and shit. they weren't playin tonight

— Destiny (@_destriv) September 17, 2016
Morgan Harris, a UMass sophomore in the Isenberg School of Management, said the officers took unusually extreme action for what seemed to be a "normal night drink" at Hobart Lane.
"I don't understand why they started spraying because it seemed like a pretty average party," Harris said.
Harris said she was shoved as the large crowd began to panic. She saw officers with flashlights at the edges of the crowd allegedly saying "party's over" as they split up the crowd.
As she was trying to wriggle her way out of the crowd, she breathed in and began to cough. Harris said she stumbled out of the crowd, eyes watering from the pepper spray.
Aside from some college-aged people who appeared to have been directly sprayed by officers, the mass exodus from Hobart Lane back towards campus was "pretty calm," Harris said. Harris said she saw a handful of people on the side of the road and on the outskirts of the apartment complex crying and coughing.
John Andersen, a junior journalism major at UMass, was working a late shift at the security desk in Northeast Residential Area shortly after the crowds were dispersed.
According to Andersen, a male and a distressed female ran into the residence hall where he was working. The pair ran straight into the bathroom, Andersen said.
"They blew by me into the bathroom and the girl was being carried. She had makeup all over her face and was crying, saying she was tear-gassed," he explained. "I had to call dispatch who called UMPD, prompting the girl to run out the front door with the other two tailing her because she thought she was going to get in trouble."
"When UMPD got to the building I told them what had happened and they said they don't use tear gas so I said it must've either been Amherst Police or someone who wasn't a cop," Andersen added.
This incident marked the third consecutive weekend Amherst Police arrived to disperse a large gathering at Hobart Lane. Last weekend, police used pepper spray on two males covered in blood who had allegedly been fighting outside Hobart Lane. It was one of 265 calls that came in to Amherst police that weekend, according to the Daily Hampshire Gazette.
Writer Ian Munnelly contributed reporting.
Email Morgan at [email protected]. Follow her on Twitter: @HughesMorgan_.
Email Ian at imunnelly@umassedu. Follow him on Twitter: @I_Munnelly.