What makes comedy troupe Mission: IMPROVable unstoppable
Trust, support and close friendship make for great chemistry on stage.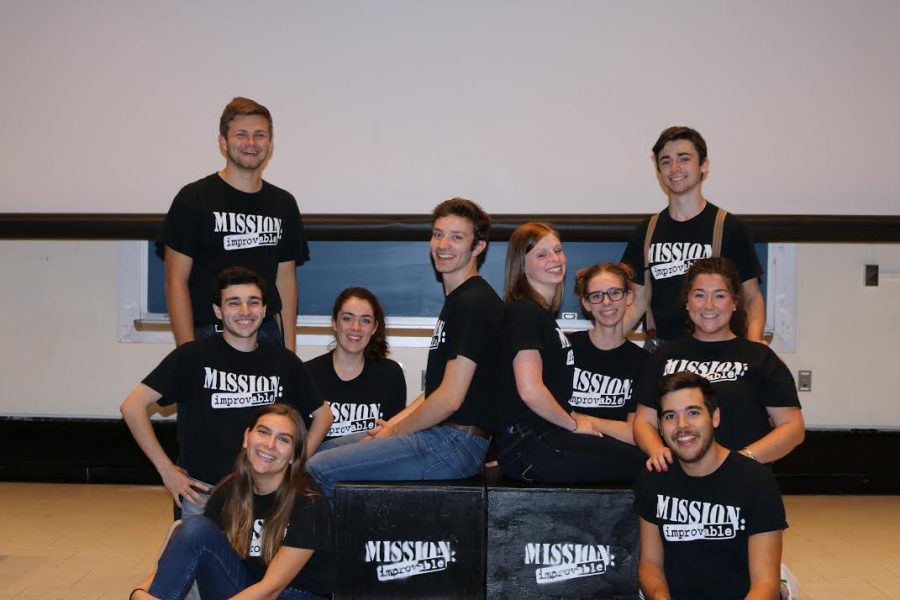 AMHERST — The rehearsal room for student improvisation group Mission: IMPROVable is nothing but a classroom with desks and a chalkboard at the University of Massachusetts Amherst.
But with their imaginations, the actors transform it into whatever they want. In one scene, the room is a courthouse. In another, it is a backyard. If one improviser says they are in outer space, the others do not hesitate and that is where they are.
"What's on my app, what does my app do?" Arthur Hayden, the group's artistic director, asked as he began to lead the an improvisation game.
Without hesitation, the rest of the members of Mission: IMPROVable, standing in a circle, clapped their hands to their knees and sang in unison:
"What's on my app, what does my app do?"
It is clear the actors are no strangers to improvisation or each other. For more than 25 years, Mission: IMPROVable has been UMass Amherst's short-form, improvisational comedy troupe. The group rehearses three times a week and performs most Saturday nights.
But if it's all improvised, why rehearse?
According to Garrett Schludnt, UMass junior and member of the troupe who goes by the stage name "Slugger," rehearsals are a way for members to become comfortable with the improvisation games and with each other. Rehearsals allow members to practice and figure out logistics of shows and encourage the bond that makes the group so strong.
"If you have good chemistry off stage, you have good chemistry on stage," said Schlunt.
"
If you have good chemistry off stage, you have good chemistry on stage."
— Garrett Schlundt
The members of Mission: IMPROVable come from a range of backgrounds. Members have a variety of academic majors, including history, hospitality and political science. The troupe includes students of all ages, from freshmen to seniors. Members live in various residential communities on and off the UMass campus.
Though they come to Mission: IMPROVable with different backgrounds and outside lives, members consider one another best friends. 
"Crazy attracts crazy," Schlundt said. "We're all just insane. It's a lot of fun."
According to Arthur Hayden, a UMass senior who goes by the stage name "Varsity," the group spends time together outside of the three weekly rehearsals.
"It really is like a little family," Hayden said.
UMass junior and troupe member Rebecca Regan said having a strong bond makes the job of an improvisational actor much easier. According to Regan, "so much of improv is trust," so the more time spent together, the easier it gets.
Last semester, Regan was a "newb" to the group, meaning it was her first semester in Mission: IMPROVable. New members spend their first semester solely rehearsing to ease into the world of improvisation.
Schlundt said he believes it's beneficial to hang out and establish a relationship before performing on stage together.
"If you try to make jokes with a complete stranger, it's really hard because you don't know how they think, so you don't know what makes them laugh or how the scene will go," Schlundt said.
At the end of each semester, Mission: IMPROVable hosts a "newb" show where new members receive stage names from other members. They get a shot to perform with the group for the first time. The typical audience for a Mission: IMPROVable show is 150 people.
According to Hadley Byrne, a UMass junior who goes by the stage name "Kaleidoscope," great improvisation rides on support from the group.
"Support comes from absolute confidence and trust in your fellow improvisers, which is formed by building strong relationships. We rehearse so often not to perfect our plays, but rather to become totally and completely confident in our ability to back one another up and work cohesively on stage," Byrne said.
Being able to support a fellow improviser on stage is one of the major rules of improvisation. Hayden said he considers improvisation to be a very unnatural thing to do. To him, improvisation is being called on to play pretend in front of an audience in a vulnerable way.
"The hardest part about improv is to really give over to the fact that you're just going to make yourself look like an idiot sometimes," Hayden said.
Though the acting may seem random to the audience, there is a method behind the madness, Hayden said.
Throughout rehearsal, Hayden can be heard reminding the rest of Mission: IMPROVable to stick to what they call the "yes and" tactic.
In improvisation terms, to "yes and" something is to completely accept what the other person has said in the scene and go along with it.
"So if someone came up to me and said, 'The sky is orange,' I can't just, say, negate that and say 'No, the sky is blue,'" Schlundt said. "It is a lot more fun to say something like, 'Dude, I know man! These drugs are crazy, right?'"
The tight-knit relationship of the group ensures the members of Mission: IMPROVable are not in it alone. If they freeze with nothing to say, another person will help them out by setting them up for a joke.
"That's the beauty of the whole thing," Hayden says. "You just make shit up and then some people think it's funny sometimes."
Email Alexa at [email protected] or follow her on Twitter @alexarock23.